Neese Plush the masterfully talented wife of resin kingpin DMS is known for her beautifully crafted furry monsters. I managed to pick one of these up at the 2013 ToyCon convention which was held in london back in april. Retailing at £50 and coming in 4 separate colours including Magenta (pink), Jade (green/blue), Natural brown and Natural cream. Measuring in at a whopping 14″ tall this was not something i was going to turn down.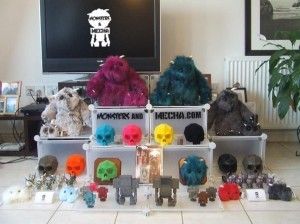 Pictured above is the Monsters And Mecha ToyCon booth which was shared by both Neese and DMS.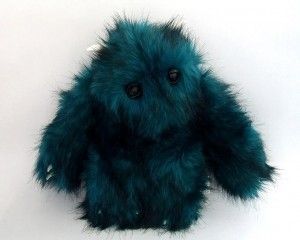 Amazingly the Raar! counts as a collaboration as the horns and claws are resin casted by DMS. The quality of this piece is just exceptional and so much time and care has been put into making sure that every seam is sewn tightly and securely giving you reassurance that this furry fiend will be looking as perfect years down the line as she did on the day of purchase.
Unfortunately for you guys these sold out extremely fast having only released 10 of each colour (in which i managed to get my hands on 1/10). But on the bright side she has just released a new and improved Midnight Blue Raar! available here.