Ethan by Robotic Industries Review
Robotic Industries produced a run of Ethan MK1's. These custom Mini Munnys come in at 5" tall, in 3 colours. Only 6 were produced – 2 of each colour. With a completely new resin cast head, featuring a movable mouth. These were priced at a bargain £45 each.
They came complete with a stunning acrylic display stand – featuring laser engraved art by Robotic Industries released at ToyConUK 2013
This was on my 'top two most wanted' list when I first found out what exclusives were to be available at ToyCon 2013, due to Fugi.me giving me the lowdown of what to expect.
Being the first of 4 in line, outside ToyConUK, I knew I had a good chance of getting my hands on one
So here is Ethan: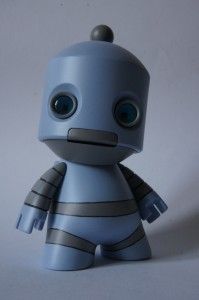 Wasn't my preferred colour but still super happy  managed to get one.
QUALITY 
So the quality is pretty slick, nice edges and very well made. Someday I hope I can find out how this little guy was produced  as the detail in the blue tinted plastic of the eyes appears as though it was made as a production toy. The quality is that good especially for the price.    I read that its been made from a Kidrobot Munny and on the foot it still has the stamp. This genuinly suprised me as the quality feels alot stronger than a regular Kidrobot DIY Munny.
Of all the upsides there must be downsides and with this piece i have found that the line work in a small area is not at its best and the mouth which was supposed to be articulated seems to be stuck but that's just me trying my hardest to find a fault and i understand that being handmade makes every piece both different and unique with minor imperfections.
DESIGN
Well what can i say, the cuteness caught my eye. When I first saw this little chap it completely reminded me of 'Bender (Futurama) and 'Marvin' (Hitchhiker's guide to the galaxy). I found this due to his adorable minimalistic look and that little belly. I wouldn't change the design at all, the three colours releasedare very nice . my ideal choice would have been the orange one.
I think that the size of the piece is perfectly representative of what the artist was trying to create.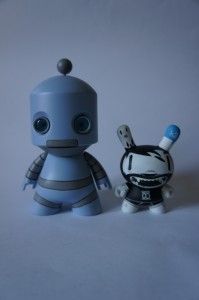 ARTICULATION
Head,arms and mouth all move and very smooth although the mouth on mine seems a little stuck.
WHAT'S INSIDE THE BOX
Ethan comes with a nice  padded box and a stunning laser engraved acrylic display stand! how cool is that!
OVERALL
I as you can tell I am really happy with the purchase of Ethan by Robotic Industries and cannot wait to see if they release any other variations of this little fella.
The price and quality are all winners for me. Thank you Robotic Industries hope to see you at ToyConUK 2014.
ON A SIDE NOTE
Robotic Industries have released photos of their T-Con Mascot which will be at the T-CON custom Toy Show on Friday 1st November 19.00-22.00.  If you are close be sure to get down there to meet some great artists and see some outstanding work.
More information can be found on their Facebook page.
The address for the show is:
Fleet river Bakery
71 Lincolns Inn Fields
London WC2A 3JF
3 minutes from Holborn Underground station
Ryan and Elle by Robotic Industries : £100.00