Daimajin, which means 'Great Demon God' is a daikaiju (giant monster) who is 'the spirit of vengeance and the wrath of God in given form'.
In 1966, the Daiei Motion Picture Company – the studio behind Akira Kurosawa's Oscar-winning 'Rashomon' and 'The Gamera Series' released a trilogy of films. When Daimajin's rage was unleashed it could be directed at both the wicked and innocent, alike. Acclaimed for their serious tone and spectacular special effects, the movies present a unique take on a monster who is both savior and devil.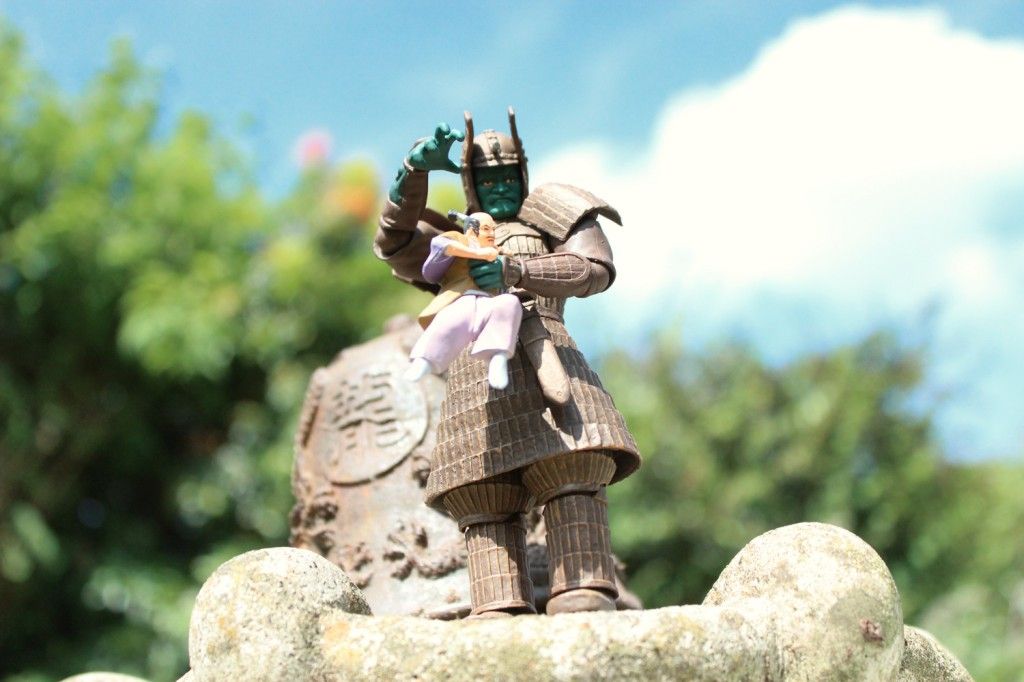 The Sci-Fi Revoltech 'Daimajin' Series no.002 was released back in 2010, sculpted by Takuma Katsuo and manufactured by Kaiydo. I'm personally a big fan of Revoltech figures, so far the Tetsujin 28, Black Ox, Giant Robo and GR2 have all been impressive, despite their relatively small stature. Their high posability, detail and range of accessories/gimmicks are always a winner with Revoltech.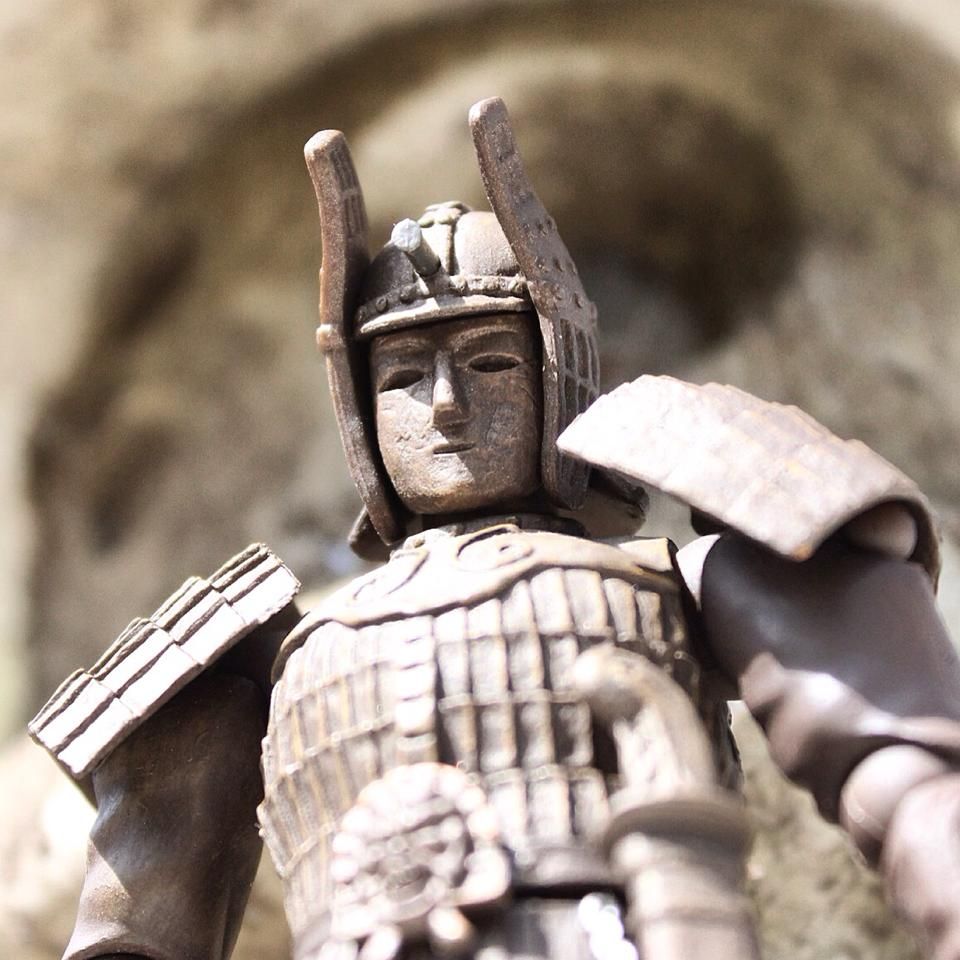 Paint and Sculpt
The sculpt is excellent, especially for it's small stature (about 4.5inches). Takuma Katsuo captures the awesome might of Daimajin and the detail on the helmet and armor is impeccable, including the belt piece.
The face is a great likeness, with the evil green grimace, however the paint app on the eyes is pretty poor, giving him a boss eyed look, although I'm sure it varies on each piece and I just got unlucky. It does make him look more derpy than he shoud do. If you get chance to see one in store then defnitely check through them to find one that doesn't suffer a similar fate.
The paint app on the rest of the body however is excellent, it's very subtle and looks fantastic up close. It really does look like stone through the camera lens. The body is mostly compromised of ABS and PVC and the 'skirt' piece is actually a rubber-like material which is a nice touch to give extra although still limited leg mobility.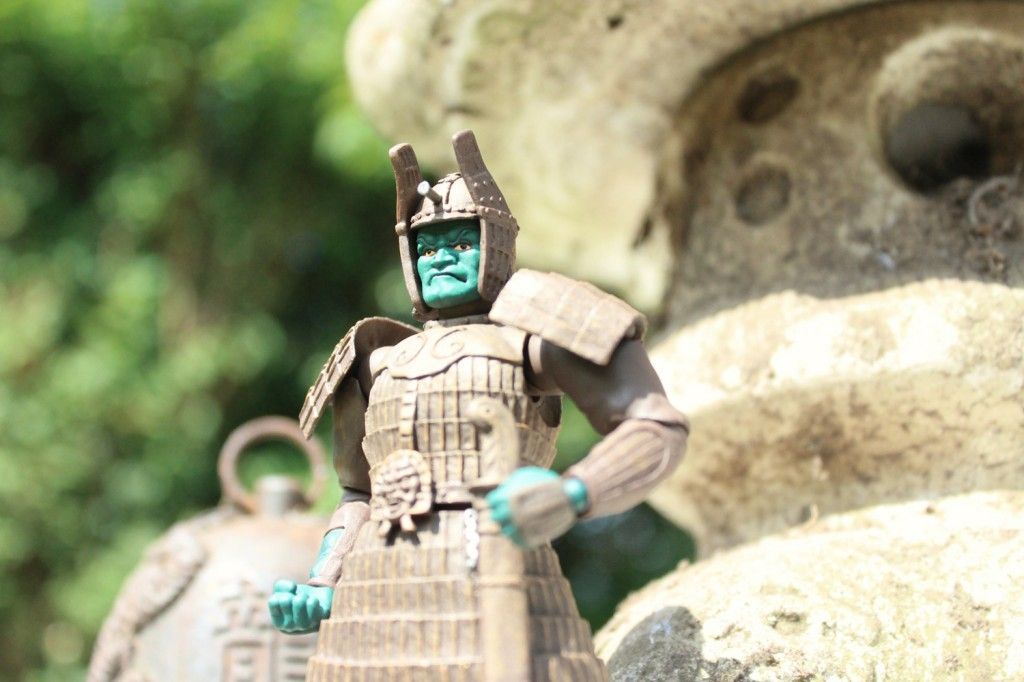 Articulation
Revoltech are known for their highly posable figures and this is just the same. The joints are nice and stiff and you can sink an afternoon playing around with poses. As with most Revoltech, despite their high merits and quality for being highly posable, they often need a helping hand to keep them up right. They usually supply a base which you can peg a foot into to give extra stability for something truly dynamic. Daimajin, being a giant, slow moving rock of sorts, shouldn't necessarily have the agility or flexibility to fanny around on your shelf, but the possibilities are open to you should you choose, but nothing too extreme.
He can swivel at the waist, it's pretty tight however. Hips, knees and ankles have stiff, snappy joints. Shoulders, elbows and wrists have the classic peg joints and can be moved in any which direction you desire.
I found the left shoulder plate would often fall off when posing but nothing too annoying to worry about. Overall he's stiff and snappy out the box, which is good as I've found with time Revoltech's can become floppier than Arjen Robben in the penalty box.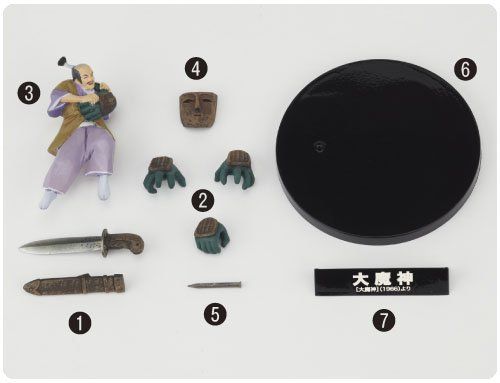 Accessories
Daimajin comes with:
Base stand and plaque – The plaque states the name and year of the movie and I thought it was a nice touch for display. It slots on a circular base plate.
Stone face plate & Spike – Before Daimajin is disturbed he is solid stone with a faceless stone expression. By taking the head off the joint you can easily slide off the green face and alternate between the two. The alternative face has two pegs which slide into the head and fit snuggly. It's a shame they didn't include stone hands too to complete the full stone look. The spike in his head also slides in and out and it's the spike that awakens Daimajin.
Sword and Sheath – There's two options, the sheathed sword clips easily into the waistline on the standard Revoltech peg. If you'd like the sword unsheathed, simply remove the entire piece for the sheath accessory and there's a separate sword which will fit into a specific hand accessory.
Hands – The hands are easy to swap, the fits are nice and tight and not as fiddly as other Revoltech's I have. The figure comes with two clenched fists and there's also a pair of open hands and another hand which can grasp the sword accessory. Lots of options and choices to perfect your pose and all look terrific.
Then there's the best hand accessory I've come across so far…
The Scared Villager – It's just brilliant. Borderline comedic. The film consists of mostly feudal-era Japanese people, running around crapping their pants and this perfectly encapsulates just that. The hand is molded into the figure itself and it's huge amounts of fun playing around with it.
Points Coin and Coin Box – I have no idea what this is for but I'm guessing it's a 'Collect them all' gimmick or some kind of rewards system.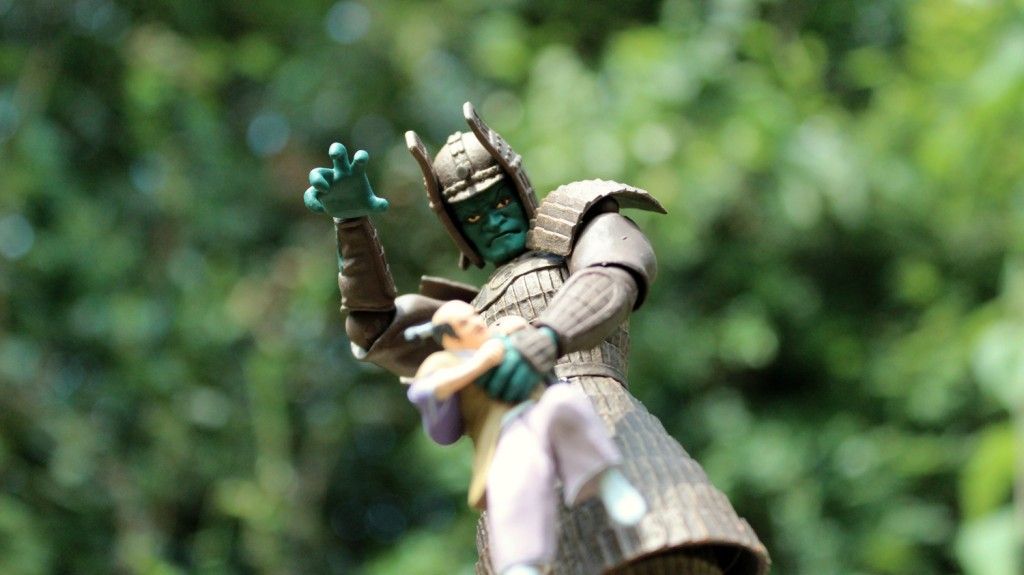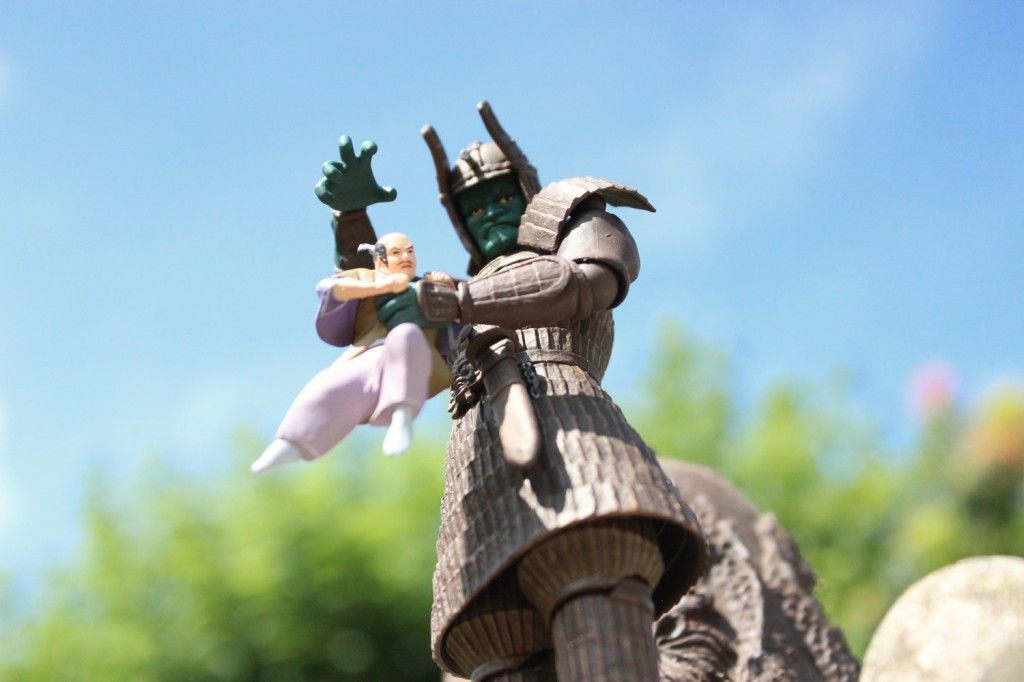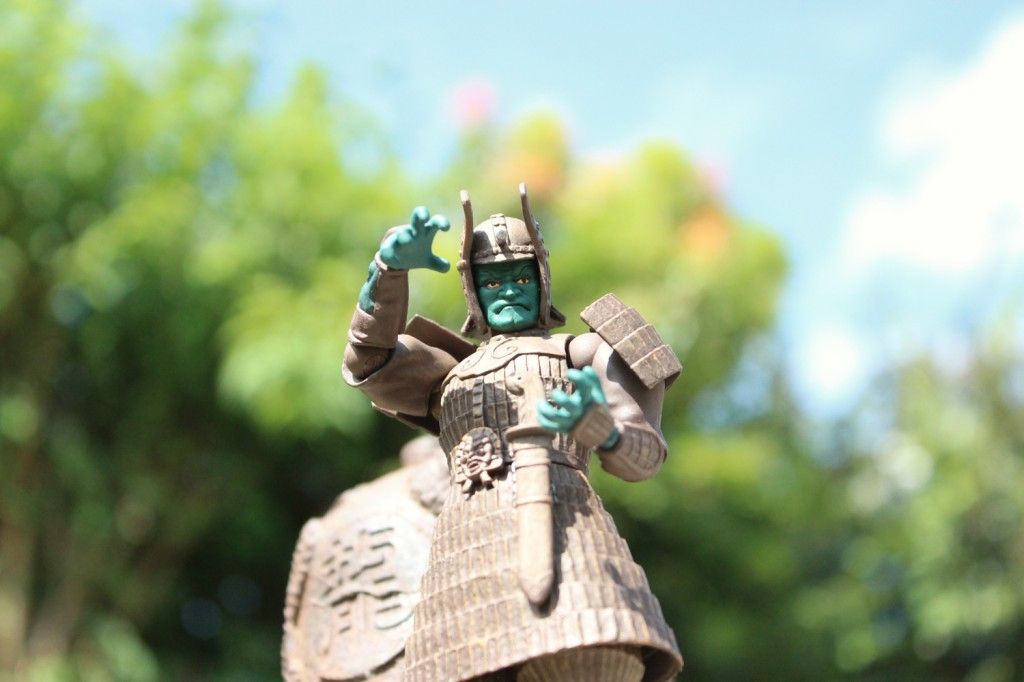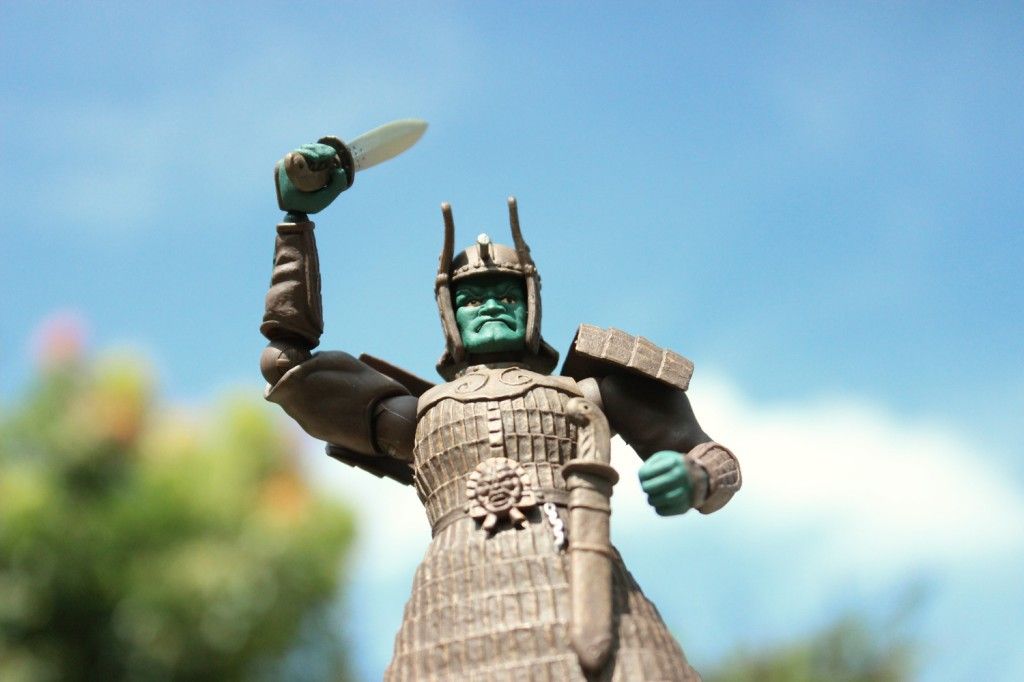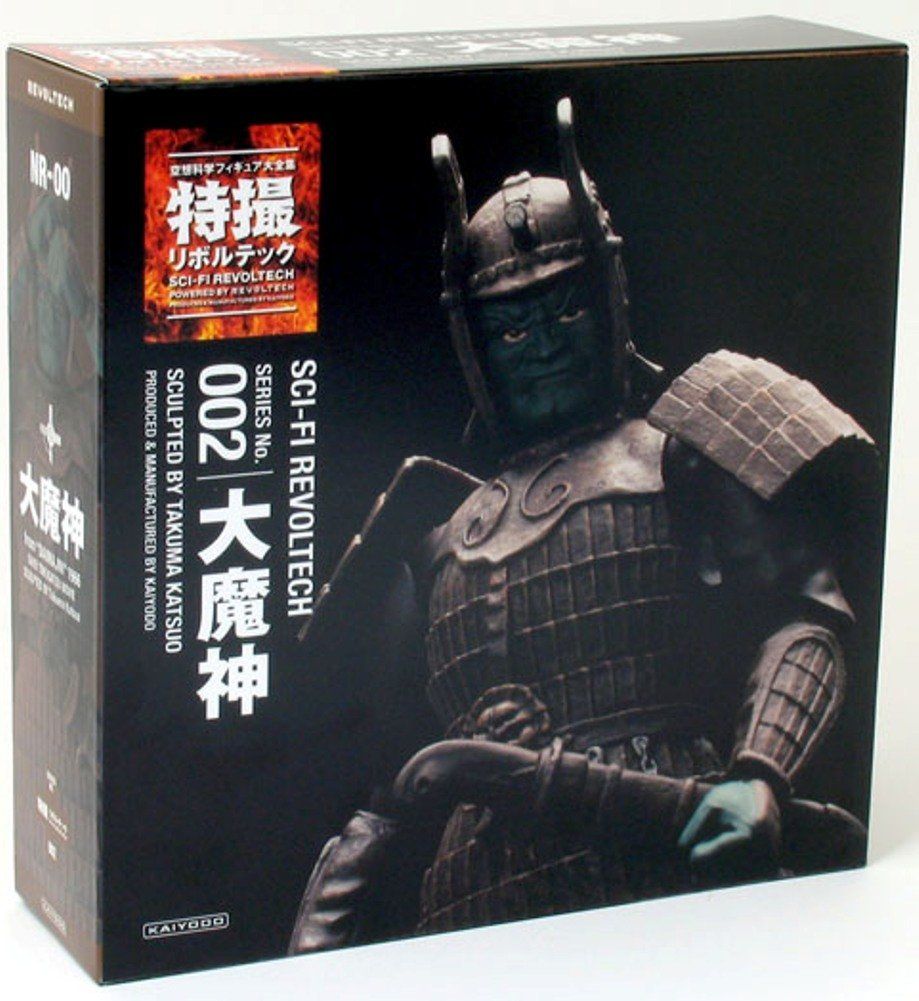 Packaging
I really love the packaging. It's a larger box that opens to display a large window with Daimjain and accessories on display. Opposite are some very nice colour stills from the movie aswell as a ton of information. The back shows off the contents. There's also some Revoltech fold outs and information leaflets. Definitely one of the most impressive Revoltech packages I've received overall.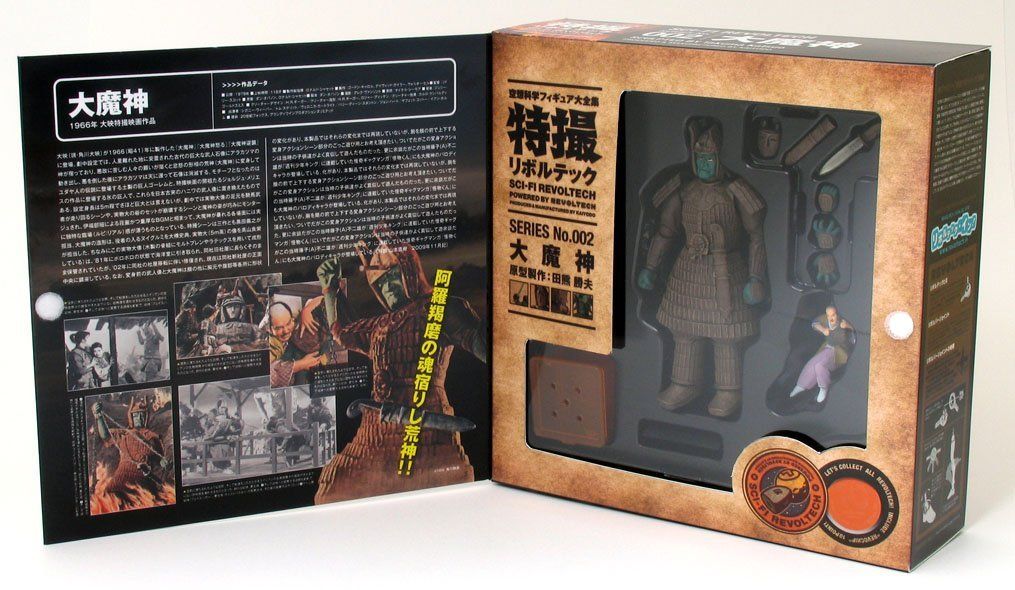 Price
This originally retailed for 2,850 yen (£16) but I stupidly paid double as it was the only seller I could find in the UK, although it did have free shipping, £35 is waaaay over priced for this figure. Most revoltech figures are quite easily accessible now and so I'd be happy to pay around £20 tops for the figure but I wouldn't recommend any more unless you really dig the monster or the movies but then again I wouldn't know why else you'd buy it!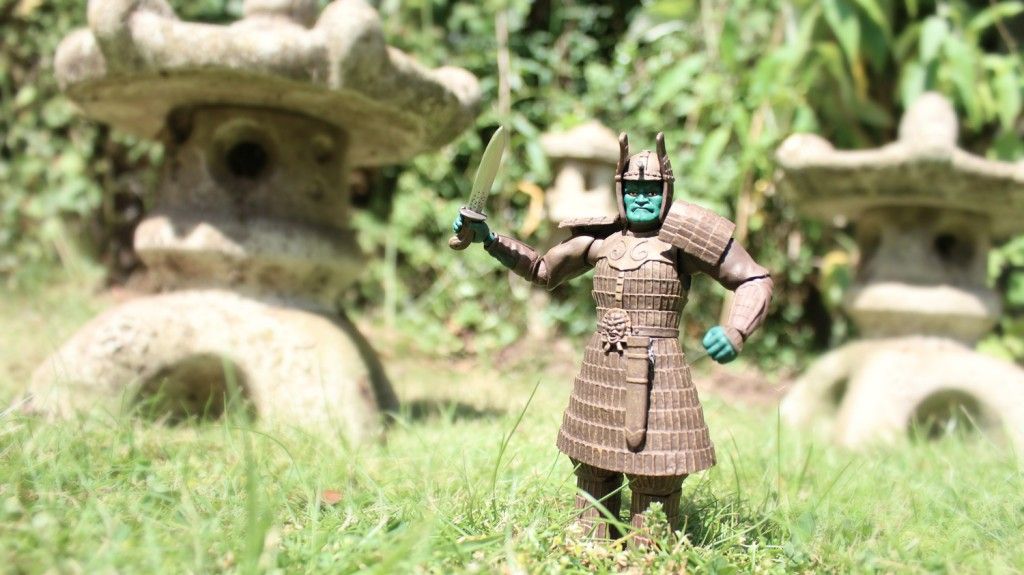 Overall
If you love the movies or the monster itself, then it's a no brainer and you won't be disappointed with this representation of Daimajin.
Yes it's a little on the small side and you should definitely handle with care, but it's accessories and posability make for all in all a great action figure.