This will be the last chance to get a hold of the Synthetic Human Test Body figure, especially for those of you who couldn't make it to the events such as SDCC, WF, or ACGHK like me will be available for sale on the TOA Heavy Industries website with a very limited number and trust me, you don't want to miss this figure.
-Method of Sales
1000Toys managed to prepare only a few number of stocks(*less than 100pcs), the sales will be done by draw like the 2nd run before. It will be an generic E-Mail entry to the raffle via http://toa-1000toys.com/ (this could change but we will keep you all updated) 
Details on the method will be announced later on
*E-mail or messages sent to any other channels will not be accepted.
*The Pre-Order will be limited to only 1 product per customer. Multiple entries will not be accepted and removed from the selection process.
-Price
USD $160 + Shipping
-Delivery Date
Scheduled for early October
-Time & Date
Entry reception will start from 12:00pm(noon) 1st September(JST). The reception time window will be 24 hours, ending at 12:00pm(noon), 2nd September(JST). Please check the time for your region accordingly so you won't miss out!
*This is not a 'first-come-first-served' sales, so you don't have to rush. Submitting your entries within this time window will give you the chance to purchase the Test Body. 
They will contact to winners after the reception period is over, they will select and contact only the winners individually by email.
Personally I actually didn't want to post this post up because it will make my chances of landing this version extra hard, but for the sake of the blog Good luck.
You can find my review and info of the original Synthetic Human HERE and the Video review below.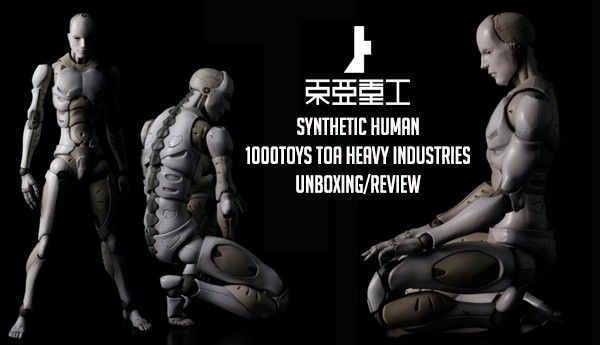 [youtube url="https://www.youtube.com/watch?v=mLmtGGZKAgE"]
As announced, the entry time window for the Test Body draw entry will be as follows:-start 12:00 (noon, JST) 1st Sep – End 12:00 noon (JST), 2nd Sep Which means you have 24 hours to apply for the entry!
[Instructions]
All you have to do is click the link below and fill out the form!

Details are at the form so please read carefully before you fill it out. 

http://TOA-1000toys.com/contents/?p=144 * LINK WILL BE VALID FROM 12:00 TODAY! 
[Precautions] * Please fill out the form in English (Alphabet) and numbers only.
Any other languages will be invalid except mentioned otherwise. * Only 1 entry per user accepted.

Any multiple entries found will be made invalid.
Good luck to you all!
1000 toys [1 / 6 synthetic humans wearing assay body Web Lottery sales reception] ladies and gentlemen, your waiting has!

Announcements last Street, ' instrumentation test body "of Web Lottery application period is as follows.

– Start 9/1/2014 12 pm (noon) – at the end of 9/2/2014 12 (noon) that from now on within 24 hours!
Please enter the link provided in how to apply the following application form with necessary information.

Please check the contents before the written application form for more information, so please fill it. http://TOA-1000toys.com/contents/?p=144 * 12: 00 will be opened.

Please note that I've seen.
?[Notice] * application form is fill with alphanumeric characters only ships on the.
Otherwise instructed, except some places off and will fill out the non-alphanumeric. * Apply per person and up to one.

If multiple entries were voided.
Thank you in advance! 1000 toys
To keep tabs on 1000Toys visit their Website, Facebook and Twitter