Oh boy we're flying today, flying speedily towards the grand finale that is known as ToyConUK. Every time we write the word ToyConUK we look at our clock and realise we are now several minutes closer to the actual doors opening in 44  hours. Has the panic set in yet, a little. Will the next Exhibitor Interview help, of course. We chat with Cuteness Overlord, or should that be Overlady, Haus of Boz!
[frame align="center"]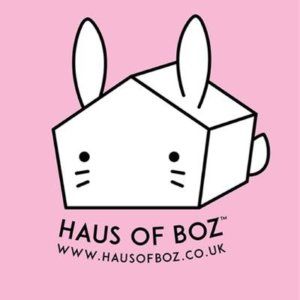 [/frame]
Tell us a little bit about yourself & your background?
Haus of Boz: I'm an illustrator from the North East of England, and I've somehow tumbled my way down to Leeds, where I live in a 4 floor house/ studio / office/ mess with my fiancé, Squink, and our two fuzzy sons, Cosmo and Percy (they're rabbits)
How did you get in to the Designer Toy scene?
Haus of Boz: I used to buy weird little toys from the Forbidden Planet in Newcastle when I was 17, and the massive collection I have now stemmed from that.  I got into customising when I met Squink.  I watched him make so many things, and I started making my own as a way of rehabilitating a bar room brawling injury of a broken hand.  It seemed a little more productive than sitting playing Skyrim ALL  THE DANG TIME!
[frame align="center"][/frame]
What's been the biggest influence on you in the year since ToyCon UK 2014?
Haus of Boz: I tend to look to the natural world for most of my inspiration, so it's mainly what I see when I'm toddling around that gives me ideas, but I always love to scroll through my instagram and see all the amazing cute stuff people are creating all over the world.  I LOVE Konatsu, so I'm pretty beside myself to know I'll get to meet her and go all FanBoy at the table.
Have you got anything brand new coming to the event this year?
Haus of Boz: All my customs have been made fresh for this year's event, from Christmas onward I've been busy squirrelling away in my studio and wringing ideas from my huge juicy brain. (We covered all Haus of Boz' ToyConUK work HERE)
[frame align="center"]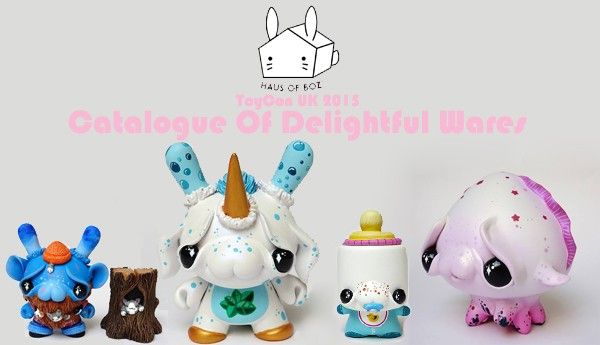 [/frame]
What is your 'go-to' tool when customising/creating?
Haus of Boz: I've got this incredibly barbaric torture looking hook thingy, it looks like it'd be at home in Hostel or some sadistic dentist's tray.  It looks pretty limited in what it can do, but it can achieve some pretty amazing effects and textures.  It's how you use your tool that counts, folks!
What is your favourite platform to customise?
Haus of Boz: I haven't set myself on one yet, I love LOVE trying out new platforms, and I'm open to anything new, simply because it's fun to see what your mind bends it into.  Even the most ridiculously difficult shapes can become something you never thought they could if you're willing to spend the time whittling and messing about with glue and clay in the small hours of the morning.
If you could collab with any artist(s), who would it be?
Haus of Boz: I'd like to do something plush with Amanda Louise Spayd, or some ultra fancy ornate vinyl with Andrew Bell.  I love both their styles.
What are you most looking forward to seeing?
Haus of Boz: I think this year has a fantastic line up, so I'm pretty excited about everything really.  I can see myself spending a disgraceful amount of cash this year, just from looking at the previous work of many of those attending.  Obviously I'm going to quivering with glee at Konatsu, and also Fluffy house, but its just going be lovely to see loads of the usual suspects again, and meet new friends.
If you could have anyone appear at ToyCon UK who would it be?
Haus of Boz: If Yoskay Yamamoto were to turn up, my face would probably melt off.
If your house was on fire and you could save one toy in it, what would it be?
Haus of Boz: Have I saved my precious bunny sons and Squink?  I'd just go grabbing for my Negoras.  Probably the limited made to order pottery Maneki Neko.  When I was little my grandfather had a big orange pottery cat that looked like his pet cat, on his desk, and I like the fact I have my own crazy kaiju version.  My grandkids can stare at it in puzzlement in the future.
Haus of Boz can be found on Facebook, Twitter & Instagram!