I got to know of Andy aka Zombiekel firstly via Instagram after picking up my first vinyl toy in Japan and searching the hashtags for further Usugrow and Rebel Ink goodness.
I was hit instantly with a breathtaking army of Rebel Ink pieces, garrisoned in the IG feed of one, 'Zombiekel'.
Since then, Andy has been a constant source of knowledge for myself about the Toy and Art scene, sharing a similar love in particular for all things Secret Base and has been a warm natured and friendly face at the recent Toy/Art shows in London. It's always great to hear him talk passionately about his love for Art and it's always an education.
We are fortunate to have Andy for our inaugural Collector's Interview and I'd simultaneously like to welcome Zombiekel as our Guest Blogger for TTC!
Q. – How did you get into collecting and what was the first piece that you owned?
A. – So hard to pick a point when I actually started collecting seriously as I remember being fanatical about Todd McFarlane's Movie Maniacs in 1998 and before that Spawn so probably 1994 but even before that I used to collect Marvel Super Heroes figures but nothing to the degree that I collect now. I've probably been collecting 'designer' toys seriously for about 4 years. I skipped the whole early Kidrobot dunny affair and went straight for Michael Lau.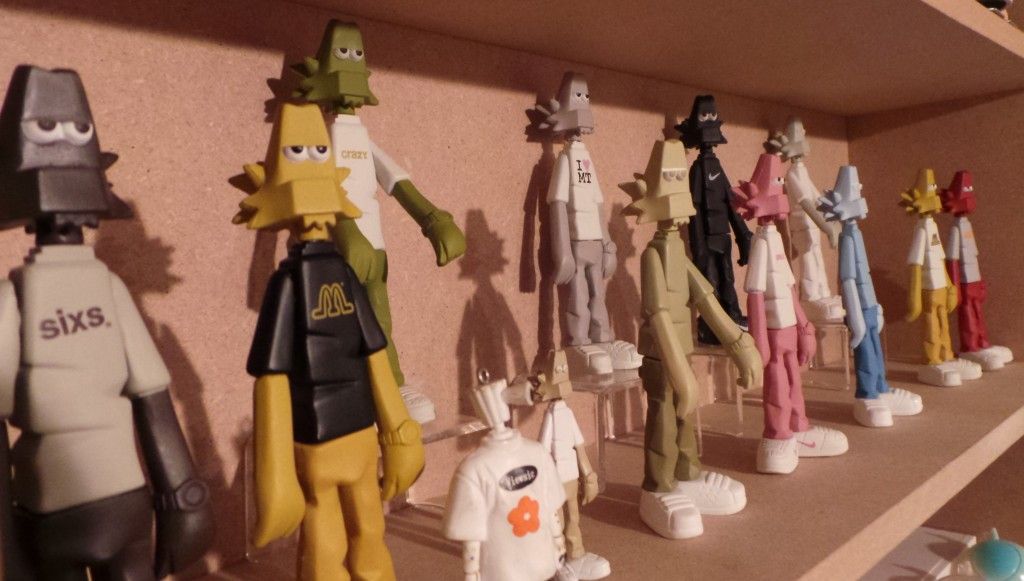 Q. – Could you tell us a bit about your current collection and how it's displayed?
A. – My current collection is about 600 pieces consisting of Rebel Ink & Salvation Ink, Michael Lau, James Jarvis, KaNo, David Flores, Jeff Lamm, Ron English, lots of Super7 Pockets, T-Con to name but a few and my new fascination is Medicom's classic platform – Bearbrick.
I'm a big fan of IKEA Detolfs for display along with custom made to measure acrylic display steps which I tend to get manufactured depending on the height of the pieces that I am displaying. I also have made some MDF shelves to fit in specific areas around 'The Mancave' which were made to suit certain size pieces.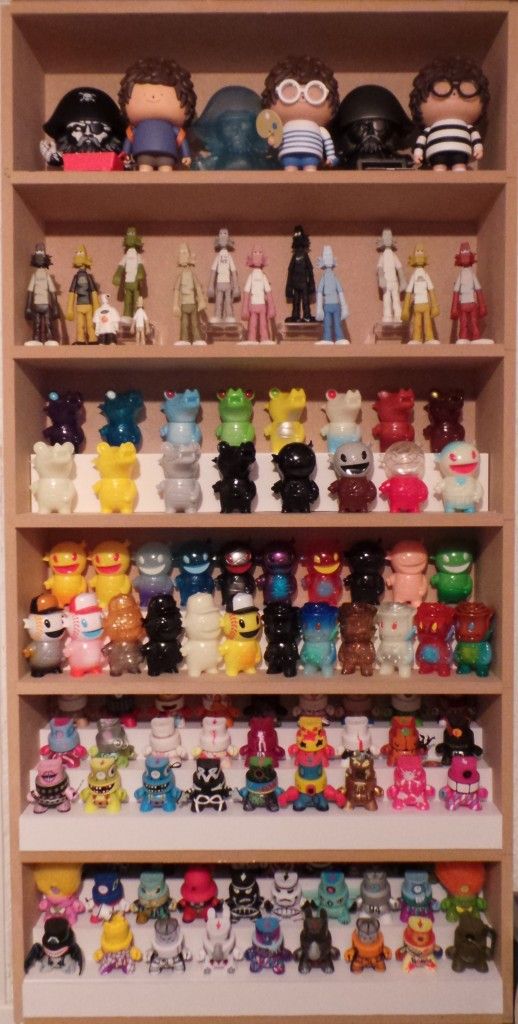 Q. – Is there a particular aspect (or aspects) of collecting that gives you a buzz?
A. – Yeah, I think it's the actual chase of finding that piece. Once I decide that I like a specific platform or piece then I used to tend to go a bit obsessive until I find them all until a good friend said to me "if you really want something then then it will come along eventually" and that is how I now play the toy game.


What would you consider to be your most prized possession and why?

A. – My Prize Possession? Wow, what a question! I'd have to pick a section of my collection and say my 38 strong Rebel Ink & Salvation Ink collection.
Has your collecting tastes changed over the years and what has been your favourite pick-up this year?

A. – My tastes have changed massively over the years and have gone through quite a lot of phases, I had a nice selection of KAWS and then when I decided I didn't like them anymore I shifted them on and started collecting Coarsetoys until recently when they released there 'new wave' of releases and I didn't like any of them so I decided I couldn't collect them anymore so got shot of all 14 pieces.
So hard to choose the best pick-up of the year! It would have to between my Michael Lau LA FAT, James Jarvis LEON or my newest T-Con Custom by Robotic Industries.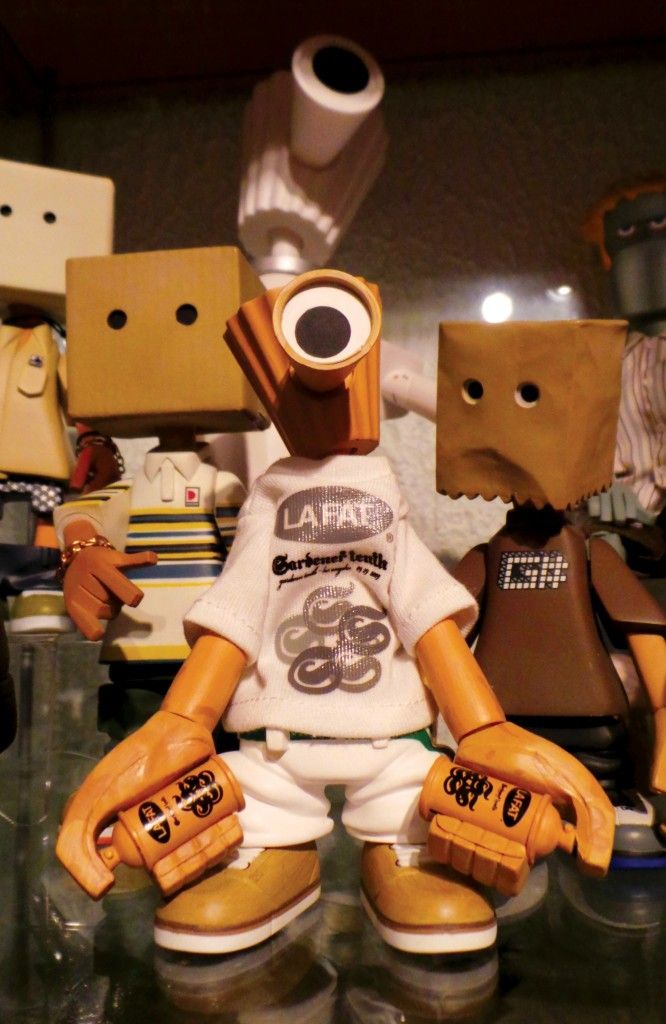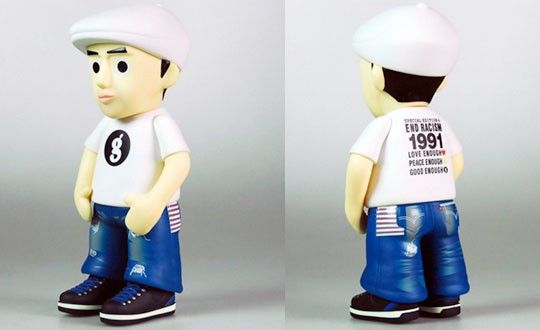 Q. – What is your 'holy grail'?
A. – Ooof, what a question! I've had a few and have managed to find some of them – adFunture's Hiroshi Fujiwara Vol.1 which I believe is one of the greatest toys ever, the sculpt & paint is so understated, its just perfection. I also found a Kidrobot Doze Green Ganesh and most recently the 'Ultimate Holy Grail' for Rebel Ink collectors, the 2009 Lucky Bag Clear Orange Rebel Ink. My current Grail list is Hiroshi Fujiwara Vol.2 by adFunture, the 3 remaining Rebel Inks 'Black Nickel Premium', 'Premium Chrome' and the '2012 SDCC' release. There's also three Michael Lau Gardeners that I need to finish my 'Square' collection – Hasquarem, Young Square & Lazy Square.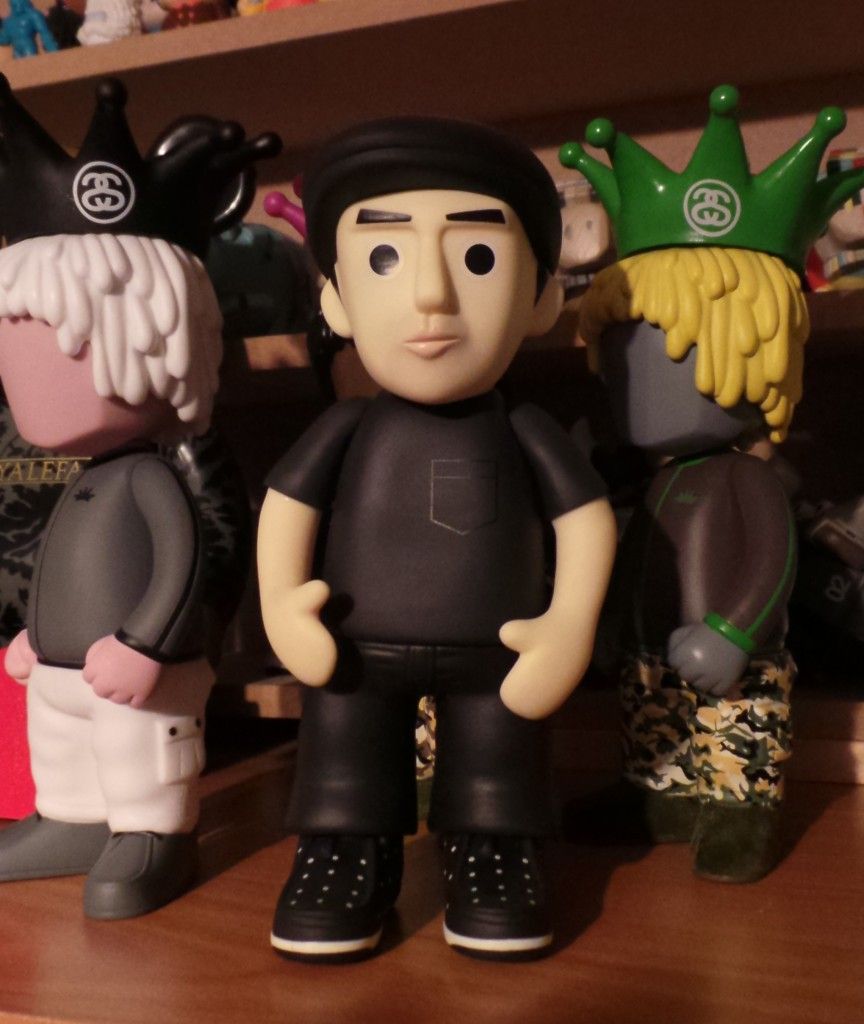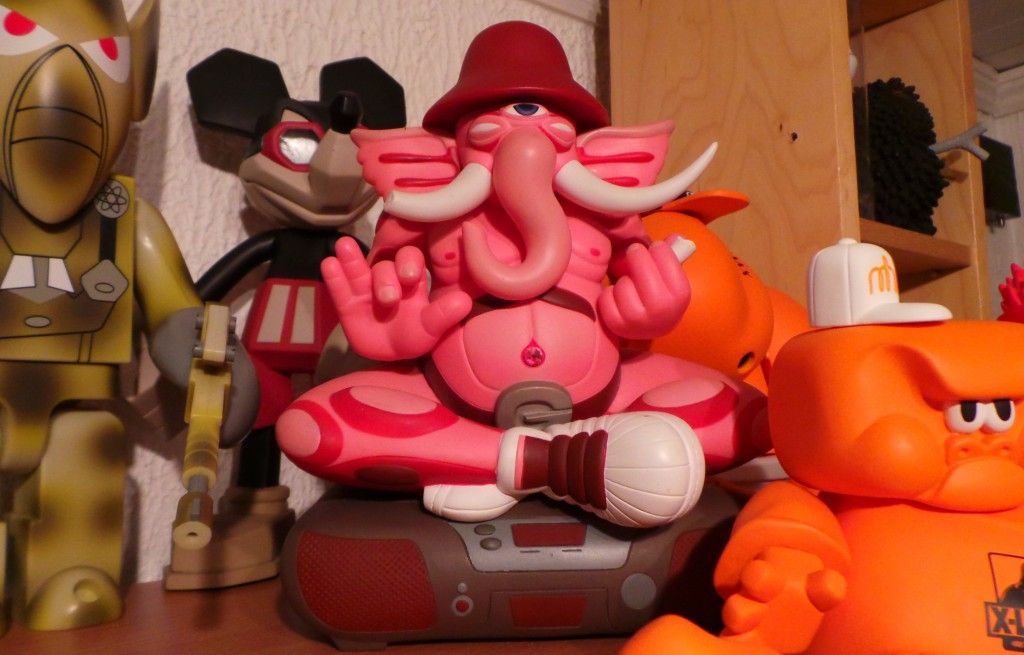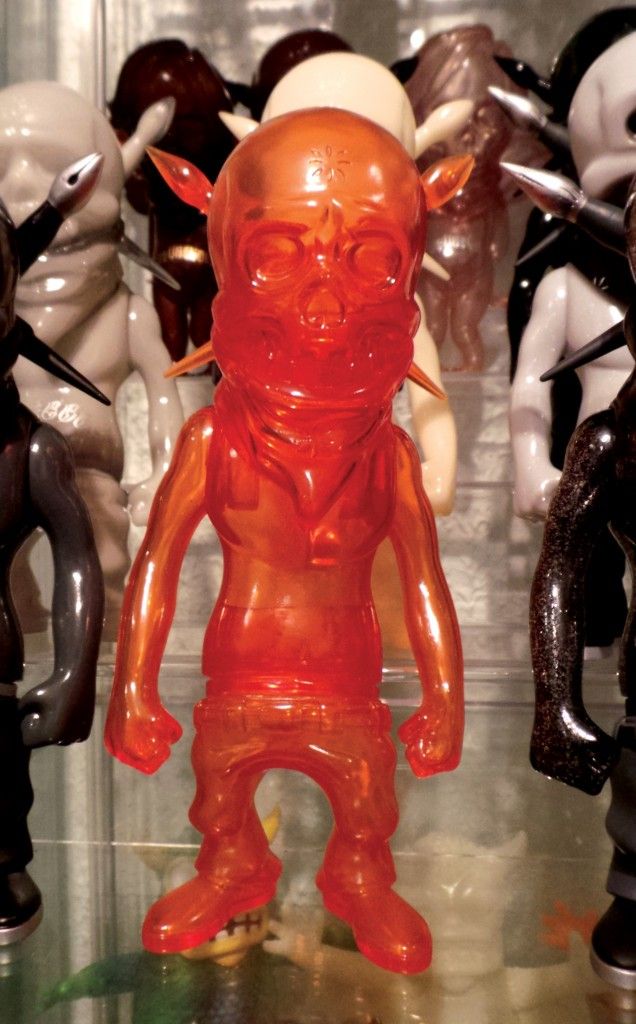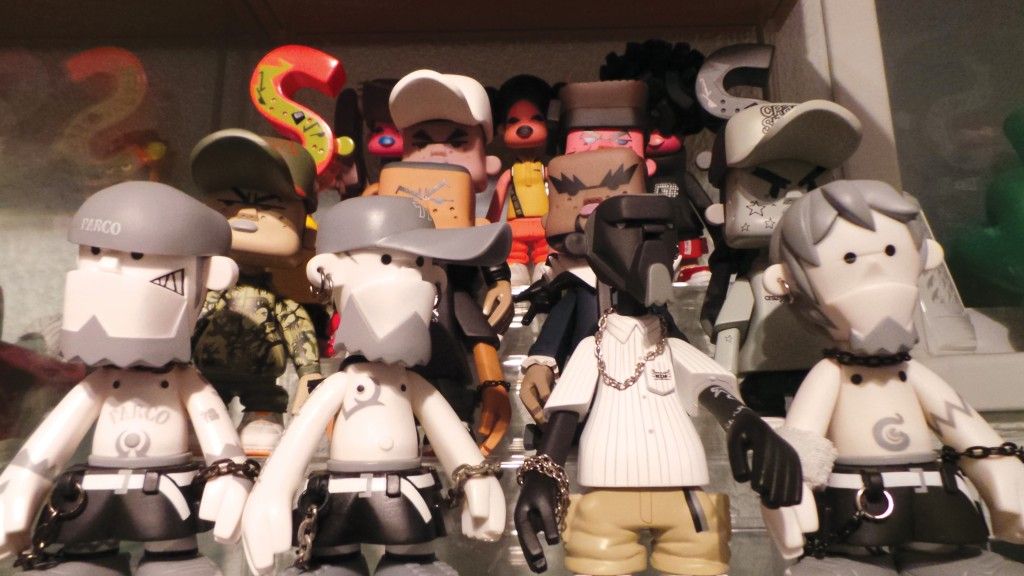 Q. – Are there particular artists or manufacturers that you love and what makes them stand out from the rest?
A. – As far as Artists go, I have a soft spot for Michael Lau, Jeff Lamm & David Flores. Manufacturers I favour based on quality are adFunture, Medicom & Secret Base.
Q. – What would your dream Artist or Manufacturer collaboration be?
A. – I'd love to see Usugrow do something really big with Fools Paradise or Medicom maybe – real big, like 1000% Bearbrick size, a real nice focal piece for the lounge 😉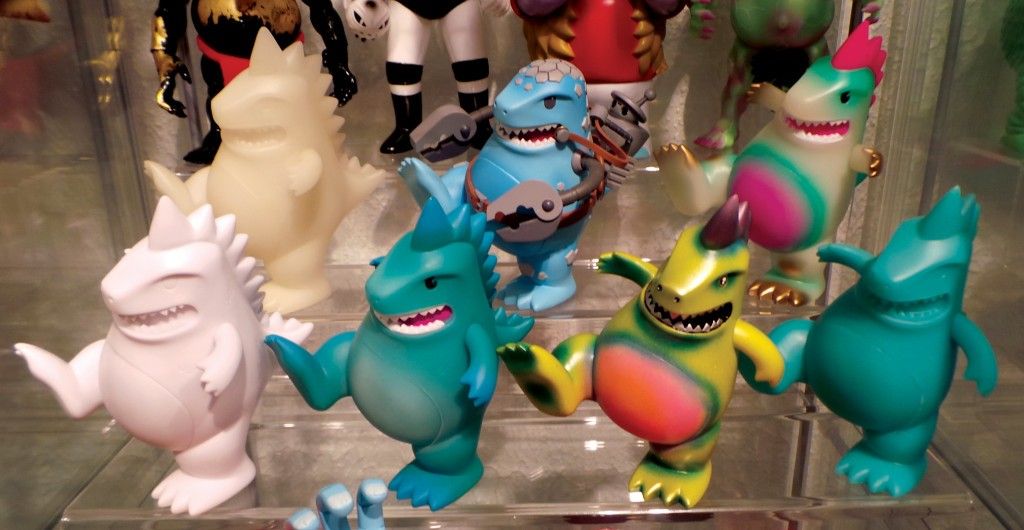 Q. – How has the Designer Toy scene changed since you got involved and what are your hopes/predictions for the future of the scene, particularly in the UK?
A. – It's changed a lot since I got into it and not for the best in my opinion 'purely from a design point of view' as not a lot has been released in the last few years that 'I've had to have' which is why I still collect a lot of older pieces. As long as Michael Lau carries on and also SecretBase x Usugrow collabs then that'll keep me happy.
As far as the UK goes there's one piece that stands head & shoulders above all else at the moment for me and that's T-con 'The Toyconasaurus' which is a vinyl toy based on the logo for ToyConUK which is our yearly UK based Toy Convention. I currently have all production pieces including the unpainted versions and some customs and am not planning on missing any future releases so am excited to see what the ToyCon team come up with next as far as colourways go.

Q. – Do you think the Art form is gaining strength and credibility or do you feel it will always struggle to be understood?
A. – I definitely think its gaining strength which is a great thing and the introduction of ToyConUK in April every year and lots more custom shows happening can only bring our scene further into the public eye.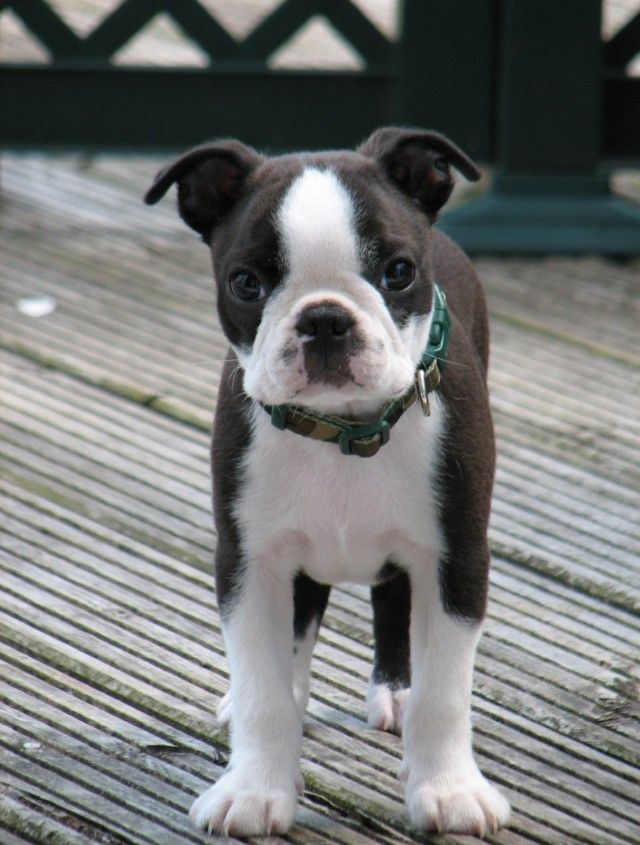 Q. – And finally… young Bill the Boston Terrier has unleashed a toxic fart and you must evacuate immediately, in the quick dash to safety, you have time to save one piece and one piece only, which piece would it be?!?
A. – What? How can I possibly be asked to choose from all this loveliness? Daaamn, I think it'd have to be the Clear Orange Rebel Ink but I'm sure I'd manage to drop a few more in my bag during the evacuation 😉
A big thanks to Andy for sharing his collection and words with us and you can keep in touch with him via Instagram and Twitter and once again, welcome Zombiekel to the TTC family!