If you have attended or seen photos from a custom show in the uk, or were at ToyConUK last year or if you saw my latest custom cavey, then you should know the name Robotic Industries. So let's meet the man behind the name, and (if you didn't know) the guy that did the sculpt for the jesse hernandez mecha azteca!!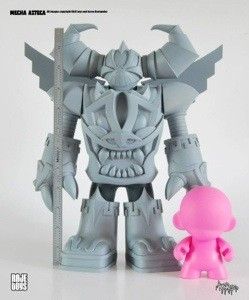 So…Introduce yourself, what's your name (other than your artist/business name)?
Hi my name's James (Jim) Freckingham but I work under the name Robotic Industries. I've been customizing for about 7 years and worked in the toy industry for nearly 10 years before that.
Are you an artist from the get go, or developed through time and being in the hobby?
I'm a model maker by trade and a frustrated Illustrator, so you mix the two and you end up in the world of designer toys. I've always been creative but an artist… I guess that's for others to decide.

How did you discover the world of designer/art toys?
I've always loved toys and as soon as I had a job started buying the new ranges of Transformers and Starwars as well as McFarlane and other more sculptural pieces. While looking at toy websites I started to come across these weird but amazing looking toys. A few months later I visited the Kidrobot store while in New York and seeing the pieces in the flesh I bought my first one then and there, the rest is history.
What inspires You?
Pretty much everything, from Hotrod cars to comics via fine art and 50's sci-fi. Just looking at something and seeing a face in it and thinking that's an interesting combination of shapes it would make a great robot head! If I'm ever stuck I tend to look at Ragnar's work, there is always some inspiration there.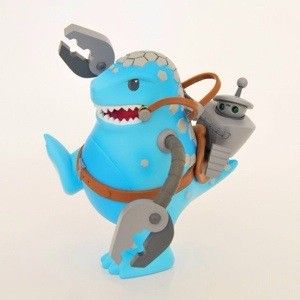 Who/what is your biggest influence?
My friends and colleges in the toy community. It's always great to receive comments both good and bad from people whose work you admire.
When you sit to create, can you describe your ideal setting? For example: do you have music playing, if so what kind or artist, what kind of drink do you have next to you and what are the tools that are a must for you to have on your desk?
I always have something on in the background. If I'm at home working on the computer then it's a mix of punk rock, soundtracks and Radio 4 with plenty of coffee. If I'm at work then it tends to be the radio, 6music or one of the rock stations and plenty of water.
Tool wise, I always have a scalpel to hand. I've got loads of handles all with different blades on because you never know which one you'll need. After that the cocktail stick is the most useful thing you can have on your desk.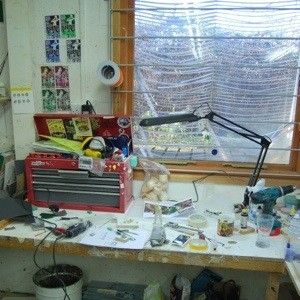 People may have seen the custom cavey you did for me, how do you get such an amazing gloss finish on your work?
The benefit of being a professional model maker is I have access to vast array of amazing paints and materials. The finish on that piece was created by spraying on a 2K clear Lacquer whose glossiness is only matched by its toxicity.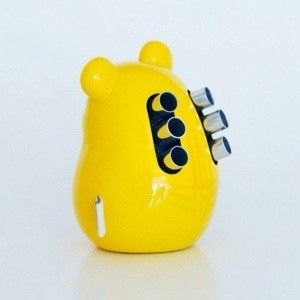 Do you have a favourite piece of art, that you created, that you cannot part with?
Probably my original Dr Brain mini Munny I've had quite a few offers to buy it but he's not going anywhere.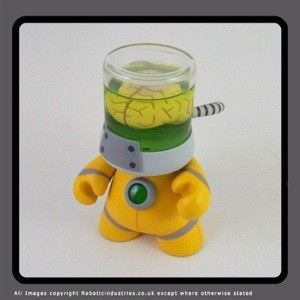 Our very own Andy did a review of Ethan that you made for ToyConUK, will we see more of this character?
Most definitely, I've got a second wave of 10 sitting on my desk waiting to be finished and I'm planning a Mk 2.
Is there anything you're working on that you can tell us about?
A few little projects for Toycon UK 2014 but nothing's finished yet.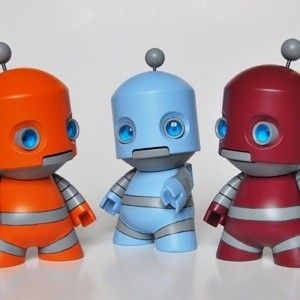 Do you collect toys yourself?
IF so what do you collect and what is your personal toy of last year?
Most of my collection is robots of one form or another although I'm starting to pick up more Kajiu, they're just a bit of a pain to get hold of some times.
Who are some of your favourite toy artists?
I've been picking up a lot of Jeff Lamm's work recently and I really like Itokin Park's work but have yet to get hold of any. In the Uk I'm a big fan of both Run DMB's and Lisa Ray Hansen's work, I picked up pieces from each of them last Toycon so I'm looking forward to seeing their new work.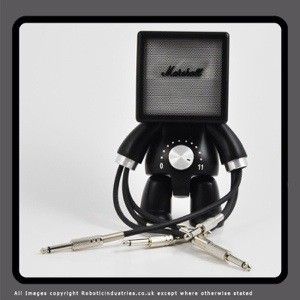 What do you think of the current designer toy scene?
The closure of KR London was a bit of a body blow to the Uk scene but people like Andy Kelly, A little stranger and the whole Toycon team are organizing great events across the country. There does seem to more of an emphasis on self production these days, which I think is great. It means that a load more people are going to get great one off (or limited resin runs) art pieces for their collection and the money is going straight to the artist.
Have you got any shows coming up within the next year?
Apart from Toycon, no so I'm open to offers.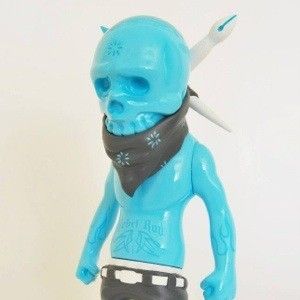 If you could collaborate with anyone, who would it be and why?
I'd love to work with an artist who has quite an organic style. I'd like to try sculpting Kaiju or similar, something to really challenge my skills and that's quite different from my normal style. Coop does some amazing creature designs maybe I should contact him.
Do you have any words of wisdom for an aspiring artist wanting to begin showing his/her work?
Get busy! Start practicing your craft, the first few might not look the best but if the ideas good then that will shine through and people will want to see more. Don't forget that if it's worth doing then take your time: sculpt, sand, prime, sand, prime again, sand, paint, photograph (do this well as this is going to be the way most people see your work) and then post images in as many places as you can.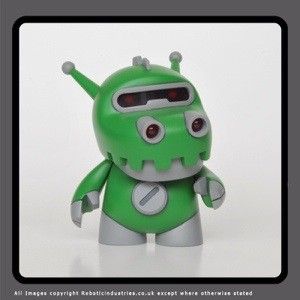 Thanks for taking the time out to talk to us, finally where can people check out your work/contact you?
My main site is www.roboticindustries.co.uk but the best place to find me is on facebook or on twitter.