Mike Strick is one of the great custom toy artists in the UK scene that isn't secretive about the way he likes to work. With every amazing piece of artwork that he makes he likes to create a step by step process on his strategy. Here you see his TconUK piece which has been chopped, flipped and sculpted like crazy in order to turn a vinyl dinosaur into a amazingly creative world dominating space mutant. The amount of detail that has gone into this custom is so extreme that it even has its own throne and accurately painted miniature earth.
You can find the process here with every step all with their own captions of what exactly he did.
I also managed to see one of the biggest, if not THE biggest of his pieces at TOYCONUK this year which was an insanely sculpted and airbrushed mega munny resembling a kind of half human half creature with skin that looked almost real even upon getting close. This was the first piece i had seen by Mike and it blew me away. I could hardly pull myself away from it. The veins in the head and detail in teeth and skin were literally perfect. Mike Strick you are a man of outlandish talents and i cannot wait to see what you come up with next.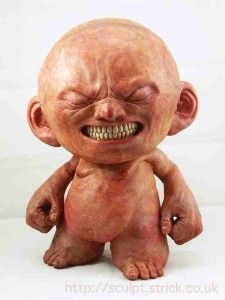 Mikes previous work can be found on his blog HERE or on his facebook HERE.