Last week Jason Freeny set our hearts a-racing when he teased that his upcoming 8inch Dunny release with Kidrobot – The Visible Dunny – would also come in a GID colourway too (read: HERE). Needless to say, The Toy Chronicle were happy. Very happy. Five days later, the KR exclusive GID Visible Dunny arrived at TTC HQ courtesy of a care package from Kidrobot.
Before we venture down the GID path, let's just take a brief moment to appreciate this 8inch Visible Dunny. What I first noticed, when I picked up the Visible Dunny, was the weight. It's certainly packing a weighty punch. You can feel the weight difference between a regular pad printed KR 8inch Dunny and the Visible Dunny. 150gram difference in fact (I weighed them, not because I'm sad but because I care, obviously ;)).

The inner sculpt is beautifully crafted too. Highlights being the skull jaw, the spinal cord and his wee cute feet. Huge shout out to Bigshot Toyworks for the sculpting on the Visible Dunny release. Great job, Klim!

I would love it if the Visible Dunny came apart and you could remove the Dunny shell, leaving the sculpted bones as a standalone piece. That would be pretty neat.

So now to the important part of this colourway of the Visible Dunny…. the GID! Our first question, as with any other GID release we get our hands on, does it glow? Yes, yes it does. We found that there were two types of glow in the Visible Dunny. The skull and torso didn't have the same kinda glow as the spinal cord, feet & arms. We found out, from Klim at Bigshot Toyworks, that this was due to the skull & torso being rotocast, whereas the arms, spine & feet were injection moulded. This was the production methods used.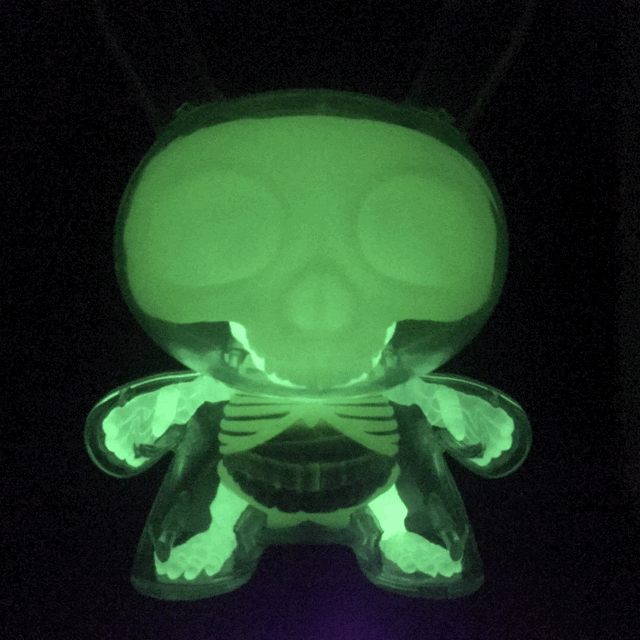 Back in the day (2008), there was a GID Zombie Pet Dunny by Patricio Oliver x Kidrobot that I hoped had the GID bones inside the Dunny shell. Unfortunately for the Zombie Pet Dunny, that wasn't the case as the GID was printed on the Dunny. However, fast forward 8 years and I finally have the GID 'bones' Dunny I hoped for with the Visible Dunny GID!
The Visible Dunny is released this coming Friday (17th March). As mentioned above the GID Visible Dunny can only be exclusively purchased directly from kidrobot.com and will be priced at $100/£82. Whereas the OG colourway (Tan) will be priced at $75/£62 and can be purchased at all good Designer Toy stores around the world (as well as kidrobot.com of course!)
The OG Visible Dunny can be bought at Collect & Display, Mindzai, The Black Spot & Strangecat Toys. Don't forget we also have our Discount Page HERE with codes for select awesome sites. Makes things a little easier on the ol' wallet!