We seem to have fallen into many new rabbit holes in recent times, lots going on in the creative world at the minute – which is great to see & be part of. One project that has really caught our attention in recent times is the new Shoeuziverse adventure by Shoeuzi.
We have long been fans of what Shoeuzi has been doing with his physical Shoeuzi releases over the last 3-4 years, but now Shoeuzi is going down the NFT road in a project that will have a huge crossover with the physical & NFT worlds that really gets our blood pumping! Check out details below.
Welcome to the Shoeuziverse!
Taking his Shoeuzi design into the digital NFT market with the Shoeuziverse, Jack London aka Shoeuzi adds another dimension to the Shoeuzi game*
Coming 13th October on public release on shoeuziverse.com (coming soon), Shoeuzi will be dropping 10000 NFT where each Shoeuzi will be scattered amongst the NFT released. What does that mean, well more details below, but for now we are going to showcase some of the Shoeuzi designs that will be scattered in the Shoeuziverse. These were all first sneak peeked on Shoeuzi's Discord server HERE. You'll recognise some of the designs from previous physical Shoeuzi releases, and some new designs thrown in for good measure!
As we mentioned above, the NFT that Shoeuzi will release this week will be scattered/random rather than complete NFT. Each scattered NFT will contain four parts (traits) from 25 different Shoeuzi designs. If you collect all four traits for the same Shoeuzi (much like the diagram below) in your Metamask wallet, you will be awarded the complete Shoeuzi – in this case the Astro Shoeuzi.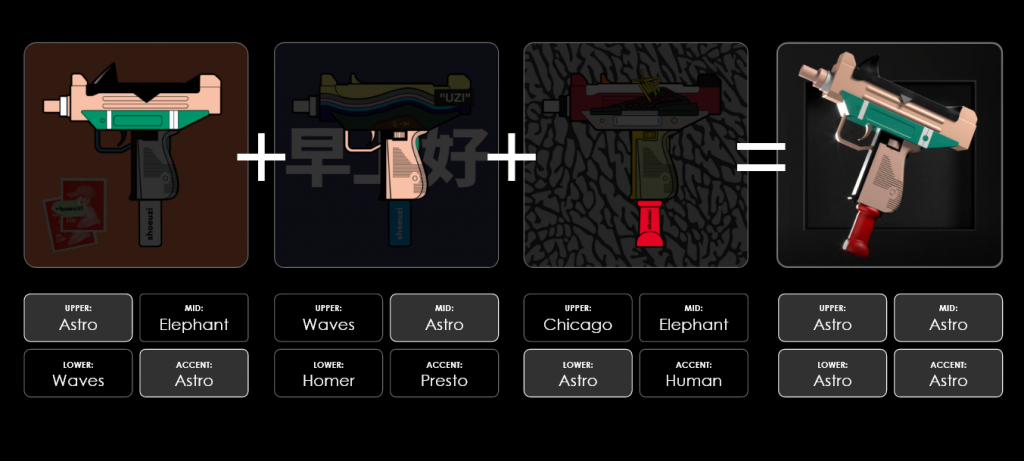 Each Shoeuzi NFT will be sold at 0.036ETH (about £92 at the time of writing).
If you collect TEN complete Shoeuzi in your Metamask wallet, you will be given the chance to request Shoeuzi to make you a PHYSICAL Shoeuzi FOR FREE! Yeah, that gives you the chance to get your hands on a SOLD OUT Shoeuzi from the Shoeuzi vaults. Whilst the unvaulted Shoeuzi that you request will have a minor amendment to the original physical Shoeuzi to be a one-of-one design and not alter the limited edition size of the original run.
*Shoeuzi has set out a roadmap (see below) setting out the plan of attack over the coming months/years of where Shoeuzi wants to take the Shoeuizverse. The fact that Jack has a plan to create a First Person Shooter (FPS) to allow you to use the NFT within the game – where each Shoeuzi NFT will have different abilities, strengths & weaknesses.
Like we said above, we have loved seeing how Shoeuzi has grown over the years, and we can't wait to see how the Shoeuziverse grows – we are already seeing quite the hype discussion on Shoeuzi's Discord – which you can join HERE.

---
Shoeuzi Social Media
Facebook: https://www.facebook.com/shoeuzi
Instagram: https://instagram.com/shoeuzi
Twitter: https://twitter.com/shoeuziofficial
Discord: https://discord.gg/PbcxFUmq
---
If you want to support The Toy Chronicle, we have a number of options available to you. We have started to stock a wide range of releases that we think you will enjoy. Ranging from production pieces from Superplastic, Unbox Industries & POP MART, to original pieces from our favourite artists like Sank Toys, Quiccs & Czee13. Purchasing one of our pins also really help. A quick, cheap way to also support the TTC is by making a small donation. These can all be completed below through our online shop. We appreciate all the support! Thanks!