We had to have a big giggle at the Zombie Nativity from NerdTalk Toys. LLC has come up with something light-hearted fun and characters to die for. This Kicstarter campaign will certainly brighten up any festive period. Here's what NerdTalk Toys, LLC have to say about the project. We're sure this will be the talk of anyones display.
NerdTalk Toys, LLC is excited to announce the launch of , a vinyl desktop collector set that includes zombie versions of Jesus, Mary, Joseph, the Angel and an undead Donkey, on the online crowd-funding platform Kickstarter. Perfect for Halloween, Christmas and even Easter, The Zombie Nativity is a great way to put your own spin on the holidays. The Zombie Nativity is sure to top any list of the weirdest and best Christmas gifts. The official Kickstarter launch date for The Zombie Nativity has already started!

NerdTalk Toys, LLC believes The Zombie Nativity is the perfect geeky holiday decor for any fan of trending zombie television shows like AMC's The Walking Dead or CW's iZombie."With the undead being so popular right now, the Zombie Nativity is perfect for your home, regardless of your religious views," suggests Ashley Gojic, CEO of NerdTalk Toys.
"The Zombie Nativity has been well-received by devout Christians and Atheists alike," Gojic explains. "Our goal was to produce a cute and approachable Zombie Nativity that even your Grandma would love. We believe that we've done just that."
Why does the world NEED a Zombie Nativity?
What in the world is happening to Christmas this year? Starbucks isn't putting Christmas stuff on their Red Cups this year. Some Christians think there's a war being declared on Christmas. Glenn is missing on The Walking Dead. And many advertisers are skipping Black Friday altogether this year. 
Maybe, a new spin on the Nativity is just what we need to put a little yuletide cheer in the holiday season? (Ghoul-tide Cheer?) We digress.  Moving on.
Simply put – Zombies are still really popular. And we're really happy about that. From "The Night of the Living Dead" to CW's iZombie to AMC's Fear the Walking Dead, Zombies are very central to today's culture, and it's a shame they only get 1 holiday. Why not 3: Halloween, Christmas AND #ZombieJesusDay (Easter).
Plenty of backing rewards available too.

To purchase your very own Zombie Nativity, visit their Kickstarter page at https://www.kickstarter.com/projects/zombienativity/the-zombie-nativity  you have until Fri, Dec 25 2015 6:59 AM GMT to back the project.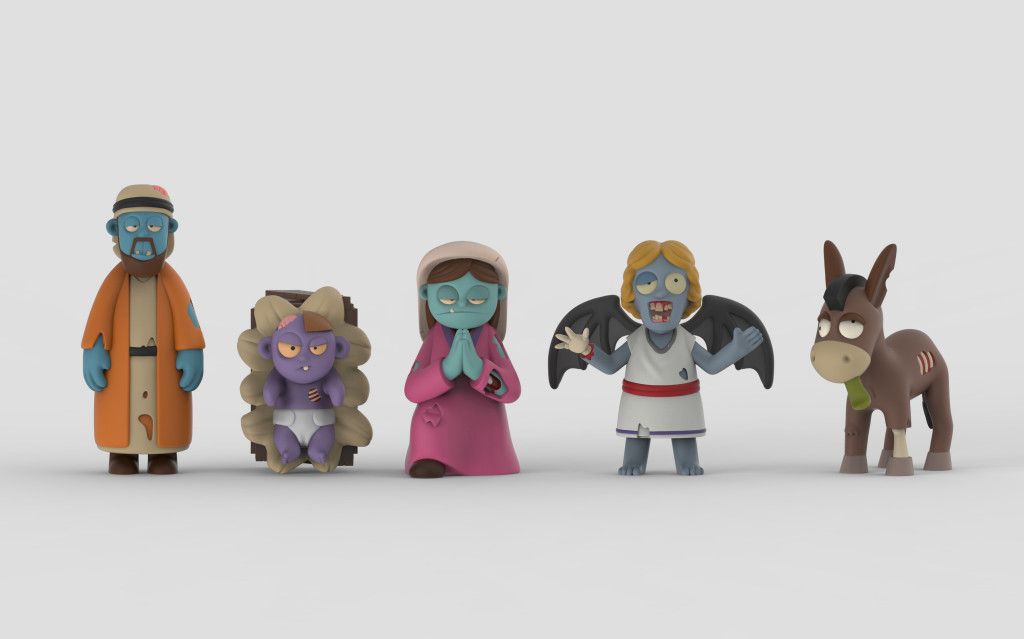 (all info and photos lifted from zombienativity.com)