While half of TTC crew is away at the TCon show in London here is a review on a gorgeous artist sketchbook.
Back in July Brandt Peters had his Kickstarter project for 'Muse I' successfully funded receiving $27,154 of his $6.500 goal. For people that don't know what Kickstarter is here is a short description. "Kickstarter is the worlds largest crowd funding platform. The companies mission is to help bring creative projects to life. People who back Kickstarter projects are offered tangible rewards and one-of-kind experiences in exchange for their pledges"
At the time I didn't have the money to get a physical copy of this which I regret but I was able to get a pdf copy which was offered at $5. This was a no brainer and i instantly backed it. Today was the day the book PDF was released and an update of process of mailing the physical copy's was given.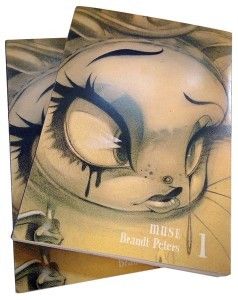 ARTWORK 
After just spending the last hour scrolling through the 185 pages of outstanding sketch work I am physically (yes physically) and mentally blown away. As some of you may already know I am a huge sketch fan as they have a total different appeal to a drawing that has been cleaned up and inked. In my opinion i feel that it gives so much more depth, character and emotion to the drawing. The artwork in this book ranges from quick doodles to company logos and concept art of production figures and even finished digitised and coloured images. It even features collaborations between Brants wife Kathie Olivas and a few of his good friends from The stranger factory team such as Chris Ryniak and Amanda Louise Spayd.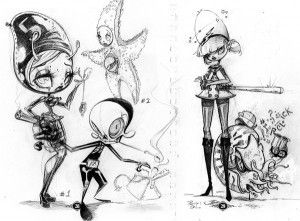 PRESENTATION
As previously mentioned I did not manage to get a physical copy of this book but from the update photos sent to kickstarter backers the quality looks second to none. The book is a 183 page paper back bible of artwork. The cover appears to have a high gloss finish and the pages jam packed full of eye catching pencil work.  As you can see in the photos below there are stickers, postcards, leaflets and many other great goodies that were included in several of the pledge levels. From following this project start to finish i have first hand seen how much work Brandt has put into this project including his mock up and fixes of the entire book. It was a beautiful process and one i would be happy to participate in again. Here we come 'Muse II'
OVERALL OPINION 
Overall this was definitely a fantastic project to back and the outcome still has me in shock. Brandt plans to continue to release his sketch books so I am sure there will be opportunities to help him fund his next ones and get yourself a copy. Although these books were only available on Kickstarter, now that the project has been funded the books have been released to the public outside of the website and are available online at the Circus Posterus Store.
His work can also be found on his Facebook, Instagram and Twitter.