The day has come! You've seen the clear resin version of "The Messenger" by KaNo x Munky King and now its time for the vinyl The Messenger – Black Edition. With Super Bowl today that means its release date of The Messanger. Even better news is, a portion of proceeds to benefit Kap's charities…
Like we said before, Last year of the story of NFL star Colin Kaepernick taking a stand (or a knee, literally) during the US national anthem, played before each American Football game. Kaepernick has taken his high profile status and created a powerful movement, something that hasn't been seen for some time. Protesting against the oppression of people of colour and ongoing issues with police brutality. It's a historic stance. Iconic. It has divided America. Munky King Unveiled The Messenger at DesignerCon 2017 the new art piece in tribute to Colin and his stance to bring serious social issues to light and try to evoke change. Although, sadly this art piece is also a tribute to the nephew of Munky King's president, Patrick Lam. Read on for more details.
Patrick released a statement via his Instagram HERE last year, we've captured the statement below. You'll read and you'll understand the magnitude of this release.
As a Niners fan, it was inspiring to see Colin Kaepernick take Muhammad Ali's journey from hotshot to activist. Being an Asian man, I have a certain amount of privilege when it comes to the police. But my wife is African American and we have 2 kids. I recently had the "hoodie talk" with my 13-year-old son. So it's personal.

And it became more so on February 23rd, 2017, when my nephew Greg Benton ended up like other Black men after a traffic stop by police…unjustifiably dead. But Greg was not the thug they made him out to be in their reports and on TV. I spent my first real Christmas with him when he was 8. Even in his 30's, he called me Uncle Pat. He was a father, a brother, and a son. We miss him dearly.

We reached out to our longtime friend and artist, kaNO, to design a figure around the now iconic image of Kap taking a knee. And although this issue has polarized America, kaNO did not hesitate to lend his name and talents to the project.

Like a raised fist or a burning monk, Kap's symbolic gesture call

s attention to an issue of basic civil rights. It's not about the Flag or the National Anthem. Which is why we're calling this piece… The Messenger.
Powerful message.
Today we see the release date for The Messenger! A fitting time to get your hands on one. The release date is all set to coincide with Super Bowl LII (Minneapolis) February 4th, 2018.
Football players often take a knee when someone suffers a severe injury on the field. An enduring expression of empathy amidst the combative intensity of the game.

Colin Kaepernick took a knee during the National Anthem in solidarity with African American victims of police brutality. His call for empathy was met with angry vitriol from a polarized society. His message co-opted by powerful interests to serve their own agendas.

But his call for social justice endures through the iconic image of taking a knee – a solemn testament to the injury of those denied the equal humanity which lies at the core of America's ideals. – Munky King Toys 
[box title="Important Details"]
MATERIAL: Vinyl
HEIGHT: 6.5 inches
WHEN: NOW
WHERE: https://munkyking.com
Brick and mortar stores like https://wootbear.com/ will stock them too.
PRICE: $50 USD
*Estimated delivery 4-6 weeks*
[/box]
Love or hate, just don't be a Yanksb11.
LIMITED Clear resin edition info HERE.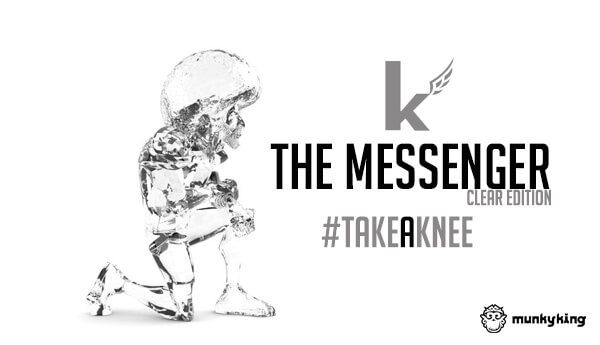 #TAKEAKNEE
If you want to get your Designer Toy news first, you should look to download our new TTC Mobile App. Designer Toy news direct to your smartphone. No dealing with social media algorithms. It's FREE! 
http://kaepernick7.com/