Have you ever wanted to own an original Doktor A piece only to see that they are swooped up before you have chance, well today is your lucky day! Doktor A has listed his figure "Dumpty H." which was created for the UNAmerican activity show at Toy Art Gallery in 2014 and I have to say, it is a thing of beauty.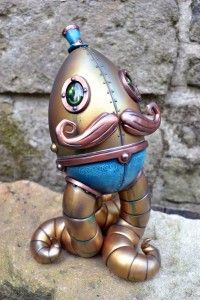 "Dumpty H."
Politically indecisive, emitting a faint smell of sulphur.
Not the most pleasant of fellows!
He enjoys sitting on walls in his underwear and surprising unsuspecting ladies.
Susceptible to sudden shocks himself. He is likely to go to pieces…
Best avoided really.
This piece is a Customised Mr. Pumfrey's Perambulator toy by Munkyking. It has been painstakingly created using a mixed media of Vinyl, Acrylic, Lead, Rubber,Paper, Vintage clock key, Epoxy resin, Polyurethane resin and various found objects.
Coming in at 11″ tall this beautiful piece of art is priced at £600 ($892.47) with free tracked shipping worldwide. Don't pass up the opportunity to own an original sculpture by the master of steampunk!
Head on over to HIS STORE to swipe it up before its gone.
You can check out more of Doktor A's work on his Website, Facebook, Instagram and Ello!