A couple of days ago, Fluffy House x POP MART announced the all-new Mr. White Cloud blind box mini series 2 HERE, the series returns with the classic Fluffy House family has a new change of clothing and uber cute poses and a new character joins the Fluffy House family. Series one made us made us squeal like girls, guess what we were like when we saw SERIES 2. Today Fluffy gives the fans of new and old the release date!
Fluffy House fans are you ready to "live simply dream big" as Fluffy House is set to launch the much anticipated Mr White Cloud Blindbox Mini Series 2. 
City boy Mr. Gray Cloud prefers to read the newspaper and grab a cup of hot coffee on a chilling winter morning.
Slow down. Enjoy life.
1 set with 12 figures is in blind box packaging. There's also a secret figure in some of the sets by random. Every single box or set is filled with infinite cute surprises!
Size: 3″tall without stand
Material: PVC
This series will be released on 10th February 2018 via http://fluffyhouse.bigcartel.com/ and POP MART .
Check out series 1 below.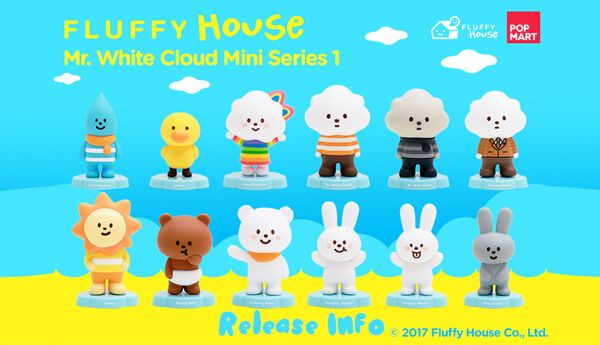 Need some Fluffy House to hold down your addiction visit http://fluffyhouse.bigcartel.com/
If you want to get your Designer Toy news first, you should look to download our new TTC Mobile App. Designer Toy news direct to your smartphone. No dealing with social media algorithms. It's FREE. 


Free goodies for all you mobile users, yes FREE everyone loves FREEBIES.
Fluffy House has two cute apps. The first one is a camera app and another is a puzzle game which sometimes they offer discount codes when completing certain targets for their vinyl toys.
Fluffy Coffee
Download Fluffy Coffee for FREE HERE.
iOS Photo App "Fluffy Photo" has released!
Download it for free and Mr. White Cloud and friends are now ready to fill your photos with cuteness and joy.
Add Mr Cloud and co in all your photos like we have. 
Smile for everyone! Download it HERE for FREE.
Find Fluffy House via http://fluffyhouse.com/ , Facebook , Instagram and Twitter.