It is with great joy that we can announce that The Toy Chronicle have been selected as a Finalist in the BEST BLOG Category at the Designer Toy Awards 2015. We found out back on Friday 14th August, just a few seconds before our 1,000,000 Page View happened on the TTC site. Pretty fantastic achievement & feeling on both accounts.
Andy & I have both worked extremely hard to get The Toy Chronicle to where it is now. Less than two years in to our journey, and we are again rubbing shoulders with the Designer Toy blogging giants. This is the second year we have been a finalist, but this time we hope we have done enough during 2014 to push Spanky for his Triple Crown.
The BEST BLOG winner will be chosen by a public vote, via the DTA website. Voting for the Designer Toy Awards will take place from now until September 15th and can be completed HERE. We very much appreciate the support you guys show The Toy Chronicle. Every vote counts, and if we are to make any in-road to the mighty Spanky hold on the BEST BLOG DTA, we need your vote. Head to the DTA site HERE and vote for The Toy Chronicle. Remember you can only vote ONCE per category, so make it count.
The winner will be announced during the New York Comic Con weekend in October. The DTA award show will take place at Hammerstein Ballroom on Saturday 10th October. Last year was streamed live online, so hopefully that will again be repeated. We'll let you know the Stream URL nearer the time.
[frame align="center"]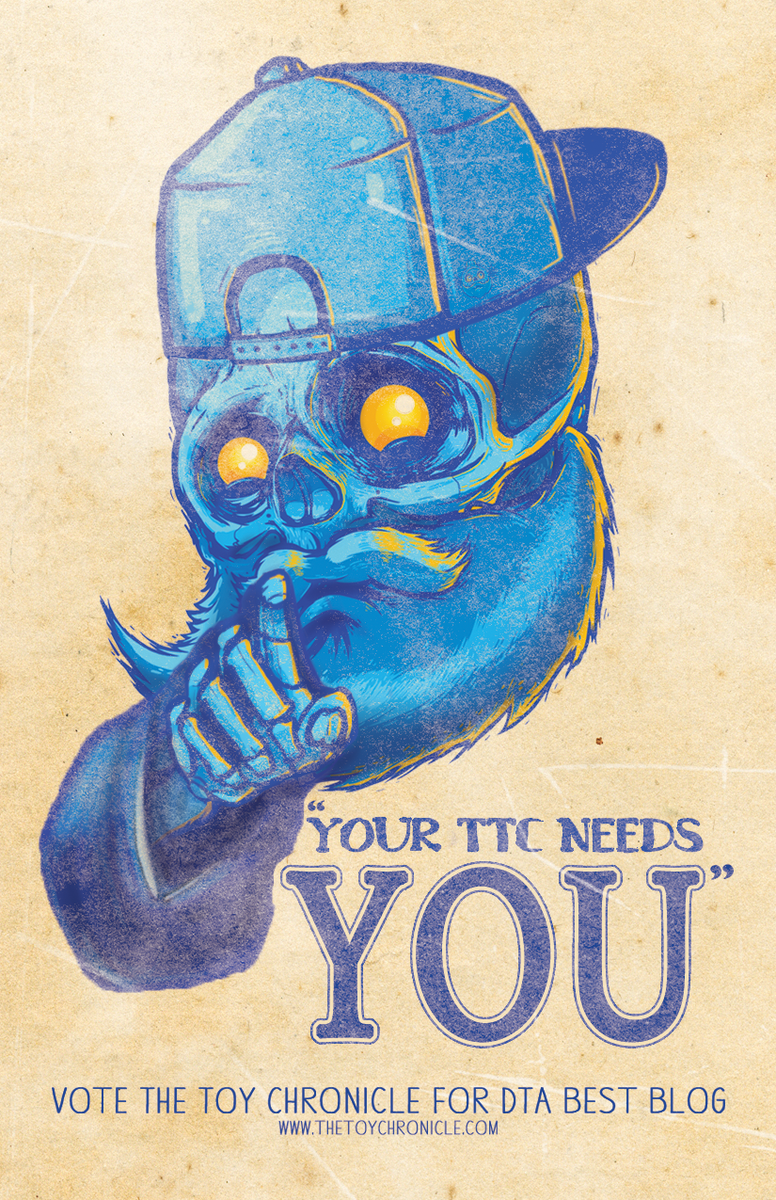 [/frame]
This award recognizes outstanding work by any news outlet with a main focus on Designer Toys. The category is not only open to traditional blogs but also podcasts, video blogs, or any other online resource for industry news. Nominated websites should have brought intelligent, informed, and diverse reporting to the Designer Toy niche. The Toy Chronicle would also like to send our congratulations & good luck to the other five finalists in the Best Blog category:
Lowbrownie
Spanky Stokes
Toysrevil
Trampt
Vinyl Pulse
All six finalists are very much worthy of the BEST BLOG award. You'd be surprised how difficult it is to get the right information out to the Designer Toy masses. The huge amount of time & effort, that each and every blogger puts in to this scene we all love, is outstanding. We love what we do, and I'm sure if you speak to the guys at Spanky, Trampt or Toysrevil etc, they will tell you the same.
We are hugely proud of The Toy Chronicle. It is our baby that we've seen grow crazy amounts since October 2013. We have plans to grow further during the remaining months of 2015 and 2016. We are really excited to see where we can go with TTC. We've taken on a new team of bloggers recently to help us get out more timely news to you lovely lot. Huge shout out to Kat, Katie, Molly, Nick & Madelon for your help during August!
If you're an artist or production company we'd love to hear from you on your releases. The more information you send to us, the better we can get news out to people that love reading about the latest Designer Toy news. Drop us an email to [email protected] and we'll do the rest. Simple.
We will be covering the other DTA Category Finalists over the coming days. Keep an eye out for those.
Thanks again for your support!
We love ya!
The Toy Chronicle
x
P.s Go vote HERE xx