Last Friday we were honoured to be announced as one of six finalists in the BEST BLOG category of annual Designer Toy Awards, hosted by Clutter Magazine during New York Comic in October.
We are mere babes when it comes to the remaining five finalists in this years Best Blog category. Underdogs. David against five Goliaths. We set out ten months ago on this quest to bring the best UK/Euro Designer Toy news (with a smattering of the Rest of the World). We love what we are doing. We love receiving info & pics of latest releases, newest customs & future plans from some absolutely great artists. Where once we had to go on the search for details we are now receiving more & more emails asking to be featured on The Toy Chronicle. People are starting to realise that TTC exists and we can be a force for good. Much like our competition at the DTAs.
To give you an idea of that competition, we took a look at the Facebook groups of each of the Best Blog finalists. As you can see we're the smallest of the finalists in terms of Total Page Likes, but when it comes to engagement we are able to engage with a higher percentage of you – our fans – which confirms our suspicions that we are posting blogs that agree with your eyes & mind, right?
[frame align="center"]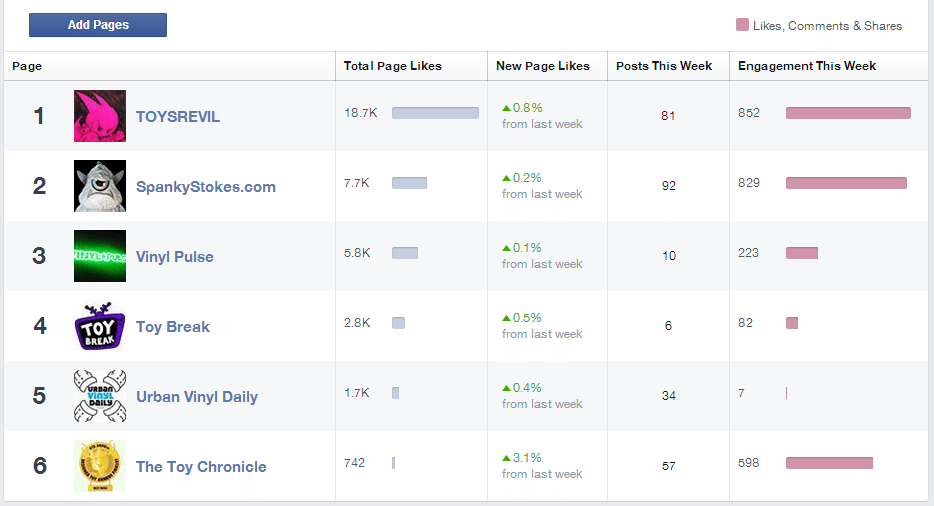 [/frame]
We honestly do not expect to win this award, that'd be crazy to even think so, considering the well-established competition we are up against.  Every vote we receive is recognition that we are doing a damn fine job promoting the UK & European Designer Toy scene. We have appreciated all the great feedback we have received since we conceived The Toy Chronicle.
Even if a win for the underdog in this scenario is unlikely, we'd still very much appreciate your vote. If you could be so kind to vote for The Toy Chronicle, you can do so here.
When the winner is finally announced on October 11th, during NYCC, we'll cheer the loudest for whoever takes home the Best Blog DTA 2014. Why? Because each & every one of the finalists deserves it. Each & every one are doing great things for the Designer Toy world. Each & every one are putting their own time & effort in to getting the best news out to the masses. So whatever the outcome is on the 11th, we are all going to be satisfied that what we are doing is great, and we'll continue to do the great work that got us to become a finalist in the first place.
Roll on 11/10/2014!
Love,
Gary, Andy, Rick, Matt, Evan & Rob
The Toy Chronicle
x