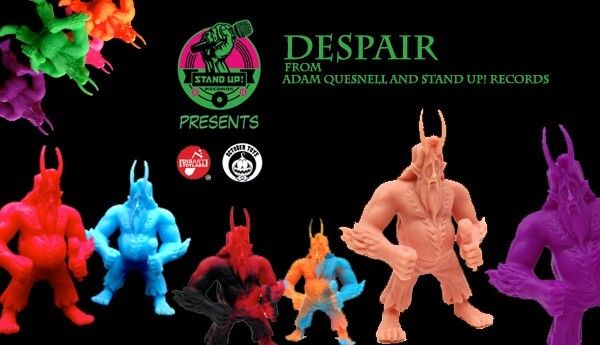 Adam Quesnell a fellow toy collector and Comedian has made a toy collectors dream of making his own toy! with the help of October Toys, and Tru:Tek of Disart Toylabs making his dreams come reality with his first limited edition mini-figure, "DESPAIR" with Stand Up! Records
Despair is a demon from the 10th Circle of Hell; the level where people who make bad cinematic adaptations of classic toy properties are flayed for eternity. Not your average demon, Despair suffers from severe anxiety disorder and crippling depression.
Satan himself banished Despair from Hell for being a major bummer.
Cast out upon the earth in a fiery geyser of lava and tears, Despair landed in the parking lot of a comedy club that was hosting a weekly open mic night.  Despair put his name on the sign-up sheet, got on stage, and told his story. Since then, he has been punishing himself, night after night, on comedy stages of varying quality throughout the Midwest. He dances and lashes himself for audiences with hopes of selling t-shirts and CDs to drunk people who will not wear or listen to them.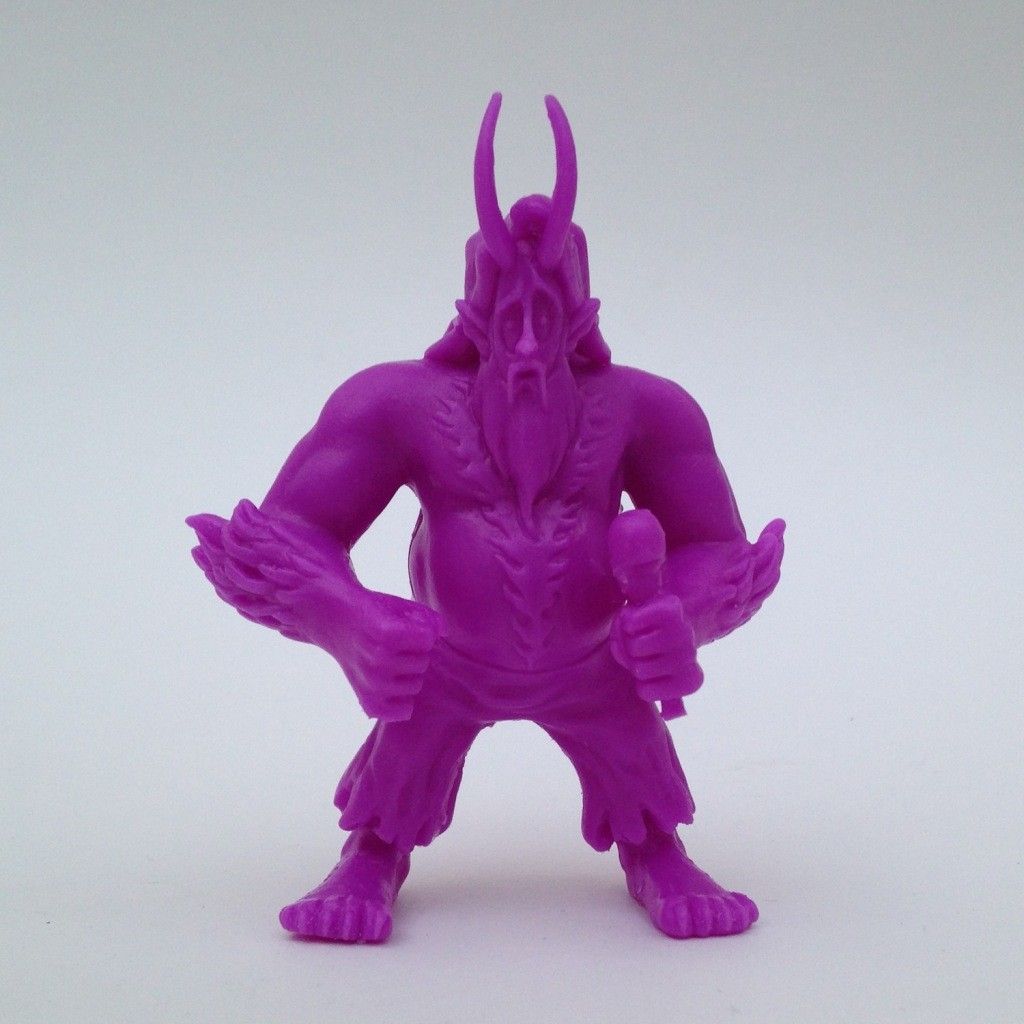 As some of you may know, I'm a bit of a nerd for contemporary mini-figures and art toys. My collection has a little bit of everything; from hand-cast rubber originals or kit-bashed figures, to hand-painted sofubi vinyl. Ultimately, I collect toys that I probably would have loved as a kid.

However, in the last year or so I've wanted to take the next step as far as my involvement with the toy world goes, so I've teamed up with ace record producer, Dan Schlissel of Stand Up! Records; artist supreme, Terence Brown II; mini-figure masters October Toys; and the guru of all things hand-cast rubber, Tru:Tek of Disart Toylabs, to bring you DESPAIR!
Despair is a 3" scale hand-cast rubber mini-figure designed by Terence Brown II. The design is loosely based on the Comedy Monster drawing that we eventually used as the cover of my Stand Up! Records debut, "Can We Afford This Much Despair?". The prototype was sculpted by the team at October Toys, who have produced such amazing lines as OMFG, OMFTG, Baby Deadbeats, Alex Pardee's Bunnywith, and the list goes on. Once we had the resin prototypes in hand we enlisted my all-time favorite toy producer, Tru:Tek of the Disarticulators/Disart Toylabs, caster of such iconic rubber toys as the H.U.S.T.L.E series, The Mad Ball of Death, the Ooze Ball, the Rotten Tomato Ball, Kesh-E-Face and countless others, to handle the production. Despair is the first time Tru:Tek is using his new signature rubber, which is 100% mercury free, 100% UV resistant (Despair won't fade in sunlight), and squishier than previous Disart releases (think Monster in my Pocket levels of squish). We have 12 colorways coming in edition sizes of 20, 15, and 10. These won't be sold blind, but you can bet the batches of 10 (such as our Stealth and GiD editions) won't be around for long.
(please scroll below for more photos)
[slider source="media: 13923,13924,13925,13926,13927,13928″ limit="100″ height="500″ title="no"]

You can't have a top of the line independent art toy without a banging header card, so Adam asked Josh Trumbo to adapt his and Terry's cover art Adams album into a toy header, and this is the gold he gave Adam.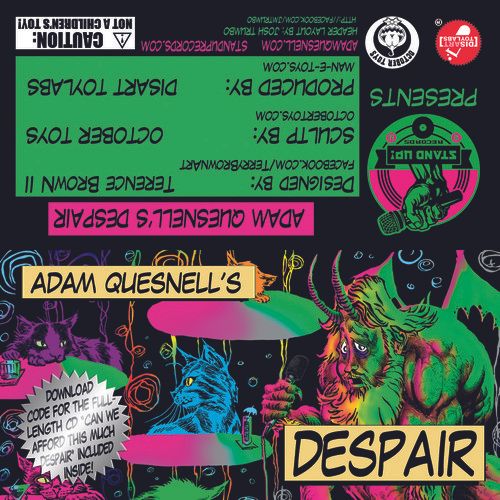 Because Despair is serving as the "Special Edition" Release of Adam's record he is  including a download code for "Can We Afford This Much Despair?" within every header.
Despair will be released upon the world at 6:66pm CST on October 31st at faqcomedy.bigcartel.com. Adam is also doing a release show that night in Minneapolis at Club Underground, with details coming soon.
Initially this collectable bundle will be available exclusively through through my webstore for $25+S&H or from me in person at a comedy show. Shipping is set up for the US, Canada and the UK (I will ship pretty much anywhere, but the shipping will be on a per-order basis if you aren't in one of those three countries). There will also be a "FREE LOCAL DELIVERY" option for those of you lucky enough to live in Fargo, ND.
You will be able to choose your color, but quantities are limited. Edition sizes will be posted in the store. Stand Up! Records will have them available at their live events and they will eventually be available from standupcrap.com (the Stand Up! Records store). The Red and Black Marbled Colorway is exclusive to the Stand Up! Records store when it opens, and the Clear Blue (both pictured below) will be a super limited special future release.
Adam has noted that none of this would be possible without Dan Schlissel of Stand Up! Records. He is producing this toy because he believes in doing cool outside the box shit in the world of comedy.
Now, everyone, get ready to cut your wallets over a pentagram so Adam and the team can get to work on the next figure.
DESPAIR TO BE RELEASED AT 6:66pm CST ON HALLOWEEN!
Follow Adam on twitter (@adamquesnell) and Instagram (instagram.com/faqrulesyou) for more information about this and future releases. Additionally, Stand Up! Records can be found on Instagram as well (instagram.com/standuprecords) and at standuprecords.com
(Courtesy of Tru:Tek and Adam Quesnell)