Emilio Garcia's Instagram account teasing us with a couple of work in progress shots! and boy is 2014 going to start with a BANG!
Emilio Garcia's trademark style turned into a grenade  brain!  I personally like the size and look of this and hope the price point is spot on. We shall wait and see.
Making moulds of his new prototype Braingrenade
As always TTC will keep you all updated on the production and release date.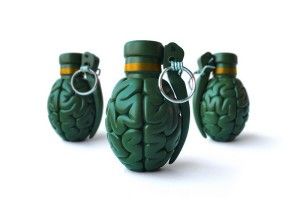 So here we have it the finished BRAINADE!
Soon we are releasing the BRAINADE, the new limited edition Brain Grenade resin figure by Emilio Garcia. Emilio Garcia decided to go with a lottery style release through the Emilio Garcia's Jumping Brain Shop site.
If you are chosen from the lottery, you will receive an email which includes a Secret Link to buy your piece. The price will be between 50 and 80EUR, and you will have 24 hours to finalize the purchase after the Secret Link email is sent. If not all pieces are purchased by the first group, a second round of emails will go out until all orders in edition size are finalized. Good luck!
Go check out his work.