Shadoe Delgado  is an ex-San Francisco bay area artist based in Arizona whose primary focus is in Sculpture and Toys. Your opportunity to own one of his gorgeous creations and bring his art into your world. 

Let me tell you a little story on how I actually found Shadoe's work.
During a holiday in the lovely city of San Francisco, as part of the sightseeing, the plan was to go to visit The Palace of Fine Arts then head over to Kidrobot for a spot of shopping.
So we get to The Palace of Fine Arts and see they have  free entry to a gallery show called Spring show 2013. How could I turn down anything for free right? anyway we wonder in and see an array of wonderful drawings, sketches and sculptures, but this caught my eye!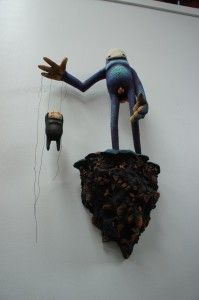 I have never seen anything like it! The colours, the character, I just loved everything about it. All hand sculpted and painted. The colours and texture really did it for me.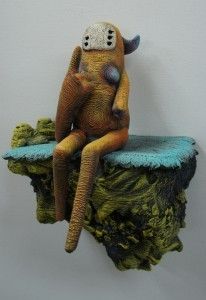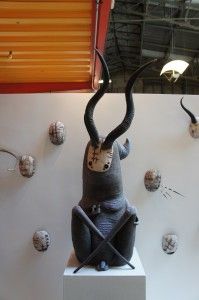 As you can tell, Shadoe's work is simply brilliant and at that time I was thinking 'I hope he makes smaller version of his work'.
Anyway, after seeing more art then I have ever seen in my whole life, we made the trip to Kidrobot SF and told the staff we just came from the Palace of Fine Arts and showed them photos of this amazing work! I asked have they seen this guys work? They all looked at me funny, and the Manager said yes, actually, he is working at at the back of the store today!  I thought she was joking, and then this guy came out behind the door and the Manager introduced him to me!!!  Yes that was the man himself. I could not  believe he actually does custom toys! I was shocked. He was painting some Kidrobot Munnys that day in the store.
[youtube url="http://youtu.be/TzmvZhitznI"]
Shadoe Delgado creates these Dark, Chubby yet lanky "Shadow" beings that follow people around and try to interact and walk among them. The Shadows, choose from various over-worn, stressed and cracked masks that they utilize to hide their dark expressionless faces.
Sorry if I bored you with that story but please go check out Shadoe Delgado work or even ask him for a commission.
You can find him over at his
Will leave you all with a few more photos of his work which are currently available at shop HERE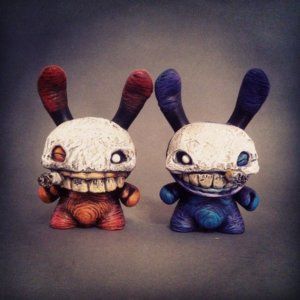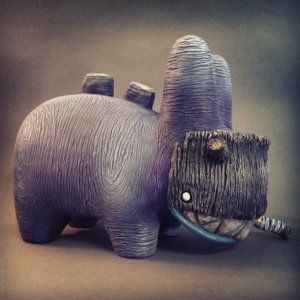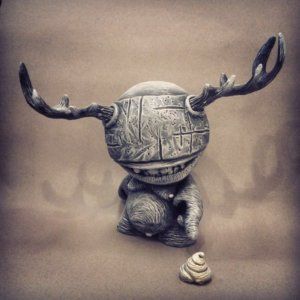 About Shadoe Delgado
"My work is self-reflective, referencing the various situations, feelings and thoughts I've had over the years. I use the Shadows to represent various aspects of my personality. Whether as an 8 year old or 25 year old, I have always felt the need to fit it in, even if it meant laughing at a terrible joke or pretending I understood what someone was talking about. I always felt like I was a follower and that I would change face depending on whom I was with in order to fit in.
    Whether the medium is Ceramic, Paint or Polymer Clay, I use each mask on the Shadows to represent someone or something I've pretended to be in order to fit in or cope with certain social situations. The reason I chose the term Shadow to describe these beings is because of the shadow's nature to be shaped by the object from which it is being cast. In psychology, Carl Jung describes the Shadow as the least desirable aspects of our personality that we repress and choose not recognize. It's been my goal to try and give these ideas a tangible form"
I am sure Shadoe will get a full production toy in the very near future, let's keep our eyes peeled!