BE prepared for the Dauntless show – New works by Jon-Paul Kaiser & J*RYU! JPK is heading to "The City that Knows How" San Francisco Woot Bear Gallery joining up withJ*RYU for a special visual event. Drop your plans and reschedule your schedule as this show promises something you've never seen before.  Oh and if you are wondering why Mssrs Kaiser? Fun fact, it's a play on Olde English it means Misters. Here's the PR from Woot Bear.
Dauntless – A tale by Mssrs Kaiser & Yu
New works by Jon-Paul Kaiser & J*RYU
We are honoured to host J*RYU and Jon-Paul Kaiser for our next show, 'Dauntless'.  They will be presenting their latest collaboration at Woot Bear on Saturday, April 1st!
What surprises do they hold for us?
Stay tuned for more exciting details!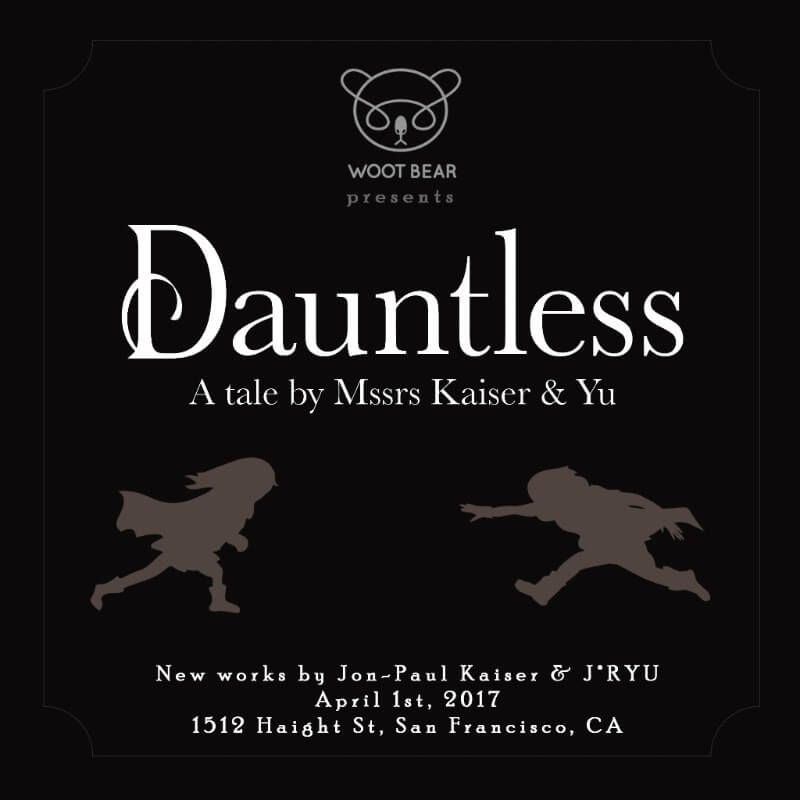 WHERE:
Woot Bear @ 1512 Haight St, San Francisco CA 94117
WHEN:
Opening Reception Saturday, April 1, 2017 6pm-9pm
For further info http://wootbear.com/
About J?RYU
Jesse Yu aka J?RYU, is a west coast-based sculptor/artist focused on exploring the themes of life and death in his signature ghostly and eerie Forest of Sorrows narrative. J?RYU has garnered an avid following of fans who eagerly look forward to seeing how each subsequent new piece adds to the ongoing story of the ghost girl who haunts his works.
After various stints in the corporate world, Jesse needed an outlet for his creative side to help counterbalance the rigors of business.  As a  toy collector and enthusiast for all of his life, it was a natural step to start creating pieces and collectables for the designer toy scene. Influenced by inspirations such as Hayao Miyazaki, Tim Burton, Ray Harryhausen, baroque design and architecture, his work was welcomed for its gothic nature and the encapsulated stories he imbued into each piece.  After participating in a multitude of shows across the country and world, J?RYU was honoured in 2012 as the Toy Customizer of the Year by the Designer Toy Awards.
As a member of the world famous Army of Snipers art collective, J?RYU travels the globe alongside his crewmates to bring their unique visions of art to people of all cultures. In 2011, they raised money and were filmed for a documentary called "Paint Life", where they travelled to the Thai/Burma border to help disadvantaged children, displaced by the political strife in that region, by conducting programs where art was the universal language.
In his career, J?RYU has worked on projects for clients such as TOPPS and Hasbro and has sculpted collectibles for artists Angry Woebots, Dez Einwell, and Jermaine Rogers. His dream would be to have Studio Ghibli animate his Forest of Sorrows story.
website: www.j-ryu.com
twitter: @jryu
instagram: @ryuart
About Jon-Paul Kaiser
Born into the greyness of England at the end of the Seventies, by the age of four Jon-Paul Kaiser knew that what he wanted to be in life was a designer. From that point he rarely strayed from that path; drawing and doodling his way through School, College and University. Working as a designer and illustrator, JPK's career path took him through a variety of jobs, projects and trends until he was introduced to designer toys by his friend Porlzilla. Together they created their own original resin-cast limited edition art toys and sold them through their website. After working with Porlzilla, Jon-Paul decided to go it alone concentrating at first on the toy customization scene, building up a name and strong reputation for himself with his stark Black & White custom style, influenced by comic book art, film noir & Ukiyo-e prints. As his reputation grew, he was also invited to participate in more and higher profile art exhibitions, including;-
"Show Me The (mini) Munny" show (Go-Go Plastic, Birmingham),
"Art for Action" (JailBreak Toys, NYC)
"Humans Beware! IWG Show" (RocketWorld, San Fransisco)
"Mickey Brand Halo" Bloc2B/Disney (Times Square, Hong Kong)
"Art Strikes Back" LucasArts (Art Asylum Boston)
"Reconstructing Misfortune" (Ferg/Playge Toys, Munky King, LA)
"Most of My Heroes are Zombies" Solo show (lksentrik, Bath)
"Power Arts for Power Up" (ToyGube, NYC)
"Sketchbot Custom Show V2? (Munky King, LA)
This in turn lead to him being approached by established toy producers for designs for their platform toys. First were Toy2R who released several JPK Platforms, including his Great Khan 2.5? Gee in their Designer Series 6 collection. Also released through Toy2R are two colourways of his Skelanimals Gee design, his B" Artist Collection "Zombie Pirate" Gee as well as heading up their new 5? Mini-Gee releases with his popular Samurai Pumpkin Gee, available in PURE edition (B&W) and Glow-in-the-Dark.
Toy2R will also be releasing further JPK designed Gees in 2011; including his first original sculpt toy – Captain Sturnbrau.
Strangekiss announced two versions of their "Peet" 3? figure designed by JPK.
Jamungo have confirmed that JPK will be included in the B.U.D. Series 4.
2012 will also see several releases for JPK from Kidrobot.
Along with the urban vinyl scene JPK has extensive experience working on licensed clothing, designing for high-street and online stores in the UK, designing for licenses as diverse as Star Wars (Lucasfilm), Ghostbusters (Sony Pictures), Simpsons (20th Century Fox), Kelloggs, Britvic, Transformers, Lego & Looney Tunes (Warner Bros.).
website: www.jonpaulkaiser.com/
twitter: @jonpaulkaiser
instagram: @jonpaulkaiser
facebook: JonPaulKaiser