You could argue that Superman was the most recognisable character from the DC Justice League universe, but as we are writing this review and we prefer Batman over Superman, so there. But we've come to the third part of our Mighty Jaxx x Jason Freeny XXRAY DC Series 1 review and No.3 in the series is the second most recognisable DC Justice League character – Mr Clark Kent. Otherwise known as Superman AKA the Man of Steel.
[carousel source="media: 46679,46678,46674,46677,46676″ width="1600″ height="2000″ items="1″ title="no"]
Superman with his luscious head of black locks, looks to be carved from stone. This is definitely modelled on the newer Henry Cavill's Superman, with Cavill's style suit. The red & yellow Superman symbol could be a little neater with the paint work, but it's passable. There are a number of paint botches, that we would like to see eliminated with production releases. Superman certainly feels bulkier than the Batman figure, so the intricate parts aren't as prominent.
XXRAY Superman, along with Batman & Wonder Woman are available to purchase right now. A couple of our site sponsors currently have these available. Collect & Display (UK) have them available HERE. Mindzai (US & Can) have them available HERE. Tenacious Toys (US) have them available HERE. You can also use the XXRAY Store Locator HERE to find a local store – most of these are either in Asia or the US.
We hope you have enjoyed our XXRAY DC review? Please share & retweet to show Mighty Jaxx and Jason Freeny the love they deserve. So far this XXRAY DC series is off to a great start. We already know that four new members are being added to the series, which you can read HERE.
As a final treat to you for reaching the end of our XXRAY DC Series 1 review, we took a sneaky picture of Bats, Supes and WW with their DC Lego minifig counterparts. Because, well, we can. Ha.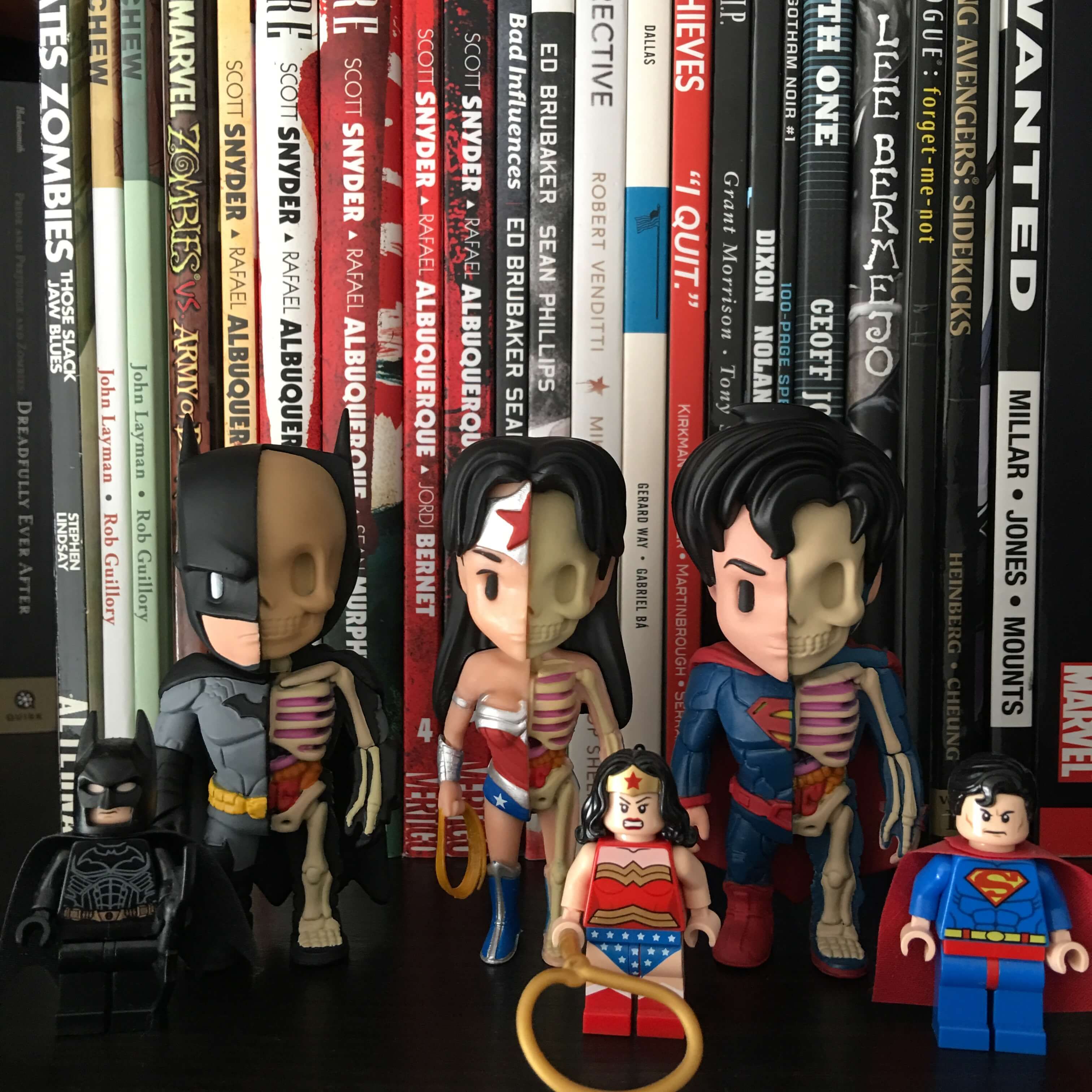 Massive thanks to Mighty Jaxx for sending through these three XXRAY figures. Very much appreciated. Go give Mighty Jaxx a follow on Facebook, Twitter and Instagram. You can also check them out at their website: http://mightyjaxx.rocks/ and they do indeed ROCKS! Jason can be found on Facebook, Twitter and Instagram – as well as his website: http://www.moistproduction.com/