HEADSPACE – THE FARTHER BLACK SET by Luke Chueh x Munky King has arrived and ready to be reviewed. We first saw the prototype at Dcon 2015 and we knew we had to jump on it. Not just because we're Luke Chueh fans but we needed to have one matching the OG white Headspace.
"Headspace" is based on a series of paintings created by Luke Chueh over the past couple years. The series is Luke's attempt to give credit to the things that have had an impact on his life/career. This is the second set released and comes with the classic black bunny head accompanied by the "Father" head!"
[youtube url="https://www.youtube.com/watch?v=ByVTHNg0EMc" width="1200″ height="1000″]https://youtu.be/-q6KyIQkaQk[/youtube]
Packaging is much like OG Headspace packaging with the soft grey front. Luke's art work is represented on the front which is nice. What we like about the packaging for HEADSPACE is that it can be flipped open to reveal HEADSPACE designs. We now know that production of the other heads will be made in the near future. BRING ON THE BOBA and Chicken head.  The inner clamshell along with the plastic ties, holds everything together so the bears and bunny nose doesn't rub during transit.
The heads are easily changeable with the simple socket system. Both heads are not as tight as the OG set but they still they will last long and not become too lose when interchanging the heads over time.
[slider source="media: 39007,39010,39009,39008″ width="1300″ height="1020″ title="no"]
The Vader head came out pretty well everything you'll expect. One downside but this is just a personal taste, would be that the Vader head is tad too shiny compared to the whole figure.
As for the prints well both of them are icing on the cake. Luke fans like myself would be pleased to have them hanging on any wall. Good quality paper solid print. WIN!
If you like what you see you're in luck as Munky King has a couple left. This piece comes with one 6 inch vinyl body and two interchangeable heads, a cape, and TWO 8×10 archival prints.
Priced at $100 at https://www.munkyking.com/
(Watch the review video to look the prints included which are based on Luke's paintings)
Why not check out our OG Headspace review HERE.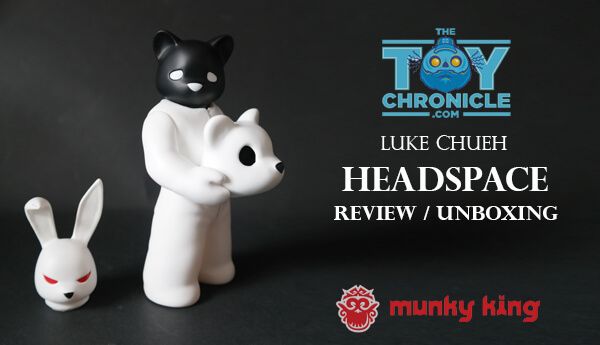 Find Luke via Instagram, facebook  and Twitter
http://www.munkyking.com , Facebook , Instagram and Twitter