First off I must say I was shocked on how big the Business Monkey was when it arrived at the TTC office. the width of the Business Monkey is huge so you better make space for it. This my 1st Joe Ledbetter x Munky King vinyl and here are my personal view on the Business Monkey.
The box art is nice and clean with JLed illustrations over it nothing too over the top and a view of the other past releases of the Monkey.
[slider source="media: 20904,20905,20906,20907″ limit="100″ width="1000″ height="700″ title="no" speed="800″]
The quality I cannot speak highly enough from Munky King, no signs of paint bleeding. I was surprised as Joe Ledbetter  style has think and thin lines.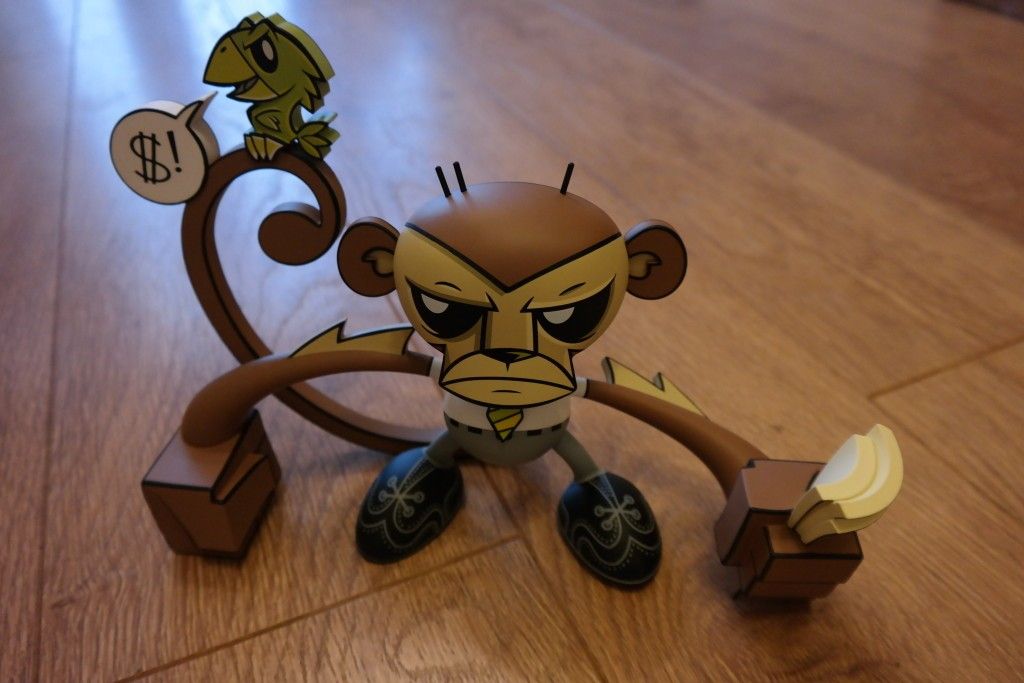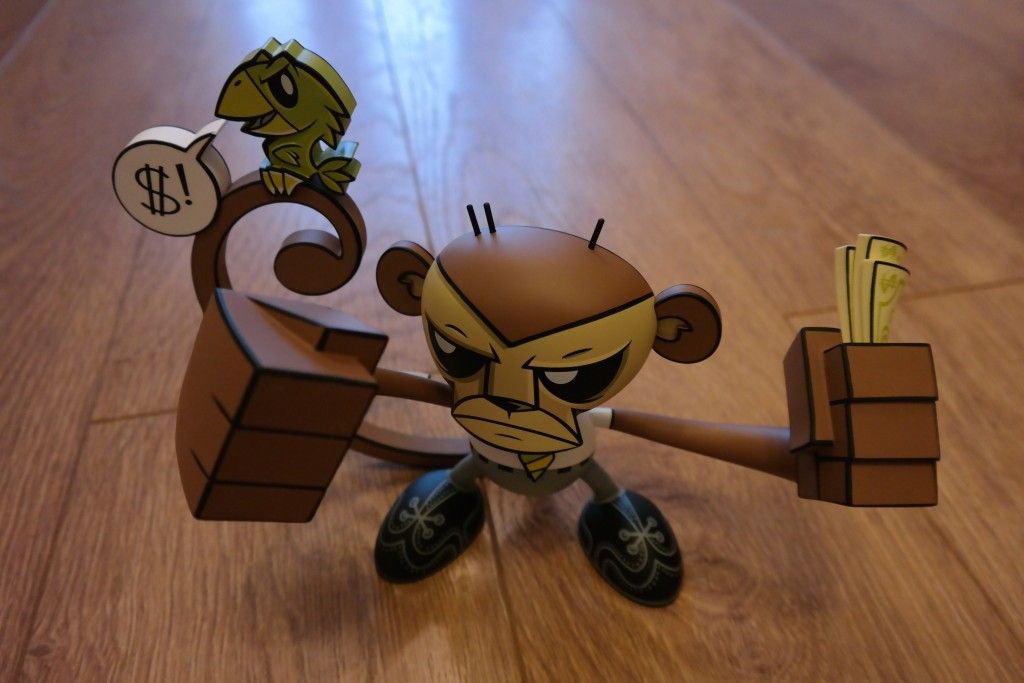 Articulation is top and tight so it will last for years to come. The ball joint movement in the head was a nice idea  so you can pose him how you like including the arms too.
Below is a short clip on the articulation and you can see better the quality production on the Monkey. Still no photo or video will ever compare to seeing it in person.
[youtube url="https://www.youtube.com/watch?v=lG8X9ESa4m4&feature=youtu.be" height="500″]
The back is tidy too so no love is lost for the back.
[slider source="media: 20913,20914″ limit="100″ width="1000″ height="700″ title="no" speed="800″]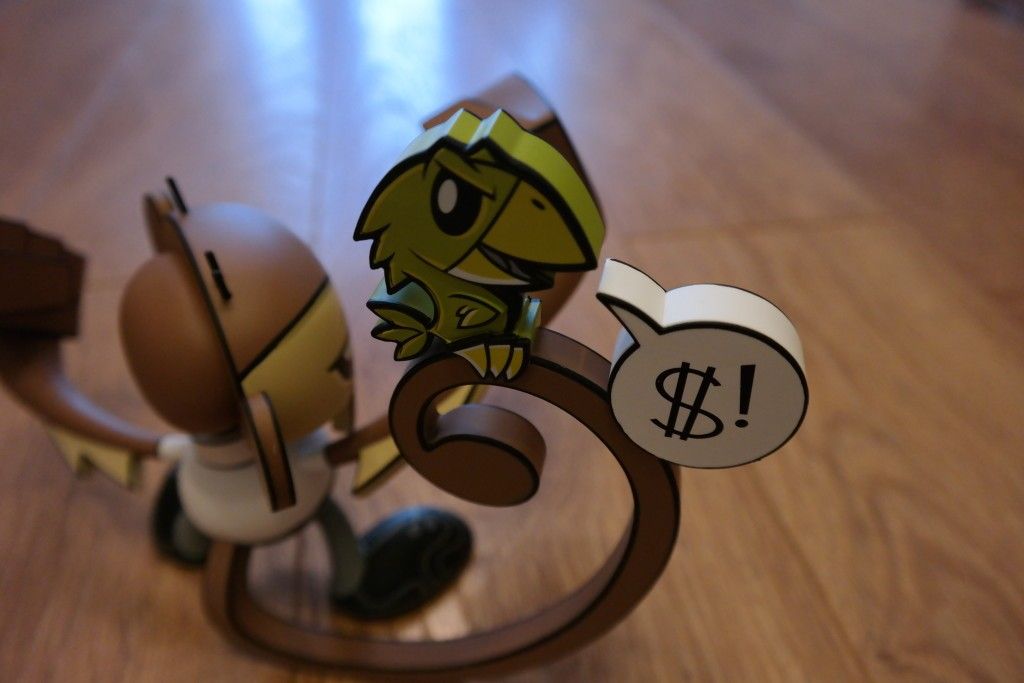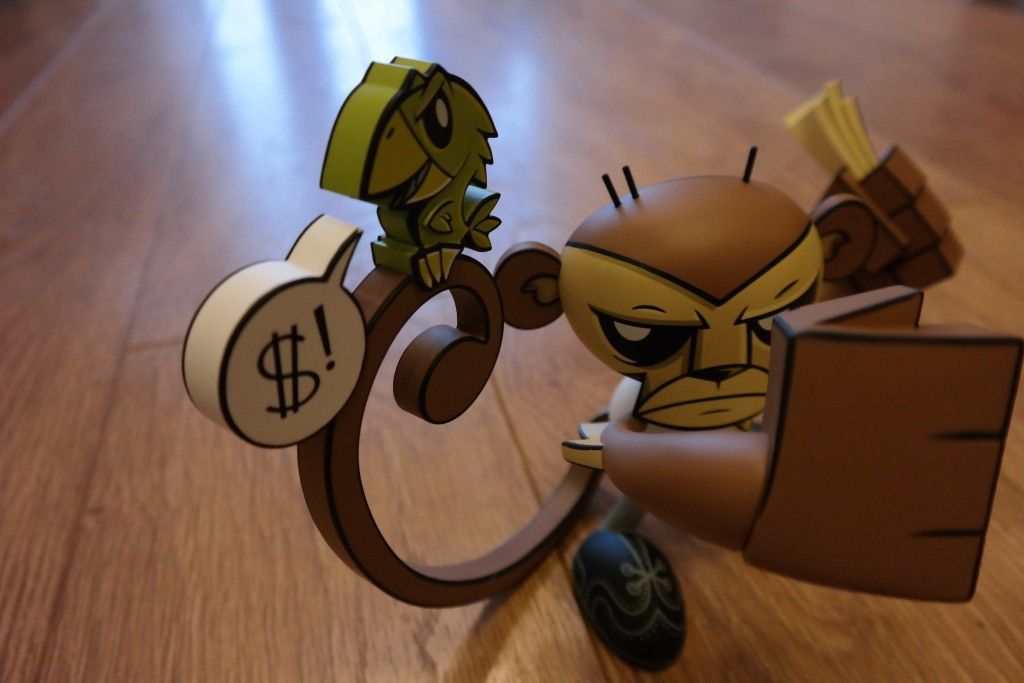 As you can see Munky King as done a super job once again making  Joe Ledbetter come to life in 3D format. From that mischievous bird to the shoes on the Monkey.
Joe Ledbetter and Munky King unite again and blessing vinyl in the joint venture! Business is the last instalment of The Monkey Series by Joe Ledbetter. Bu$ine$$ Monkey now has a firm money grip and no sign of letting go, you would not want to mess with this 8inch chimp, as his mean looking bird companion looks like he can defend himself too.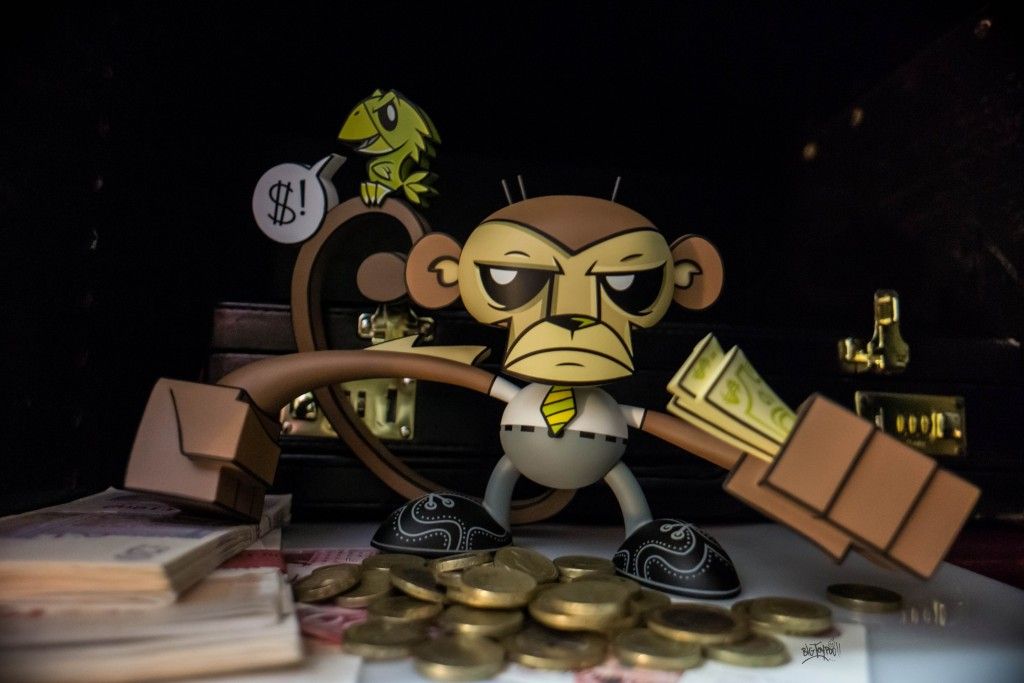 "CEO? Wage slave? Either way, Monkey is ready for the rat race with his corporate duds and signature dour expression. Comes with a bossy bird telling him to make that money. "
Overall full marks and a great looking vinyl and good weight and proportion so no toppling over etc, paint work and transition from illustration to 3D is perfect. Has this review tickled your fancy? Priced at $90.00 (around £58) simply head over to https://www.munkyking.com/ you can also find Munky King via Twitter , Facebook and Instagram. Joe Ledbetter via http://www.joeledbetter.com/ Twitter ,Facebook and Instgram.