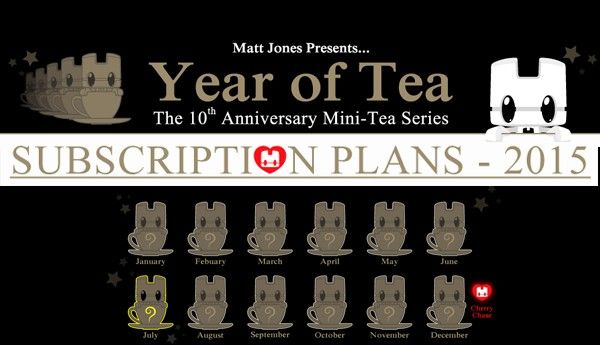 2015 commemorates the 10th Anniversary of Lunartik in a Cup of Tea. To celebrate, Matt has designed a very special limited edition Mini-Tea Series that is only going to be available via monthly subscription plans.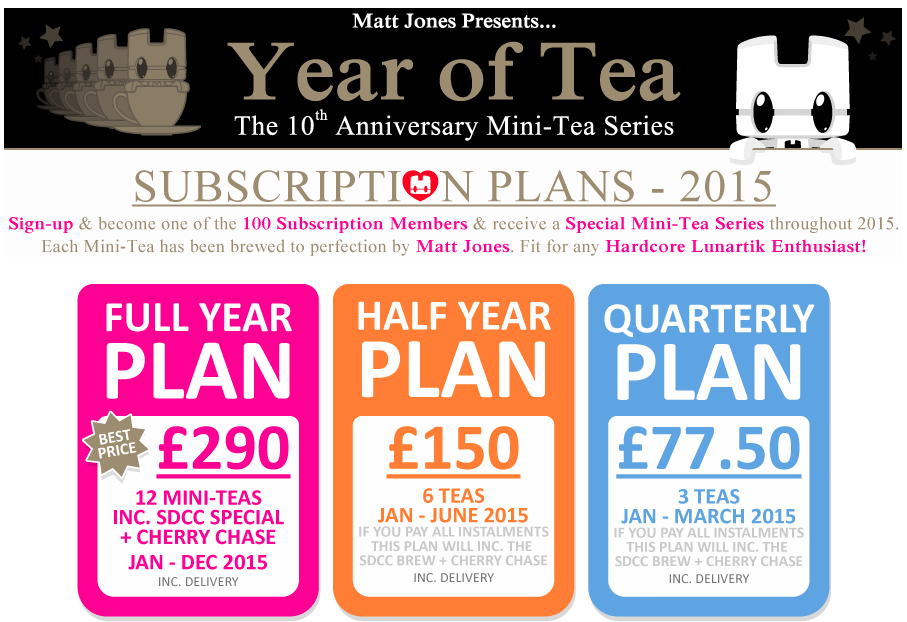 You now have the chance to be one of the lucky 100 customers who will get a Mini-Tea to the door every month of 2015!
What you get – A bit more detail:
– Anyone singing up for the Year Plan will automatically be enrolled for a complete series which includes the Chase Cherry!
– All Subscribers are guaranteed to receive 12 x Mini-Teas delivered to you at 1 per month, as long as you meet your subscription fee payments deadlines.
– You will get 1 of only 100 Mini-Teas per style, all Mini-Teas come signed & Numbered by Matt Jones / 2015.
– ONLY Subscribers who complete the full 12 months subscription will be entitled to receive the "Chase Cherry" in December 2015*
– Matt will be doing doodles, stickers and more goodies along the way!
– In July there is a Special Subscription/Convention Brew of 200 pieces. Numbers 1-100 will be sent to Year of Tea Subscribers and numbers 101-200 will be going to San Diego Comic convention and sold exclusively from the DKE Booth.
– All dispatched from Germany, Hand packed and sent by Matt Jones.
– It's important to know, that each customer will be assigned a "Series Number" example: If you receive number 25, the whole collection you receive will be the same number.
– The lovey people at Forbidden Planet in London are hosting a special Lunartik Signing Party on November 28th 2015. Details TBC.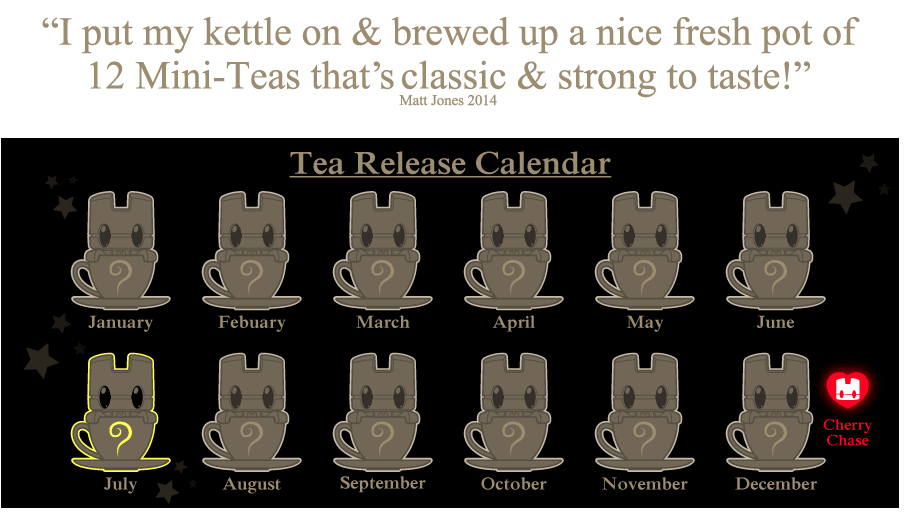 Payment plan options explained:
FULL YEAR PLAN
This Plan gets you all 12 Teas and the Cherry Tea Special Brew at the end of the year in a one off payment of £290. Free delivery is included in this plan. This is the cheapest way to subscribe to YEAR OF TEA. One Tea Delivered each month.
HALF YEAR PLAN
This Plan starts you off with the first 6 teas released Jan 2015 – June 2015 and costs £150. This Plan is renewable at the same price in time for the second half year starting in July. Payment will be requested for 2nd half year in June 2015*. One Tea Delivered each month.
TEAS BY MONTH
All remaining Unsubscribed Teas from the Year of Tea will be sold via www.lunartik.com after subscribers have received their teas around the middle of each month on a first come first served basis. Random available numbers will be supplied and separate delivery will be charged for these.
Check it out: http://www.lunartik.com/yearoftea
(all Info and photos lifted from Matt Jones)