myplasticheart presents their annual collaboration with creative documentarians Studio Miners. This year they delve into nostalgic 80's skate culture with a tribute to the influential skateboard graphic arts scene prevalent at the time.
[frame align="center"]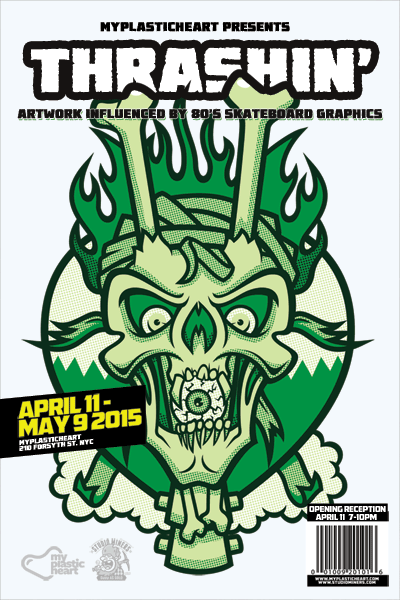 [/frame]
"In our travels as the Studio Miners, we seek out collectors, those who have an itch to surround themselves with the sometimes wacky and weird and often inspiring and nostalgic. The collection we run into most frequently, whether limited to a handful or an entire room, is vintage skateboards. So many of our peers look to the designs of VCJ, Jim Phillips, and Pushead (to name a few) from influential 80s skate companies like Vision, Santa Cruz, and Powell Peralta to draw inspiration for today's paintings and products. Our latest curatorial effort, Thrashin', is a tribute to those significant graphics re-imagined by over 15 of our favorite artists, so this April, get ready for some of the raddest, totally gnarly graphics to bring you back in time – Live to thrash, dude!" – Studio Miners
Participating artists include: Brian Butler, Ekiem Evoker, Flying Fortress, Andy Foltz, Jake Hope, Michael Hsiuang, Sean Kernick, Abe Lincoln Jr., Phil Lumbang, MCA, MSG, Podgy Panda, Clams Rockefeller, Chris RWK, Tall Boy, Smut Villain & Britton Walters.
The opening reception on Saturday April 11th 2015 7-10pm from the myplasticheart store in NYC. Exhibition runs through May 9th 2015. Curated by Studio Miners.