Stumbling on Instagram as you do, we came across some super cute stuff made by The Republic of Cute AKA  Karly West, Artist/Ambassador of Cute based in Cleveland. The Donut and  "MAC LE MACARON" are what caught my eyes and we thought what  better way to spread The Republic Of Cute to the world to feature Karly's work on TTC!
The finishing looks mint and the cuteness is definitely there. Makes us want to eat them up! need sprinkles? Karly can make them for you.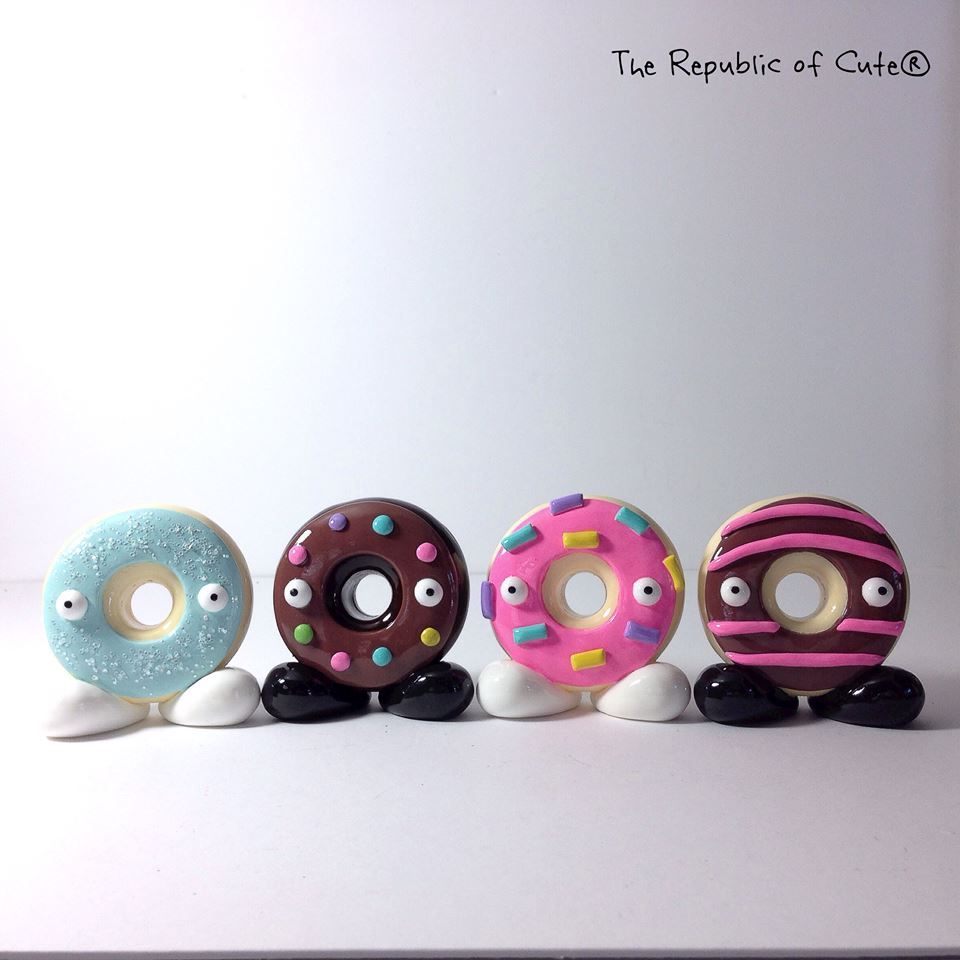 You got a wedding coming up? need a cake topper? Karly has got your back!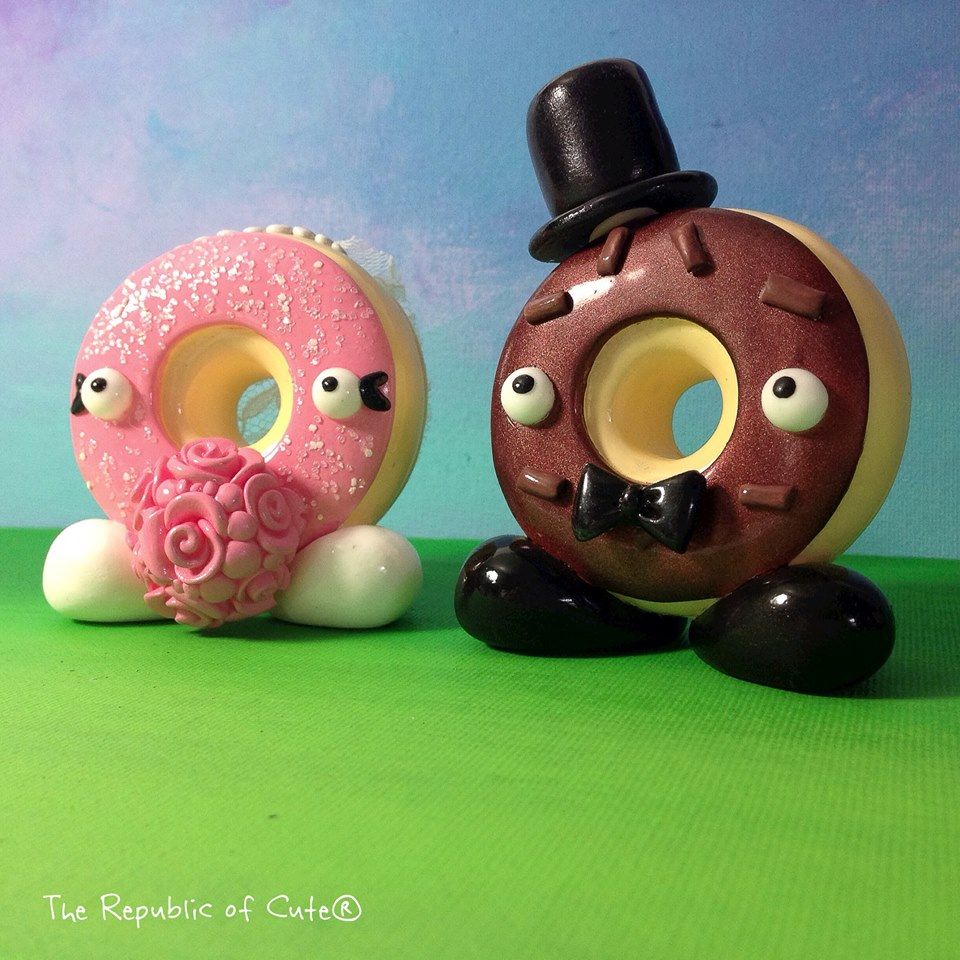 Saying that many have stolen her designs as she states.
Feel this Etsy/Pinterest/Handmade-Lovin'/Craft-astic world needs to talk about a difficult topic. ART AND THEFT.
This morning I saw someone ripped off and SOLD one of my most long-standing, signature wedding topper designs. They were then graciously rewarded with a feature on "Disney Weddings" blog for their amazing topper.
And my gag/sueing/throttling reflex kicked in. Full force.
Again. Someone ELSE gets the credit for a design for which I WORKED MY FREAKING HEART OUT to create. With absolutely no credit given to me or to the hours and hours and YEARS that went into that topper design. This is my LIFE, people. This is a big deal.
To add insult to injury, the topper design they stole from me (and was praised by Disney weddings) looked like absolute crap. Watching someone else get accolades for MY design through THEIR sloppily executed sculptures is NAUSEATING.
Similar issue: this afternoon I got an email from a potential customer asking me to do a custom topper "inspired" by a video game.
Is that character MY design? Am I legally (or morally) allowed to copy it and then profit from the hard work and designs that someone else created??
NO.
Do people understand this?
Just because you SEE something does not mean you have the rights to sell its likeness. Simply changing a color (or in my recent case, slapping on some heinous-looking lips), does not make it a "new" creation. Use your common sense. Copying is copying. IT IS A BIG DEAL.
Artists, if you want to be "inspired" by ANY CHARACTER that did not originate from your own rigorous toil and design efforts, then you need to ask permission from THAT DESIGNER or their legal team before you copy at sell it for YOUR profit.
But would eliminating this infringement eliminate 90% of Etsy or "handmade" shops?
YEAH, it sure would!!
In fact, I hope it does!! But perhaps I'll make my living from creating and then SUEING anyone who copies and sells it. I feel I may be headed down that path. It may pan out for me, though it's not my #1 lifestyle choice.
So if you are going to be a professional "artist" or sell your work for money, you have responsibilities to step it up and WORK FOR IT (translation: make your own things that have their own unique appeal. Do not piggyback on the value of someone else's "thing." And if a customer asks you to violate copyright, you have an obligation to say NO, or ask for licensing permission. But I think casually taking "inspiration" (fancy speak for STEALING) is so commonplace that people may not take this issue seriously.
You can read the full post HERE
Next up is MAC LE MACARON.
These are badass! and at a bargain price of $20 it might be a no brainer.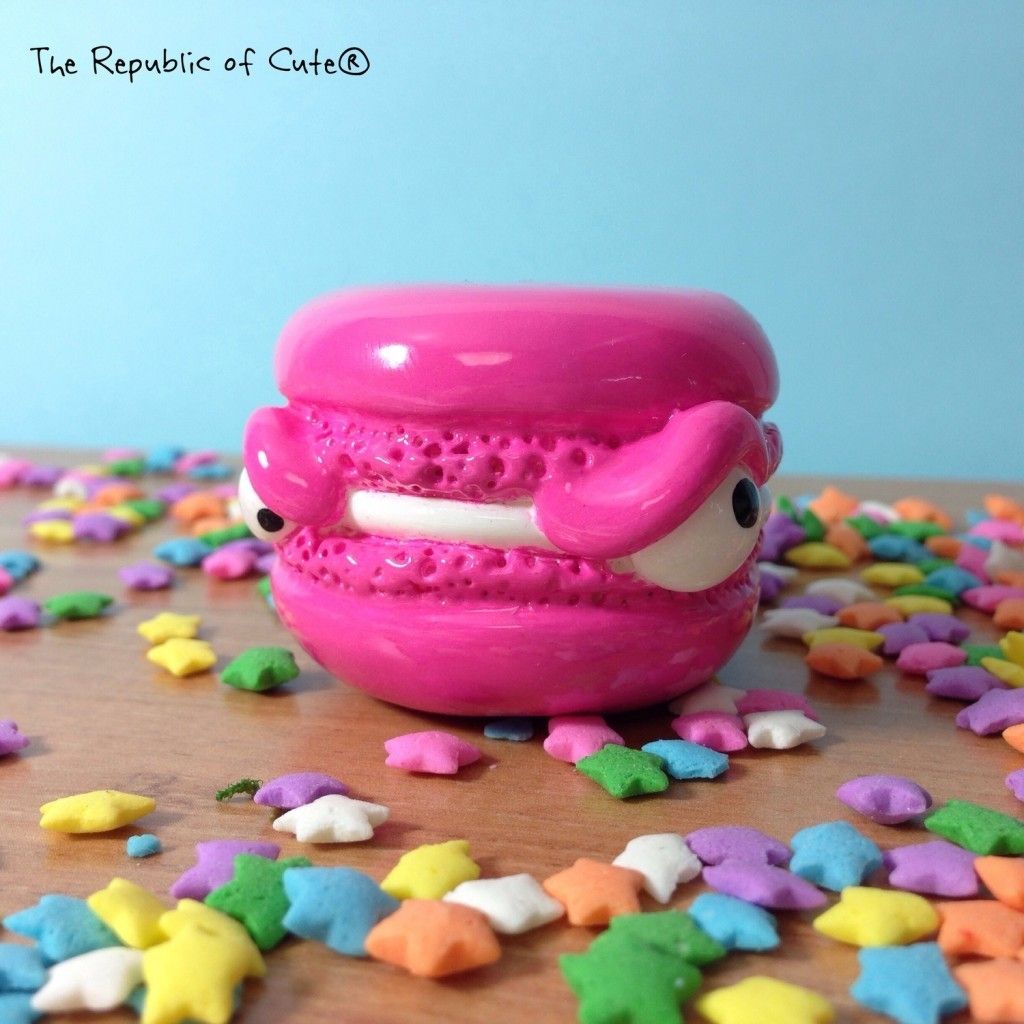 Mac (pronounced "Mock," as in "This macaron is totally MOCKING you."
About: Mac is a macaron, and should NOT be confused with a macaroon. Don't get him started…….Again…….
Likes: Being fancy. Almonds. Judging. Lecturing others about what it means to be a macaron.
Dislikes: Coconuts.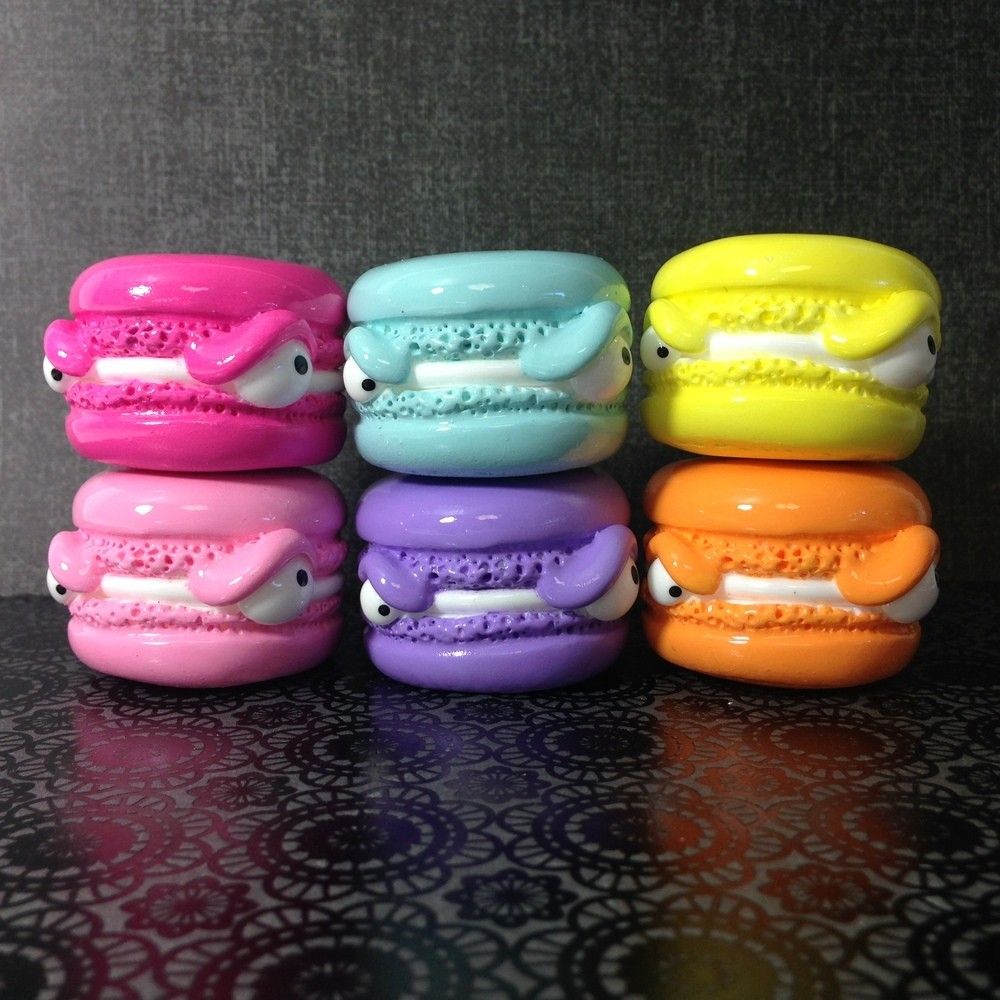 You can even choose from bright pink to metallic colours, this will be hard not to get a set of MAC LE MACARON.
She has more things brewing up and one we are excited about is GINGER BEAST a cute take on a gingerbread man, THOSE EYES! what a expression!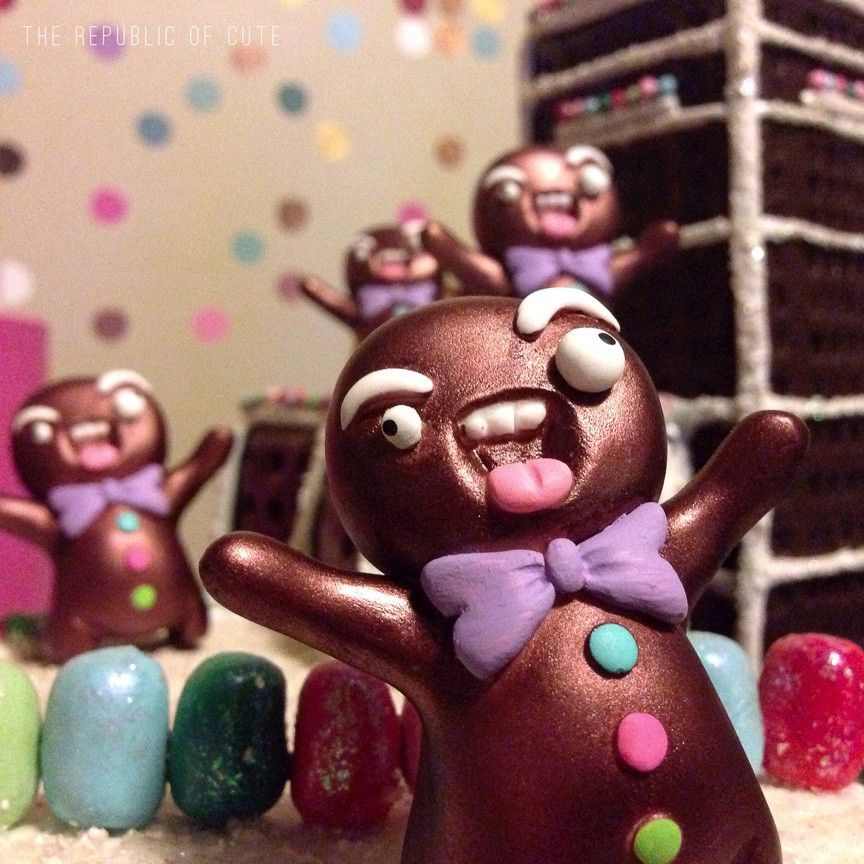 No idea when this chap will be released but he will cost $30.
Ginger Beast! Yes, the exclamation is included.
About He's deliciously fierce and a bit insane. But he means well. I attribute it to a sugar high gone awry.
Likes: Sugar. And more sugar!
Dislikes: Being exposed to temperatures over 225 degrees fahrenheit.
The Ginger Beast is a handmade resin sculpture that stands about 2.5 inches tall. Hand cast, sanded, painted and clear coated for protection and a high gloss shine.
[slider source="media: 23209,23210,23211,23212″ limit="100″ width="800″ height="800″ title="no" speed="800″]
Karly has a whole lot more of cute works but we feel you should have check them out over at her site http://therepublicofcute.com/ so we do not ruin the surprises. You can also find The Republic Of Cute via Facebook, Twitter and Instagram.  You can also pick all the goodies via her shop http://therepublicofcute.bigcartel.com/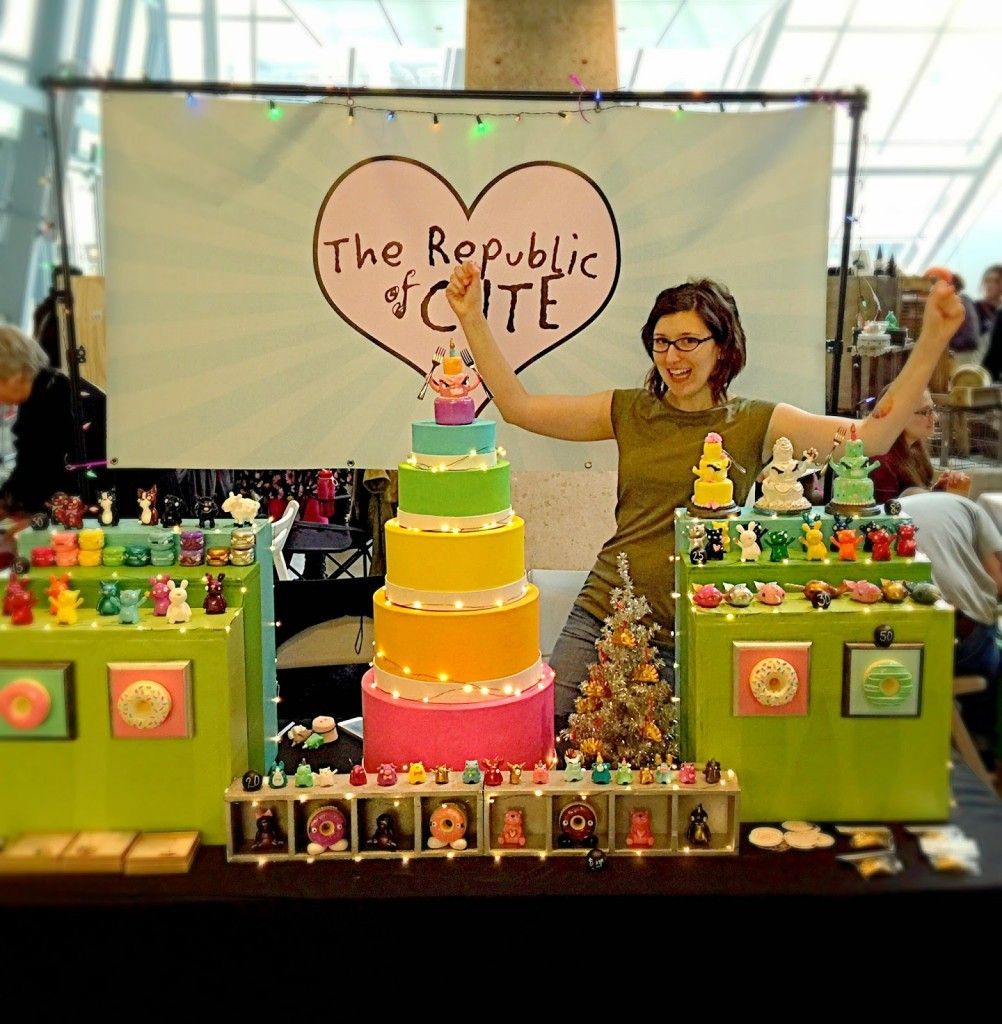 (all info and photos lifted from The Republic Of Cute)