The wonderful Amanda Louise Spayd is going to make the internet traffic go crazy or even a standstill with her release of Nursery Pipsqueaks! the adorable Pipsqueaks will have a few versions for sale.
Nursery Pipsqueaks High Chair 
Only 2 or each colour blue, pink and yellow standing/sitting at 2.5cm tall, all hand painted and glass eyes. The high chairs alone are cute. They all have that vintage look including the decals. The chairs are made out of wood and antique finish.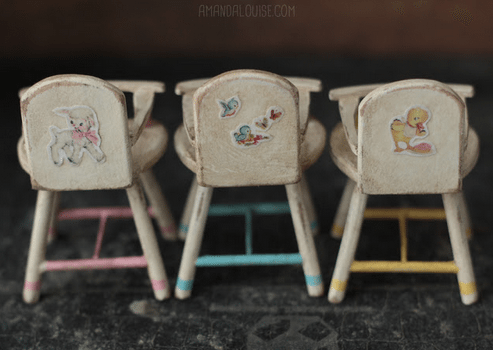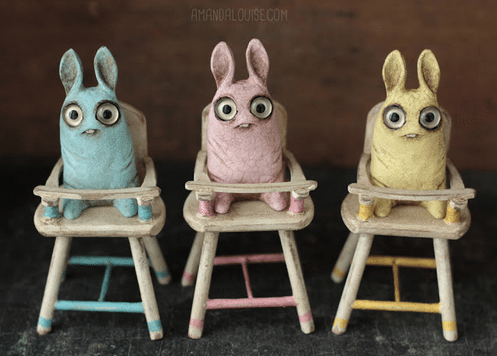 The Pipsqueaks are removable too.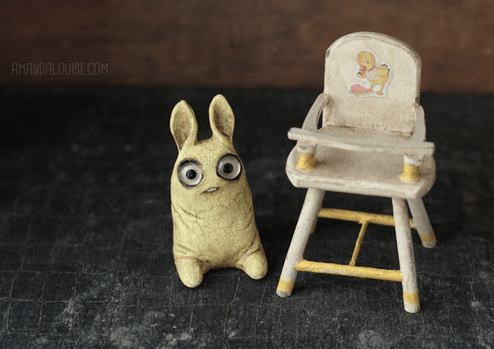 Nursery Pipsqueaks Crib
Only 2 or each colour blue, pink and yellow again, the crib comes with vintage decals on ends, and a weathered fabric cushion inside.
The crib is about 2.25″ high and 3″ long and the Pipsqueak is approximately 2.5″ tall.
These are priced at $100 (around £63) each and are apart of Amanda's 100 for $100 series.
That's not all Amanda will be launching at the same time Unpainted Pistachio Pipsqueak for $18 (around £11) 50 available. Unpainted green urethane resin with black plastic eyes.  Limit one per person.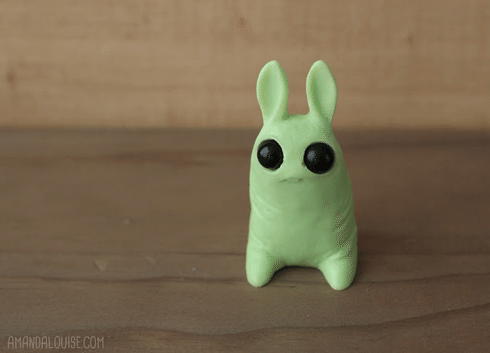 Friday, May 22th, 2015, at 4:00pm, EST (9PM UK time) is the release date at  https://amanda-louise-spayd.myshopify.com/
More detailed info at Amanda's Blog http://mandilouise.blogspot.co.uk/ you can also find Amanda on her Facebook , Twitter and Instagram.
(all info and photos lifted from http://mandilouise.blogspot.co.uk/ )