Ron English fans clear your diary and plans as MURAL presents Ron English's Montreal Popaganda pop-up shop! Your chance to get all your Popaganda goodies which will feature toys, prints, t-shirts, books and some rare finds from Ron English. Now deatils on how limited stock will be or if any special edition vinyl toys will be released to mark the opening of Ron's Popaganda pop-up shop.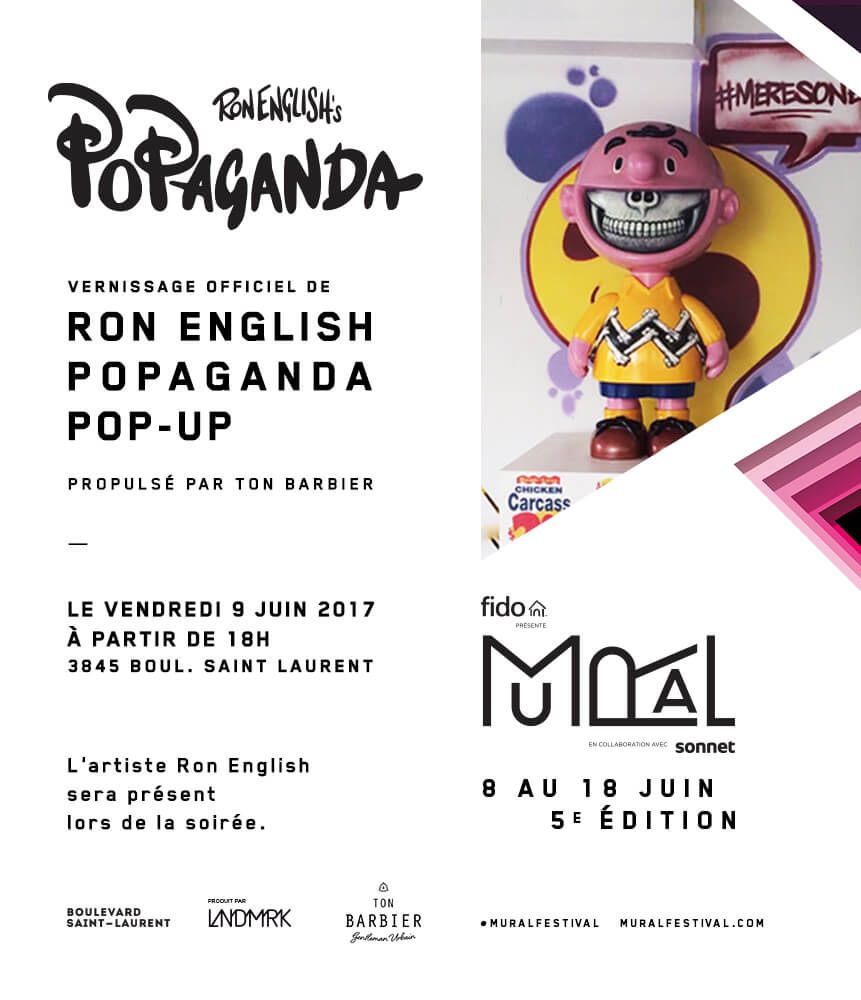 As you can see from the invitation photo above, could this be a sign of a special release? Who knows, only Mural knows.
WHERE
Montreal, Canada
3845 Boulevard Saint-Laurent
WHEN
Opening on June 9th
June 9-18th 2017.
About Popaganda pop-up:
A pop-up shop featuring toys, prints, t-shirts, books and some rare finds by Ron English.
Born in the 1960's in the United States, Ron English is considerably one of the most prolific and recognizable living artists. Accredited with the transition of graffiti art from a subcultural form of popular expression to the decorative, narrative murals that are seen today, he is the godfather of street art. He coined the term "POPaganda" to describe his trademark fusion of high and low imagery, synthesizing images of superheroes and comic strips with art history iconography in his prolific and ubiquitous paintings, billboards, and sculptures. English has created a vast roster of characters, including MC Supersized, his obese fast-food mascot that was featured in the documentary Supersize Me, and Abraham Obama, a mash-up of America's 16th and 44th Presidents. He is best known for combining expert draftsmanship with a cynical, humorous critique of American culture.
About Mural
Since its founding in 2012, The Mural Festival mission has been to democratize urban art. What began as a love letter from Montreal to the world, the Festival has grown into a unique international celebration of the arts, with its own distinctive DNA. MURAL's abundant and ever-expanding portfolio of over 80 murals and installations bring change and wonder to the communities they inhabit. Each new edition of the festival brings together street artists, muralists, musicians, creators, art enthusiasts and the curious to assemble for what's new and relevant in urban culture.
For further info visit muralfestival.com