The final Kwaii are coming. JPX announced this morning two new editions to the Coarse Kwaii family, and The Toy Chronicle are very excited to see one being a 7inch Kwaii Ignited edition! This will sit nicely beside the Kwaii Spark edition from Thailand Toy Expo. The second edition is Kwaii Dim, a 3.5inch Kwaii. Whilst only a small part of the piece, we love how the set of five tiny birds on each release really set the colours off.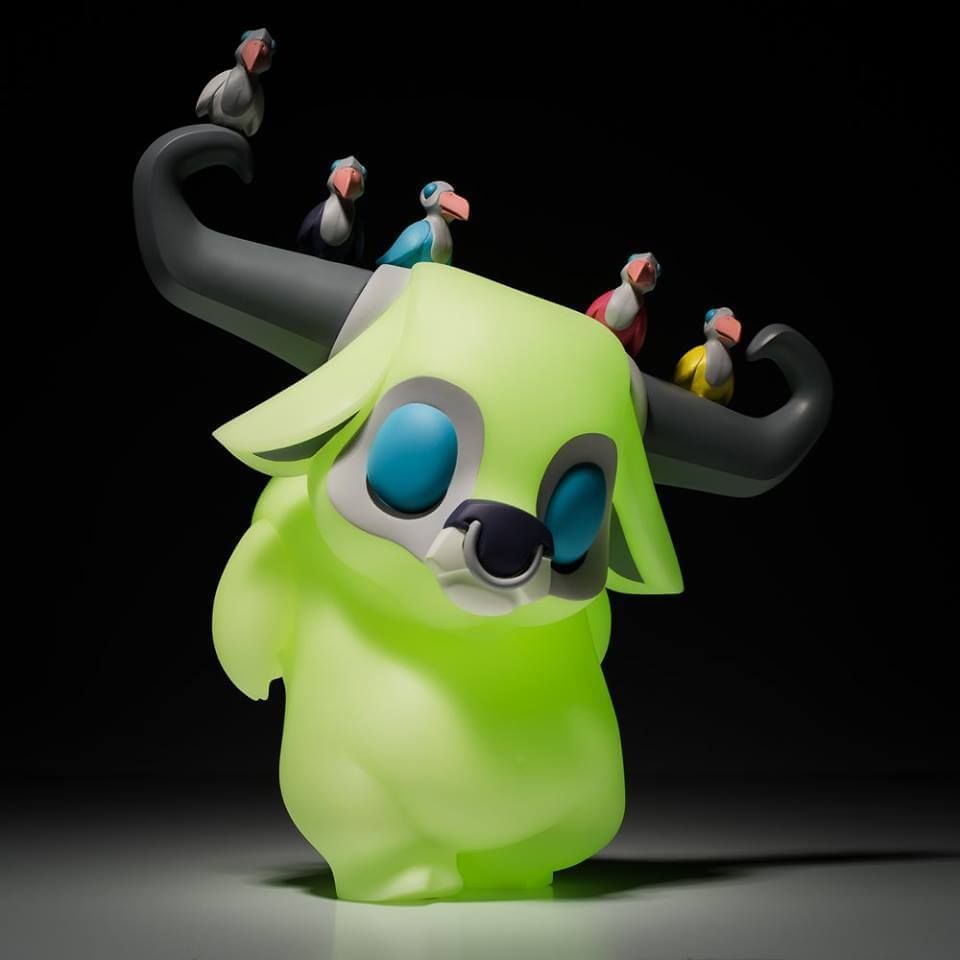 Available to purchase on 10th July at 5am BST (11am Thailand time). The 7inch Kwaii Ignited will sell for around £117 (5500baht) and will have an edition size of 350 pieces worldwide. The 3inch Kwaii Dim will have 700 pieces worldwide and sell for around £18. Both prices does not include shipping.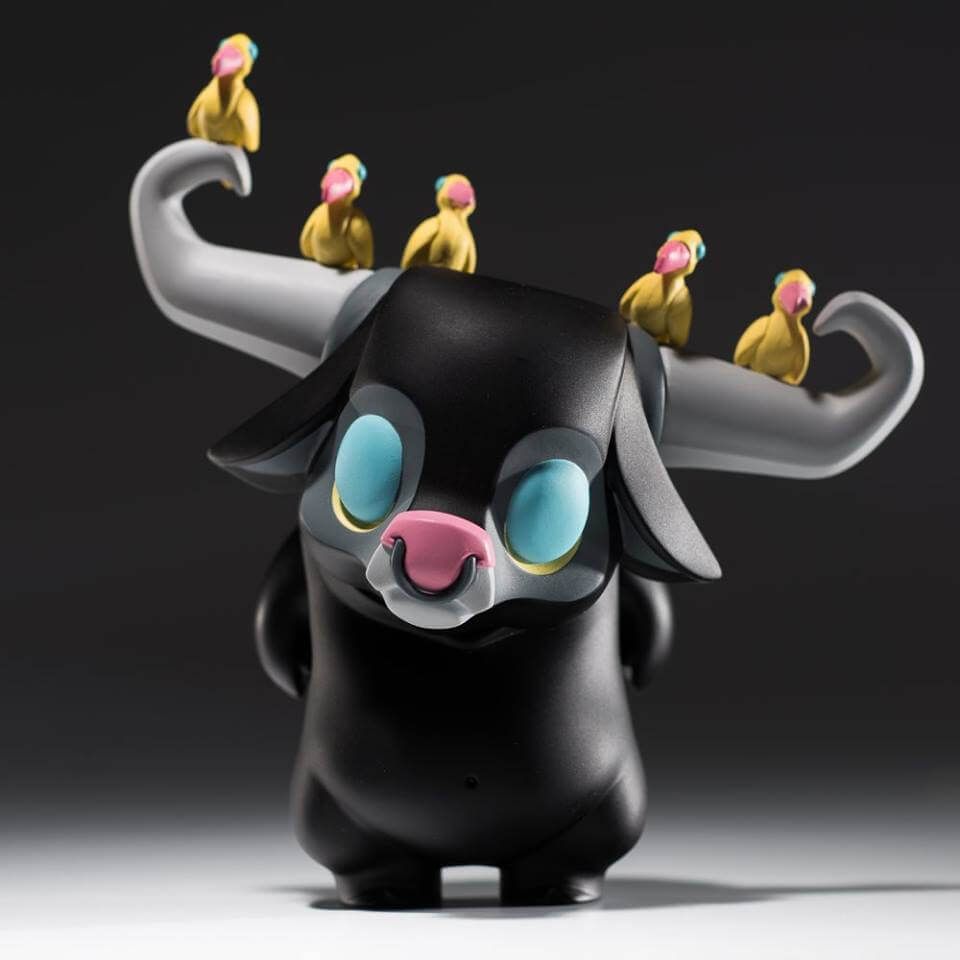 Moahh moahh!!! Thump! Clonk! Kwaii tramples over the grassy plains and the cabbage fields looking for a home. Up there on the mountain? Down there by the stream? He turns over every stone and rounds every corner, even though he knows this land does not want him. But what does he feel on his horns? One bird? Now two? Kwaii sits and rests. He hasn't been this happy in a long time because instead of finding a home Kwaii has become one.
[carousel source="media: 49137,49140,49135,49139,49141,49138″ width="1600″ height="1600″ items="1″ title="no"]
If you're a member of the Facebook group 'Coarseheads' you may be interested in the thoughts of Playhouse
[quote cite="Prair Tumwattana of Play House" url="https://www.facebook.com/groups/coarseheads/permalink/10153795649468723/"]Play House would like to say Thank you everyone for the help and support in the release of The Kwaii series. We know there are a lot of difficulties for everyone to get the figure and we do apologize for all inconveniences which everyone has faced. It is our concern to make sure everyone has an enjoyable experience getting products from us. I would like to take this opportunity to explain to everyone about Kwaii Series. Kwaii is a collaboration project between JPX and Coarse but JPX owns all the right to Kwaii and for distributing it worldwide. So Coarse isn't handling the sales of this figure. Why isn't there is Kwaii for any other retailers? Many of you might be wondering this. The answer is that we have offered it to many retailers before the launch, but not many retailers are interested and therefore we have decided to launch this series on our own. This is the first international launch product which we have did so we are pretty new to all of this international online sales. But this reason can't be used as an excuse of delivering bad services. On our first launch our website was clashed due to high traffics and over 500 people around the world clicking refresh at the same time which has caused our website Domain and service provider system to clash as well. Second launch, we have tried our best to separate the 7 inches and 3 inches in order to avoid the clashes and make sure it's a fair game for everyone. But, there are still problems that we allowed people to reserve up to 2 pieces which also create a lot of unhappy customers. Also, a long Thai New Year Holiday which Thailand Post office was closed from April 10- 17, 2016 also caused the delay in delivery the products. As to this final release (July 10,2016 11AM Thailand time) Play House has learned from our mistakes and from listening to our customers we have come up with this solution for final release of Kwaii ignited and Kwaii Dim. Play House will only be selling strictly to international customers with international shipping address. Also, we would like to get this opportunity to offer all Coarse fans from Coarsehead to get this final and best piece of Kwaii at original selling price. We have already secured stocks for Kwaii Ignited 7 inches (5,500THB) and Kwaii Dim 3 inches (820THB) for everyone in this group to purchase. I will post a link for you to put your names, Email (paypal account) and Your country so that we can send you paypal invoice. We have restricts all order to be one piece per customer. Order for 7 inches and 3 inches will be post in separately. Order will come upon first come first serves basis. Do not worry the stock will be kept safe and sound for all of those you have placed your name in the lists until we have send out your paypal invoice. Then we will give you 2 days to make the payment and after all is cleared we will ship out your product within 2-3 working days All of you might wonder why we chose to do this manually. Selling in website was much easier for us but by doing this manually it gives us the ability to offer everyone a fair chance in getting. As from the past mistake many customers tends to double place their orders or add in too many stocks in their cart which create the stock to be sold out before it really is. We would like to show our concern regarding all your bad experiences through purchasing with Play House and showing you our appreciation to your interest and business. We are thankful for everyone who has make comments or compliments and we will keep on improving through the products and services. We do hope one day we will be able to serve all of you again without any hitches. Regards, Play House[/quote]