Daniel Yu x
FLABSLAB
ready to give you some head! SLAYERs they are as they've ripped a few heads in the process to present you all "Lunar beast" head culture cartel edition. All set and ready for this weekends
Culture Cartel.
 Not for the faint-hearted or vegans and this specail edition "Lunar Beast Head" will be on a f
irst come first serve bases. 
Total 9pcs 4 blood 4 no blood 1 gold so you better get your Usain Bolt sprint game on point.
The gold colour is for a lucky draw. 
Buy the Head with or without blood will be entitled 1 chance to get the gold. Gold version is a golden head with a golden base statue. Priced at $60 SGD each.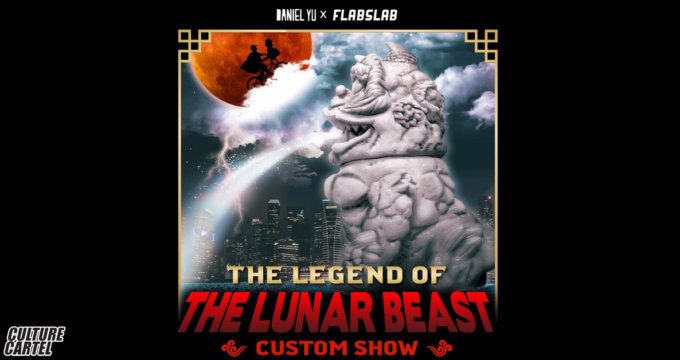 Culture Cartel, Asia's first all-encompassing street culture convention, is set to unite the different sectors of art, toys, tattoo, and fashion in a consumer trade show that will showcase only the best of street culture in Asia and around the world. Co-organized by Habitual, Axis Group Asia and Division Communications, the event will take place from 1 – 2 December 2018 at Singapore's F1 Pit Building, placing the limelight on the often-neglected segments of street culture.

For the first time, these different elements of street culture will be brought together through various components of Culture Cartel 2018 – from brands and retail showcases to art exhibitions and installations. The inaugural convention serves as an international platform for street artists, designers, tattoo artists, and urban brands across the world to gather, and put together a holistic, educational and interactive street culture showcase that has never been seen before in Asia.
Other highlights at the ticketed event include a forum that will host live talks and panel discussions about current topics in street culture, workshops for beatboxing and fashion customization, live performances in music and graffiti, public artworks from a global line-up of artists, a bike circuit and more.

The curation of the exhibitions at the inaugural event is spearheaded by prominent industry leaders such as Invasion Studios by Jahan Loh (for Art), Jackson Aw of Mighty Jaxx (for Toys); Augustine Nezumi of Singapore Electric (for Tattoo); and Mandeep Chopra of Limited Edt (for Fashion), featuring convention headliners Stash (US), Joshua Vides (US), Jason Freeny (US), Whatshisname (UK), and Alex Face (TH), showcasing for the first time in Singapore.

Exclusive Culture Cartel collaboration merchandise with brands like Subcrew, SBTG, Few & Far, CHPLCO, and New Era will be released, and there will also be exclusive launches of original and limited-edition merchandise.

Powering Culture Cartel 2018 is Mercedes-Benz, with invaluable support from Belvedere (Official Spirit of Defiance), Zouk (Official Launch Party Venue), Papa Palheta (Official Coffee), HIC (Official Juice); Livepass (Official Ticketing Partner), Word of Mouth Communications (Official PR Partner) and Konstrukt Labs (Official Merchandise Partner).
The Legend Of Lunar Beast
Custom Show
Opening Night: 30th November 2018
1 & 2 December 2018
Culture Cartel at F1 Pit Building Singapore
Daniel Yu x FLABSLAB Presents The Legend Of Lunar Beast Custom Show at Culture Cartel
Get your tickets now at culturecartel.com.
You can get your daily Designer Toy fix from our TTC Mobile App. It's free too! FREE! Download on the iPhone or Android smartphones. Search for "The Toy Chronicle" and all your Designer Toy wishes will come true! Pretty much.
Did we fail to mention IT's FREE.