BlackBook Toy
are proud to announce the release of new edition of
Frank Kozik's
 Lil Alex from his "A Clockwork Carrot" series. This new edition,
Break In
, comes with "that" notorious mask as seen in movie. The
OG and other colourways of Lil Alex
was already dope but this addition to the A Clockwork Carrot series is epic have that mask and OG style colourway.
"In Smorkin 'Labbit familiar low blow Art greats Frank Kozik (Frank Kozik) and the project of my BlackBook Toy, "A Clockwork Carrot" Break In Edition appeared that mask of new parts were included with Lil Alex of! Kozik tribute piece to A Clockwork Orange, which does not stop to admire is! Darken the rumor of Alex of madness in the play to Kozik taste, three-dimensional. Three-dimensional in the non-standard size of 11.25 inches (28.5cm) in soft vinyl figure of MADE IN JAPAN! The Break In Edition is making a mask that was worn in that scene in the movie as a new part!"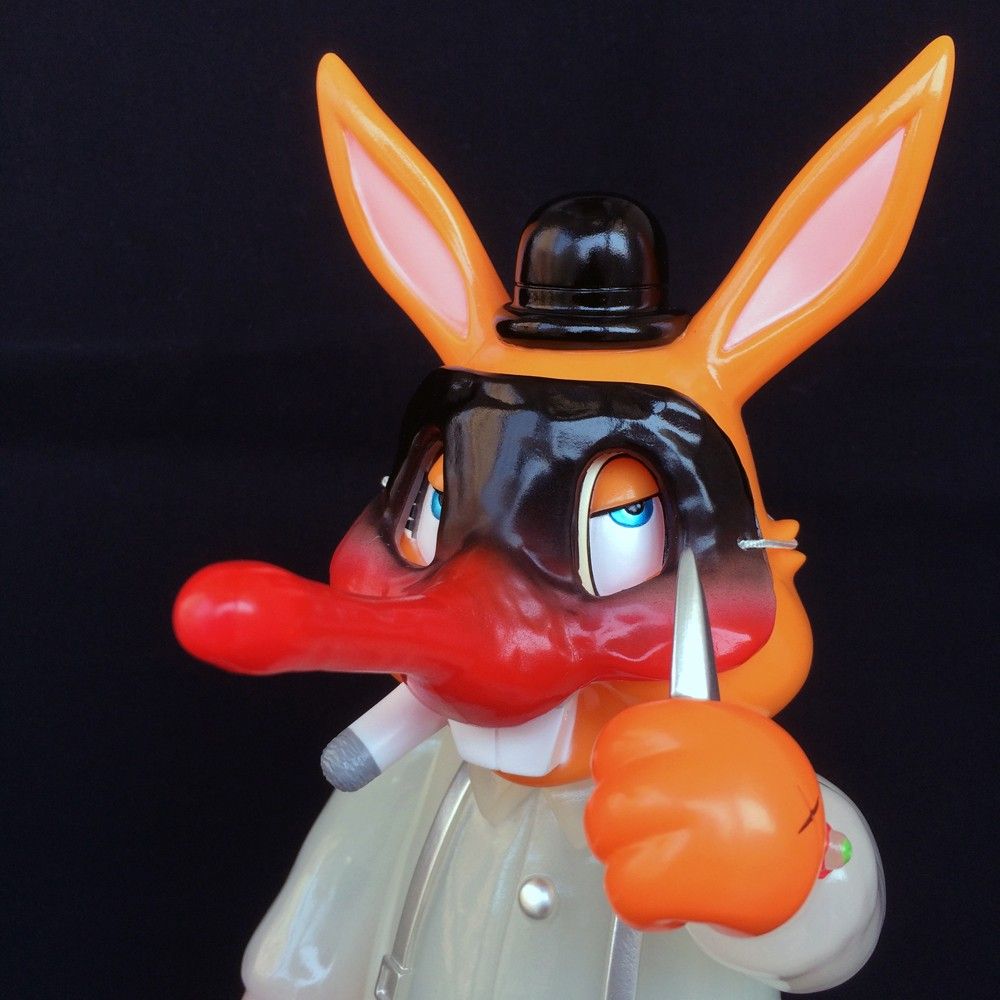 This "Break In" edition looks like previously released OG edition, but very much different. Casted in Milky white(OG is just white), which has translucent looks. Painted eyes in metallic blue(OG is just blue) and suspender, buttons and codpiece are in silver(OG is grey).
[slider source="media: 25208,25204,25205,25206,25207,25209,25210,25211,25212″ limit="100″ width="1000″ height="1000″ title="no" speed="800″]
Lil Alex comes with all the iconic accessories like the crowbar and the deadly knife, plus you can take off the mask too.
[slider source="media: 25201,25199,25196,25197,25198,25200″ limit="100″ width="1000″ height="1000″ title="no" speed="800″]
New mask is sculpted by T9G like Lil Alex itself.
[slider source="media: 25202,25203″ limit="100″ width="1000″ height="1000″ title="no" speed="800″]
Pre-orders open from June 11th noon to 30th 11:59(Tokyo) 10th 8pm-30th 7:59am(LA),10th 11pm-30th 10:59am(NY), 11th 4am-30th 3:59pm(UK), 11th 10am-30th 10pm(Thailand)
Blackbook has notified us that they offer wholesale through DKE, so customers can hit their local shops up. But as a special bonus for pre-orders at BBT, they made 76mm ACC logo metal badge. This bonus is available only at BBT, not the other dealers.
You can find Blackbook via