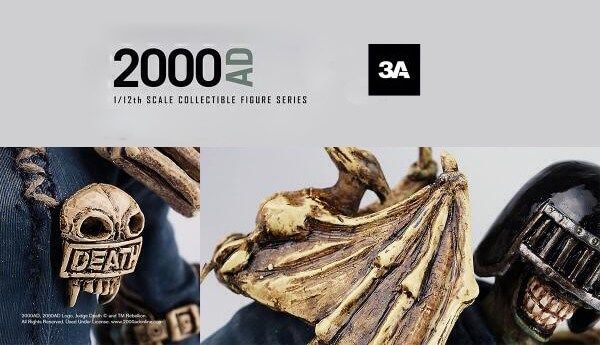 Securing the 2000AD licence many moons ago the long awaited 2000AD Judge Dredd series but with a twist of course it is ThreeA ,JUDGE DEATH  takes the spotlight instead of the main man,Judge Dredd! expect the quality of ThreeA articulation in the 1/12 size figure with in house weathering and cloth clothing instead of typical sculpted and painted clothing for an action figure.  Are you ready to be judged?
Judge Death is a fictional character of the Judge Dredd universe recounted in the UK comic 2000 AD. He is the leader of the Dark Judges, a sinister group of undead law enforcers from the alternate dimension of Deadworld, where all life has been declared a crime since only the living commit crimes. After years of appearing in Judge Dredd stories, he later got his own series in the Judge Dredd Megazine and in 2000 AD – wikipedia
Meet 1 / 12th JUDGE DEATH
THE SENTENCE IS DEATH: The new 1/12th 2000ad collection kicks off on the 14th at Bambaland with Judge Death!
Available for pre-order on January 14th at Bambaland (www.bambalandstore.com) for $60 USD.