1000Toys will be exhibiting and showcasing several other never-before-shown prototype sculpts at the event in Hong Kong at TOY SOUL, a new toy event held in Hong Kong. Riding high on the huge success SYNTHETIC HUMAN, the prototype shown below shows the darker side of the Biomega Manga adaptation of the character.  This again will cause chaos in the high end designer action figure world, will you be ready for the carnage trying to get one?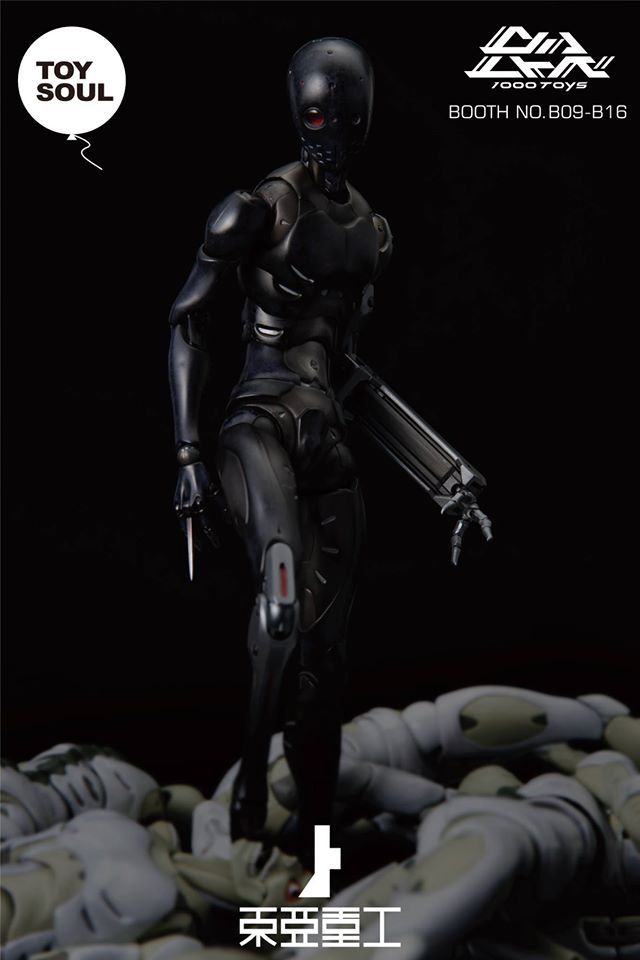 From the photo above it looks like the end of SYNTHETIC HUMAN but the darker evil side replaces him. It also looks like that they have the same articulation as the SYNTHETIC HUMAN which is the best figure articulation that I have seen for now. new Head and arms but looks like no articulated fingers on the hand which was the ONLY down side on the OG SYNTHETIC HUMAN figure. On the other hand one of the new hands does look like it has three fingers that can articulate a little on the new robotic arm. We shall see when I have it in my hands.
You can check out the full review HERE of the OG SYNTHETIC HUMAN.
[youtube url="http://youtu.be/mLmtGGZKAgE"]
We will bring you more information and product release very soon so stay tuned.
The booth no. is B09-B16, within the Sen-Ti-Nel booth!
There will be no items sales this time, so there's no need to rush. 
If you are around Hong Kong visit them at TOY SOUL!
Toy Soul 2014
Venue : Star Hall, Kowloon Bay International Trade & Exhibition Centre (KITEC)
Address : No.1 Trademart Drive, Kowloon Bay, Kowloon, HK.
Exhibition Dates : 19th Dec to 21st Dec, 2014
Exhibition Hours :
19th Dec – 20th Dec (Friday to Saturday)10:00am~8:00pm
21st Dec (Sunday)10:00am~6:00pm
For more information and ticket, please visit the TOY SOUL official website.http://www.toysoul.hk/
To keep tabs on 1000Toys visit their Website, Facebook and Twitter