Wonderful news Gavin Strange ( JamFactory) has a 4 metre tall version of his Gromit Unleashed showcased in Hong Kong! his HUGE Gromit is  Based on the big robot / mechs like Gundam Wing & Pacific Rim, he's called 'G.R.M.T. 02' – which stands for Giant Robotic Mutt Transporter!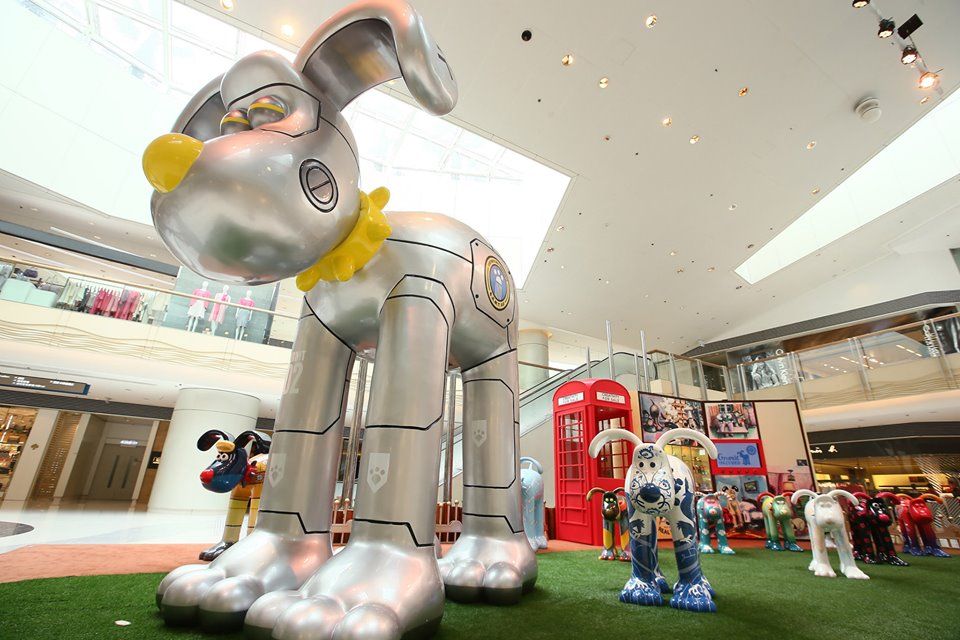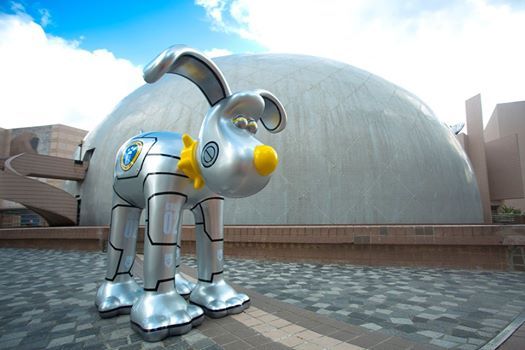 As part of the worldwide "Gromit Unleashed" charity event Aelita Andre has been invited to paint two 5 foot high Gromit statues  in Hong Kong.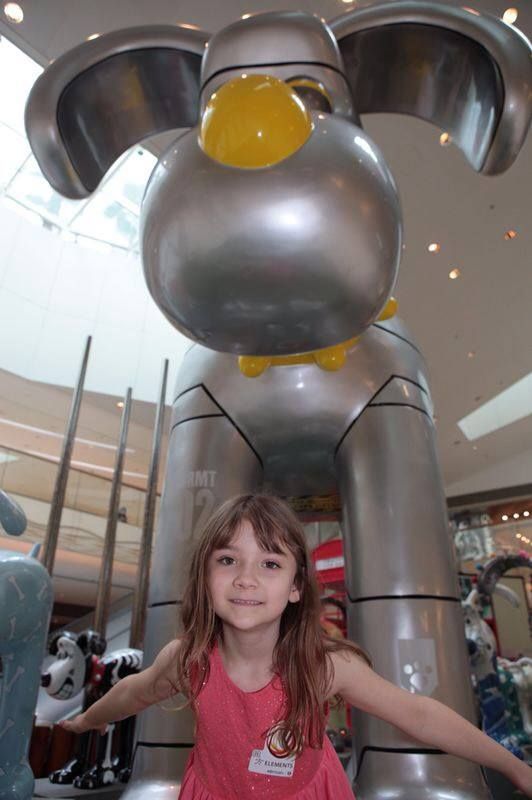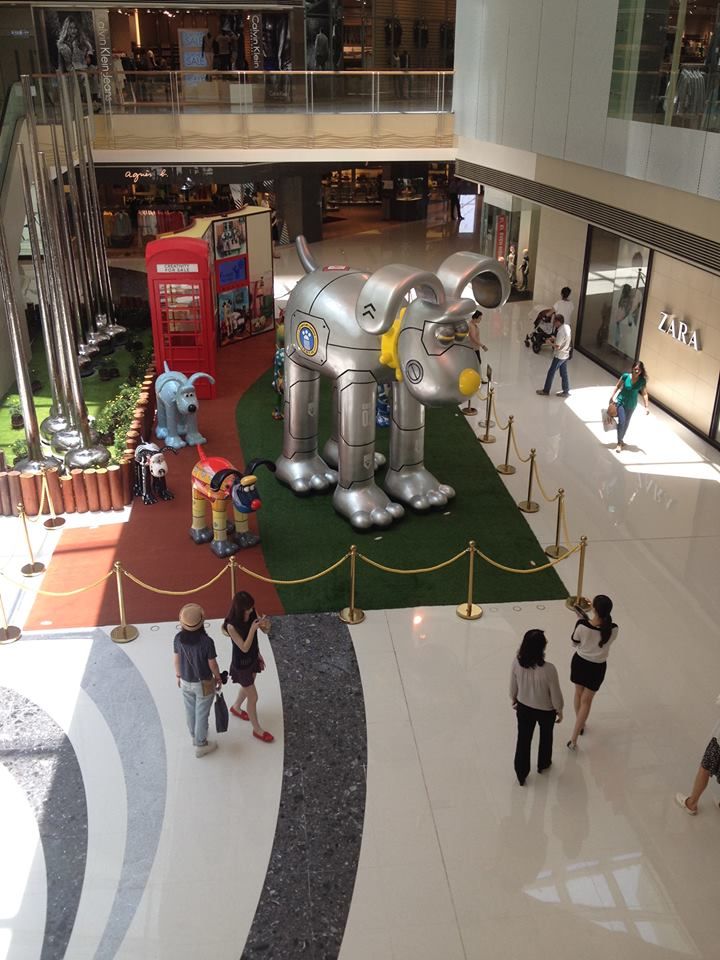 I AM THE LUCKIEST PUP ALIVE!! MY Hong Kong Gromit has been turned into a 4 metre tall version!! I got super lucky because of course the lovely Nick Park was going to have the 4m version, but because it's SO big it needs to be made in pieces, and that means unsightly join lines, which would ruin the aesthetics of Nicks smooth design, and I got super duper lucky that my robot design features a tonne of join lines, so I have the HUGE honour of having 'G.R.M.T 02' being 13 feet tall  If you're out in Hong Kong, go see the trail in all it's glory from the 21st July at Elements ??!! I can die happy now, a huge design has always been a dream – to have it be a Gromit, well my tiny mind can't handle the awesomeness!!!
If your happen to be in Hong Kong please go visit and show your support. you can actually buy the smaller versions of Gromit and all the other merchandise over at  The Mall at Cribbs Causeway . The Cribbs shop has just had a nice refurbishment as part of Gromit Unleashed 1st anniversary celebration.
Elements Hong Kong   http://www.elementshk.com/eng/elements/tourist/index.jsp
1 Austin Road West, Tsim Sha Tsui1 Austin Road West, Kowloon, Hong Kong
Elements Mall Hong Kong Facebook HERE
Gavin also has a smaller version and can been seen over at the pop up shop  "Facts the Way we did it, Lad!", created by JamFactory – The work of Gavin Strange is covered in smashing statistics and fun facts about the trail to commemorate the event – a new take on Gavin's much-loved pink 'Stat's the Way to do it, Lad! 'Gromit Unleashed sculpture!
Happy 1st Anniversary Gromit Unleashed
It was just over a year ago that our Gromit Unleashed trail was in full swing, raising millions of pounds to help sick children and babies at Bristol Children's Hospital ? and we are thrilled to announce that as we celebrate our first anniversary, Gromit Unleashed has helped Wallace & Gromit's Grand Appeal raise an incredible

£4.5 million for Bristol Children's Hospital!

As part of our anniversary celebrations, our Gromit Unleashed shop at The Mall Cribbs Causeway has a brand new look, featuring original Wallace & Gromit film sets, a creative activity area – and a very special new resident! "Facts the Way we did it, Lad!", a striking new golden Gromit sculpture created by Gavin Strange, is covered in smashing statistics and fun facts about the trail to commemorate the event – a new take on his much-loved bright pink 'Stat's the Way to do it, Lad!' sculpture which was displayed outside Aardman during the Gromit Unleashed trail last summer.

The celebrations will continue all summer in-store, with a programme of holiday events including cupcake decorating master classes and plasticine modelling workshops – we'll keep you posted with more details. Be sure to pop into the Gromit Unleashed shop to see the exciting new look, new products and cracking 'Facts' Gromit sculpture!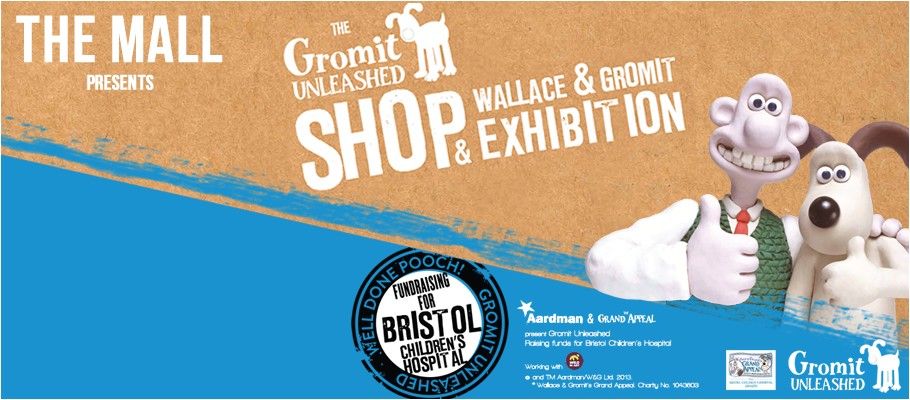 The Mall Cribbs Causeway http://www.mallcribbs.com/
Shop the entire range of Gromit Unleashed merchandise in the Gromit Unleashed Pop Up Store, located on the upper level of The Mall.
Opening hours:
Monday to Friday 9.30am to 9pm
Saturday 9am to 8pm
Sunday 11am to 5pm
Visit the Gromit Unleashed Pop Up Store to buy fantastic Wallace & Gromit merchandise, Gromit Unleashed figurines and a cracking selection of gifts and memorabilia.
Support Wallace & Gromit's Children's Charity
National Children's Charity to Help Sick Kids in Hospitals and Hospices across the UK
Every year across the UK millions of children are treated in hospitals and hospices.   Some suffer from common childhood illnesses whilst others face serious and possibly life-changing conditions such as cancer or leukaemia. Wallace & Gromit's Children's Charity provides comfort, state of the art equipment, family facilities and entertainment such as art , music and play therapy to hundreds of thousands of sick kids each year.
We are the only children's charity supporting sick kids in hospitals and hospices throughout the UK.
All profits from sales of merchandise go to Wallace & Gromit's Grand Appeal, the Bristol Children's Hospital Charity.
(All info and photos lifted from Gromitunleashed, JamFactory, Elements mall)