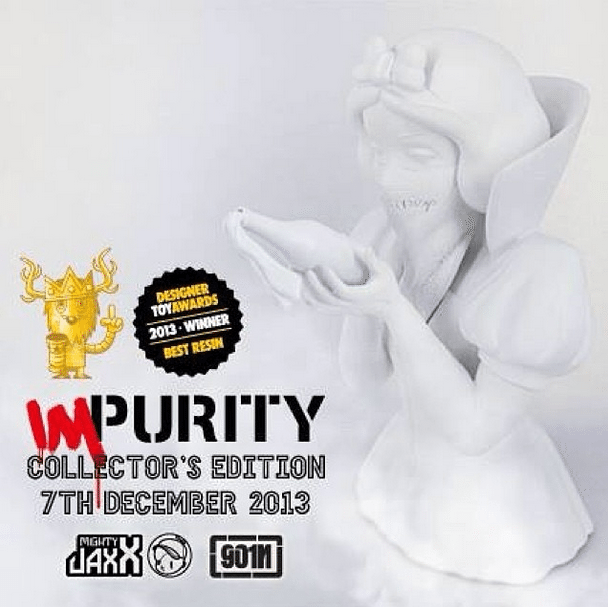 Mighty Jaxx has just dropped news of a final release of their DTA winning platform, with the Collector's Edition 'ImPurity' Bad Apple, and will be seeing off a successful year with a bang!
Goin and Mighty Jaxx are proud to announce the final bad apple release and also MJ's last release for 2013.
This Limited Edition figure comes with a new accessory, the molotov cocktail, It is designed to fit perfectly with the Bad Apple. Also included is everyone's favourite hand grenade. This Collector's Edition will have a brand new box as well featuring new art by GOIN. Very rare sets will have a Gold molotov cocktail and grenade, inserted randomly. This release is for you! Our fans and collectors!
We sincerely hope you have a chance to own one of this final Bad Apple, a special item we created to thank you for supporting us and winning the Designer Toy Award 2013 (best Resin) as well.
Pre-order Date/Time (24hrs format) :
7th December 2013
Los Angeles – 18:00
New York – 21:00
8th December 2013
Singapore – 10:00
London, UK – 02:00
Keep track of timings HERE to ensure you don't miss out!
2am on Sunday December 8th morning (late night Saturday) for UK peeps!
*Looks like the Mighty Jaxx site will be down until Friday, so keep your pork pies open.