Toy Art Gallery are hosting another event in aid of charity, this time for The Boys and Girls Clubs of America.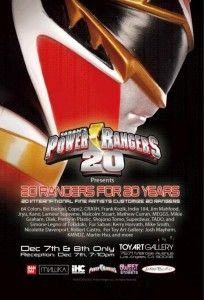 The theme is 20 Rangers for 20 Years! Yes Power Rangers, a host of artists get to work on a Power Ranger!  and here is  TADO's Panda Ranger. Its very nice to have a UK representative in the show. Just shows how great TADO is.  Detail and the work put into this cute Power Ranger is crazy. I hope to see them again at ToyConUK 2014.
Good Luck at the show Tado.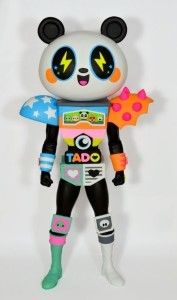 .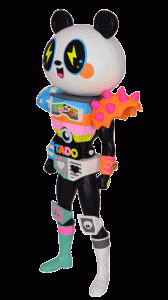 Follow TADO via
(Images taken from TADO blog)
Information about the show
OWER RANGERS presents:
"20 RANGERS FOR 20 YEARS"
December 7th & 8th, 2013 Only!
Opening Reception: Sat, December 7th, 7-10pm
 Toy Art Gallery
7571 Melrose Avenue
Los Angeles, CA 90046
www.toyartgallery.com
Saban's Power Rangers announced today that a 20th Anniversary art exhibition and pop-up shop will open this weekend at Toy Art Gallery in Los Angeles. Curated by Sweet Streets, the Power Rangers exhibition, 20 Rangers for 20 Years, will highlight popular artists and designers from around the world and their one-of-a-kind painted 31" Ranger statues, provided by Saban Brands' partner, leading U.S. toy company, JAKKS Pacific, Inc.
The exhibition will take place this weekend, Dec. 7-8, starting off with a launch event at Toy Art Gallery on Saturday, Dec. 7 from 7-10 p.m. The event will feature music by Iheartcomix DJs Franki Chan and $U$PECT as well as Asian-fusion food by the Jogasaki Sushi Burrito food truck. Each customized Ranger statue will be available for purchase on-site at Toy Art Gallery and online at shop.toyartgallery.com during the event and throughout the weekend. A percentage of the proceeds from all artwork sales will be donated to the Challengers Boys & Girls Club. Also, JAKKS Pacific, Inc. will be donating toys to the Challengers Boys & Girls Club as part of their contribution to the exhibition.
Bandai America Incorporated, Power Rangers' master toy partner, will be providing product for display, including one-of-a-kind toys from their archives and upcoming Super Megaforce toys. The gallery will also be hosting a Power Rangers pop-up shop featuring products for purchase from Mishka, who will be debuting a capsule of three Power Rangers T-shirts, two designed by Daniel Dussualt and one by L'Amour Supreme. These shirts will be sold at the 20 Rangers for 20 Years exhibition and following at its stores in Brooklyn, Los Angeles and San Francisco and also online at MishkaNYC.com. The pop-up shop will also include products from a variety of additional Power Rangers partners including Buckle Down, Acme Archives and more.
20 Rangers for 20 Years will feature hand painted Ranger statues from:
64colors
Ardabus Rubber
Bei Badgirl
Chloe Norgaard
Cope2
CRASH
Frank Kozik
Indie184
Jim Mahfood
Josh Mayhem
Jryu
Kano
Kerry Horvath
Lamour Supreme
Malcolm Stuart
Martin Hsu
Martin Ontiveros
Mathew Curran
Meggs
Mikie Graham
Mike Smith
Nicolette Davenport
Olek
Pretty In Plastic
Robert Castro
Scott Tolleson
Shojono Tomo
Superdeux
TADO
Simone Legno of Tokidoki
In addition, special pieces from Saban Brands artists will also be on display throughout the weekend.
A Power Rangers 20th Anniversary inspired mural was also painted in celebration of the exhibition. Curated by Branded Arts and Space Twenty Three, the mural features a larger-than-life Red Ranger, painted by MEGGS at Sportie LA's Fame Yard along Melrose Avenue.
The 20 Rangers for 20 Years exhibition is free and open to the public. For more information and updates, please visit www.sweetstreetsla.com and follow the exhibition on Sweet Streets' Facebook, Twitter and Instagram using #20Rangersfor20Years.
Website: www.powerrangers.com
Facebook: www.facebook.com/SweetStreetsLA
Twitter: @sweetstreetsla
Instagram: @sweetstreetsla #20Rangersfor20Years