DMS brings a new colour way in the festive colour of Halloween.
Mr Drips was created when he was when using wax sculpt and toying around with ideas  "just for fun"  in his own words. He uploaded a photo of  his wax doodle  onto his social media and it got really good feedback so he decided to make a limited number.
Mr Drips Bloodbath Edition will be released at 9PM GMT 31st October Pre-order limited to 15 pieces and $15.99 plus shipping each which should workout to be around (£9.98).
Once they are gone they are gone forever.
Set your clocks to 9PM and head over to http://dmsone.bigcartel.com and get your Mr Drips.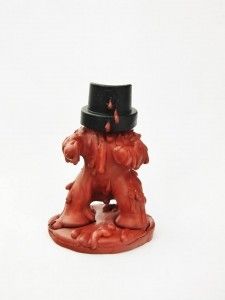 Here are a few other colour ways testing, feel free to give him some feedback
DMS also created a Halloween colour way The Pumpkin head Skelevex but sadly has long sold out.
If you like the look of Skelevex get in contact with him to get on the waiting list because they get sold quick time.