Guys, can you believe it is July already? Where is 2015 going? Flying by at the speed of a Hugh Rose Bullet! Well, as July is upon us again, so are the Designer Toy Awards (or The DTAs as the cool kids call them) by Clutter Magazine.
The DTAs are a time to celebrate all that is great within the Designer Toy community. Time for the talent to be recognised. The DTAs have now launched their nomination period for the 5th annual awards. Running until July 17th, nominations can be submitted in categories for any releases, artists, or companies that were active from January to December 2014.
[frame align="center"]

[/frame]
There are a wide variety of categories to choose from when making your nominations. So whatever takes your fancy in this vast Designer Toy world we exist in, you'll be able to find a category that suits you. Here are the categories below…
Artist of the Year
Artist of the Year (Fan)
Custom of the Year
Custom of the Year (Fan)
Toy of the Year
Toy of the Year (Fan)
Best Blog
Best DIY Platform
Best Media Tie-In
Best Mini Series
Best Plush & Other Non-Plastic
Best Resin
Best Sofubi
Best Toy Store
Best Online Toy Store
Best Vinyl
Break-through Artist
Brand of the Year
Note: Toy of the Year & the Fan Choice categories do not have direct nominations. Toy of the Year consists of the highest voted nominees in all the toy-based categories & the Fan Choice awards use the same nominee pool as the non-Fan Choice versions.
You can create entries for any category and do so as many times as you like, but please only create entries for nominees that you passionately believe in.
Once you've made a nomination, it will be carefully screened and reviewed by our staff before being assessed by the Nomination Committee. Your nomination will not appear on the site unless it is chosen as a Finalist. Nominated releases, brands, and artists must have been active during 2014. Entries Close July 17th 2015 for all categories.
Help The Toy Chronicle
Last year, The Toy Chronicle made it through to be one of six finalists in the DTA Best Blog catagory. Respectfully losing out to Spanky Stokes. This year we want to go one better and take down the Best Blog trophy, and we can only do that by first garnering your nomination. Here is where you come in! If you could please spare five minutes of your time to nominate The Toy Chronicle, that would be greatly appreciated. You can make your nomination by logging in to the Designer Toy Awards website HERE. If you have previously set up an account, you can use those login details from previous years. If you are new to the DTA site, you can create a profile HERE.
Once you're logged in, you can head to the Call for Entries page HERE. You will need to complete the short form. We have included all the details below for a TTC nomination. You guys are ace.
[frame align="center"]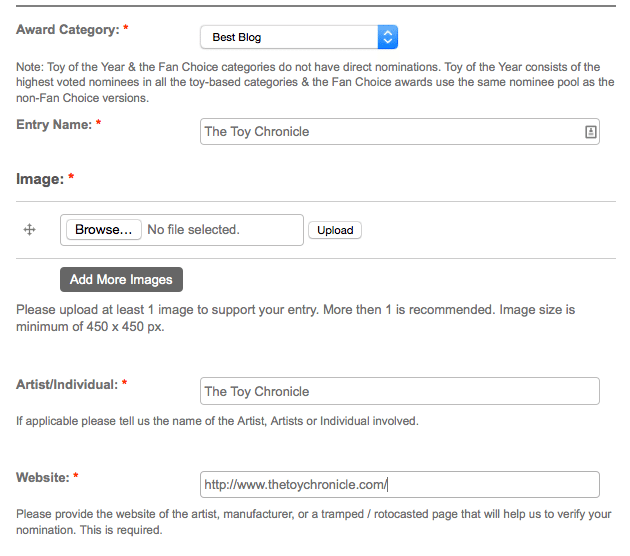 [/frame]
You'll need to attach an image. To make your life easier, we've created a 450x450px image for you to use. Right click and Save the below image…
[frame align="center"]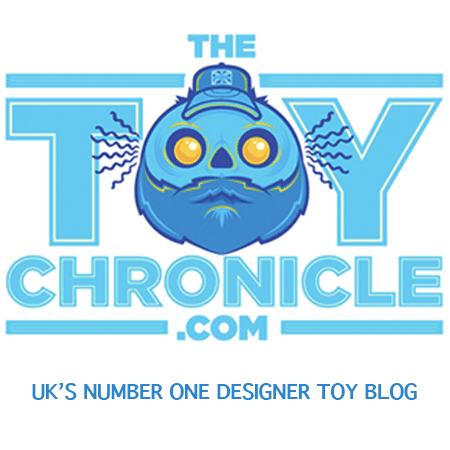 [/frame]
Your Nomination for The Toy Chronicle is very much appreciated. We love what we do, providing news and artist insights to you guys and we'll carry on doing so.