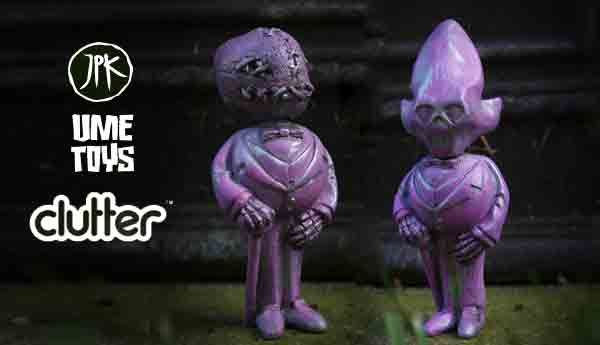 When two British artist heads to NYCC it was only the matter of time before they joined forces again. Jon-Paul Kaiser and UMEToys represents the UK with their collaboration release of Buford Mandrake. You lucky few who are attending NYCC will have a chance to meet them both over at the Clutter booth (Booth #504). So get you're toys ready to be signed. Don't forget to ask for a beard stroke and a famous hugs! ok enough rambling.
Just when you thought it was safe to frequent the city at night again Buford Mandrake returns and this time it's New York not London he is heading for. 
Hunt him down before the doctor gives you a bedside visit…
A Clutter exclusive release (limited to six pieces $50 each) sees Mandrake return sporting an aged brushed steel and rubbed pink finish. Buford is articulated at the neck and is presented with 2 of his infamous masks (Interchangeable).