Once again myplasticheart will be attending this year's New York Comic Con and they will be  bringing a plethora of goodies with us. Since this is the biggest event of the year for myplasticheart, they like to pull out all the stops so expect a lot of releases and signings throughout the Con to keep everyone excited. myplasticheart will be located at booth #113 in "The Block" section with all the fellow designer toy companies so go by and pay them a visit. Tell them The Toy Chronicle sent you.
Amara by Otto Björnik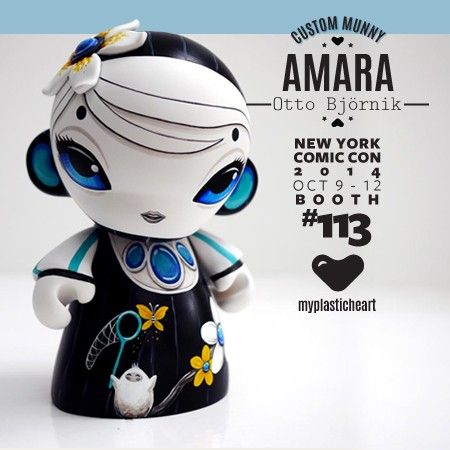 This is Amara by Otto Björnik a Filipino artist who has made a name for himself with his elaborately designed custom figures of dramatic elegance which has culminated in his first production figure this year – the very popular Mayari 3 inch Dunny produced by Kidrobot.
I am more than an illustrator. I am a storyteller. My tales are a rich mixture of precious childhood memories and fairy tales. I weave together lines to celebrate the beauty and elegance of nature and human form. And sprinkled within that tapestry are touches of whimsy that bring to mind the wonderment of childhood and play. It is my way of rekindling youth with a wink and infinite mirth.
An architect by training, I create works in pen and ink that are filled with intricate detail and influenced by stringent rules of design. The elements I choose often hold symbolic meaning, and I take care to piece them together like a jigsaw puzzle to tell an overall story.
I have drawn millions of lines as an artist and have told many stories, from my initial scenes of houses to the Yahoo! Purplescape campaign to more experimental pieces that have won international competitions and garnered gallery exhibitions. But I still feel that I have many more stories to tell and a million more lines to draw.
– Björnik
Amara is a hand painted custom 7 inch Munny vinyl figure created using acrylics and sculpted resin and will be available for display and purchase at myplasticheart booth #113 New York Comic Con.
Learn more about Otto Björnik:
Website – www.bjornik.com
Instagram – @bjornik
Twitter – @bjornik
Facebook – https://www.facebook.com/ottobjornik
Sylvan Yeti Edition By Pobber and Gary Ham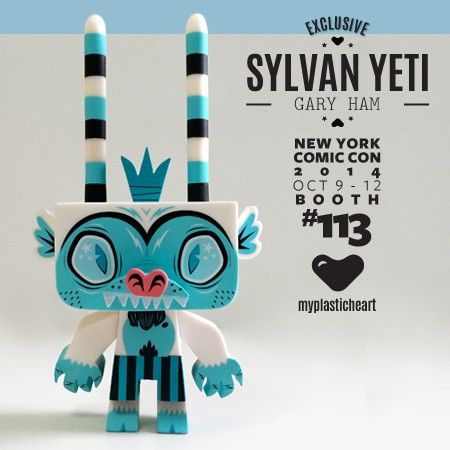 Pobber and Gary Ham bring one of Gary's cutest characters to NYCC this year with the myplasticheart exclusive Yeti edition of the Sylvan. Decked out in icy blue, black and white, Sylvan is ready for the freezing NYC winter ahead. Our exclusive Sylvan Yeti Edition will be available throughout NYCC 2014 at the myplasticheart booth #113. Available for $75 in a run of 50 pieces.
Learn more about Gary Ham:
Website – www.superham.com
Twitter – @garygepetto
Instagram – @garyham
Facebook – www.facebook.com/gary.ham
Junior Rosebud By loupimentel
Junior is back at NYCC and in a new vibrant shade of green! The Rosebud edition features a two toned color scheme with black and red accents. Winter may be coming but Rosebud Junior is evergreen! Rosebud Junior will be available exclusively at the myplasticheart booth #113 during NYCC for $35. Lou Pimentel, the artist behind Junior will be on hand to sign and sketch (Time and date to be announced).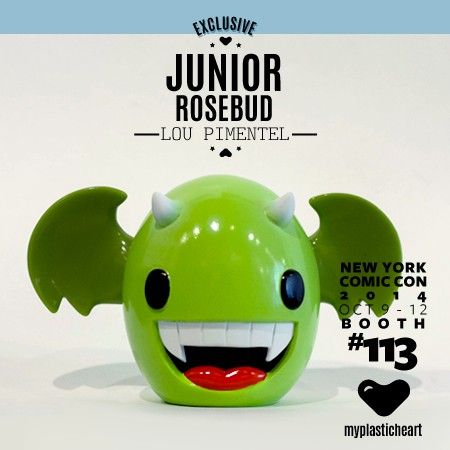 Learn more about Lou Pimentel:
Website – www.lou-pimentel.com
Instagram – @loupimentel
Twitter – @loupimentel
Facebook – www.facebook.com/lou.pimentel , www.facebook.com/CranstonFellowsJr
myplasticheart will be bringing a number of special releases from their friends at Instinctoy to NYCC this year including a new Muckey! The 6th colorway  from this series is the Haunted Castle Muckey and it arrives just in time to celebrate Halloween in NYC with a neon orange glow-in-the-dark body, a flocked tail, purple accents and intricately printed Halloween details. Lift up his head to reveal a gold and silver grill that brings out the mischievous side of the otherwise cute bear. Muckey 6th Color Haunted Castle (Shadow Art -G.I.D-) edition will be available throughout NYCC at myplasticheart booth #113 for $140 while supplies last.
Sleeptime Bunnies By Peter Kato,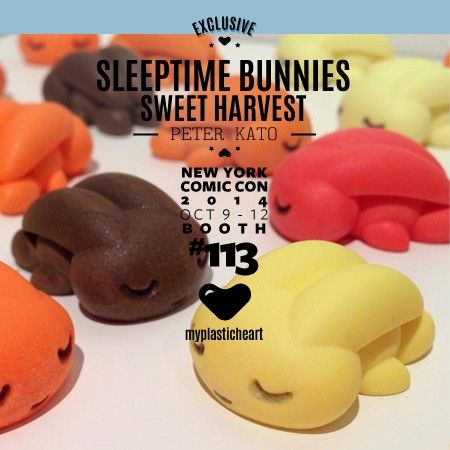 This year at NYCC myplasticheart will be collaborating with Brooklyn based artist Peter Kato, debuting his newest creation, Sleeptime Bunnies! This new rendition of Peter's super popular Bedtime Bunnies are now in full slumber, peacefully dreaming away.myplasticheart exclusive Sleeptime Bunnies Sweet Harvest Edition comes in 4 seasonal candy shades of autumn, blind boxed and limited to only 30 pieces. Whats more, if you're really lucky you might even snag a special chase colorway hidden in the batch. Come by the myplasticheart booth #113 throughout NYCC and pick one up for $12 each while supplies last.
Learn more about Peter Kato:
Website – www.peterkato.com
Instagram – @peterkato
Twitter – @peterkato
Facebook – https://www.facebook.com/peter.kato.5
Spring, Autumn and Winter By Jeremiah Ketner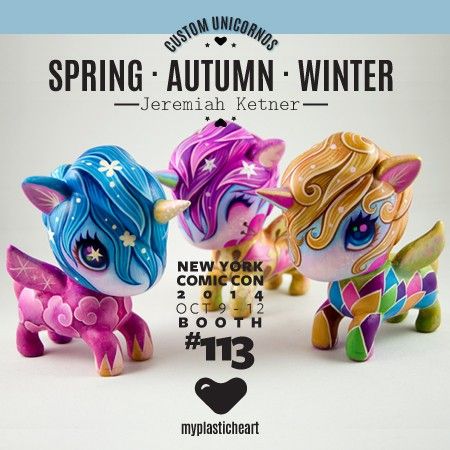 This year at New York Comic Con myplasticheart will be showcasing some of their favourite custom artists from around the world. As with all custom work, you need to be up close and personal to fully appreciate the fine lines and artistry applied with each stroke of the brush. For many of us this is not always possible, but for those who will be attending this year's NYCC you'll be getting a special chance to finally enjoy your favorite artists' work in person- the way it was meant to be appreciated.
Meet Spring, Autumn and Winter, custom painted unicorns by Chicago based painter Jeremiah Ketner. Based off the Unicorno platform figure by Tokidoki, Jeremiah applies his whimsical touch and beautifully executed details to breathe life into these fantastical creatures.
Spring, Autumn and Winter are hand painted custom 5 inch Unicorno vinyl figures created using acrylics and will be available for display and purchase at myplasticheart booth #113 New York Comic Con.
Learn more about Jeremiah Ketner:
Website – jeremiahketner.com
Twitter – @smallandround
Instagram – @smallandround
Facebook – www.facebook.com/smallandround
Astronocchio Blue Edition by Dave Bondi
Dave Bondi is back at NYCC again this year with another mashup of some of your favorite characters. Meet Astronocchio, a blend of Astro Boy and Pinocchio handmade in resin by Dave himself. Astronocchio stands at 5 inches tall and cast in translucent blue resin with a silver Blade Runner style pistol. The myplasticheart exclusive Blue Edition of Astronocchio will be available throughout NYCC at the myplasticheart booth #113. Available for $65 in a run of 25 pieces.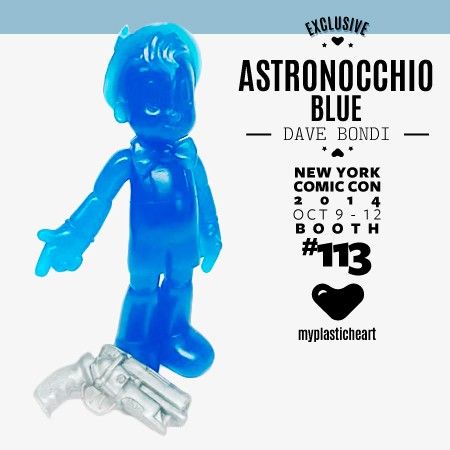 Dave Bondi's varied artistic talents have led him on a meandering career path.  He is a fifteen year veteran of the animation and video game industry having worked for such notable entertainment companies as Electronic Arts, Disney, Activision, Mattel and the television show "SouthPark".   His work spans a broad range of disciplines, ranging from traditional sculpture to highly technical media.  Known for his contributions as a sculptor in the designer toy art scene, he has collaborated with artists Ron English, Joe Ledbetter, Luke Chueh, and others.  Inquisitive and creative, he continues to  be challenged by new mediums and projects. Dave received his BFA from the University of Michigan.  He lives and works in Los Angeles,California.
Learn more about Dave Bondi:
Website – www.davebondi.com
Twitter – @bondi , @davebondi
Instagram – @davebondi
Facebook – www.facebook.com/dave.bondi
Hunter Mako Edition By Brent Nolasco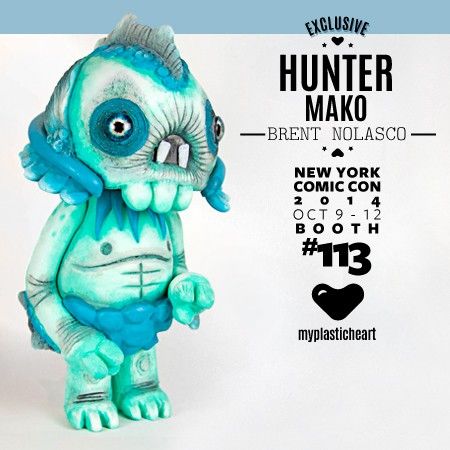 Painter/Sculptor extraordinaire Brent Nolasco debuts his latest resin figure exclusively with myplasticheart. Meet Hunter :
"In my days of wandering in countless nomadic adventures, I came across different forms of life. Some have stuck in the landscapes of my mind, and other have been forgotten. Hunter was one that left an impression. I remember the first time I saw him while on one of my daily walks by the river. He rose out of the murky water at dusk and ate insects. He looked around cautiously so as not to be seen. Then he disappeared, back into the river, not to be seen again. From time to time I would lurk in the shadows to try a catch a glimpse of Hunter again, but my luck has run out. I didn't ever see him again. The only images that I have of him live in my sketch book, until now."
Standing at almost 8 inches tall, Hunter is cast in resin from an original sculpt by Brent Nolasco. Each one is indivudially hand painted by the artist himself. Hunter : Mako Edition is available in super limited quantities at the myplasticheart booth #113 throughout NYCC for $120.
Learn more about Brent Nolasco:
Website – brentnolasco.com
Instagram – @brentnolasco
Facebook – www.facebook.com/brent.nolasco
Catchaman Minicel Swallow Jinpei by Kuso Vinyl.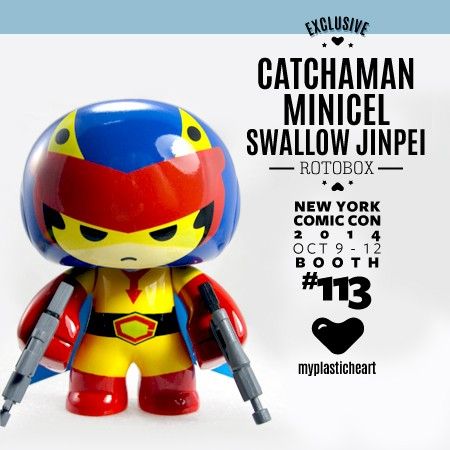 Gatchaman fans rejoice! myplasticheart will be exclusively releasing the third Minicel figure inspired by the classic anime Science Ninja Team Gatchaman produced by Kuso Vinyl. Swallow Jinpei is the youngest member of the team and serves as the reconnaissance expert. Catchaman Minicel : Swallow Jinpei will be available throughout New York Comic Con at the myplasticheart booth #113 for $20 each.
Sextopus Haberdashery Edition By plushplay x popprolific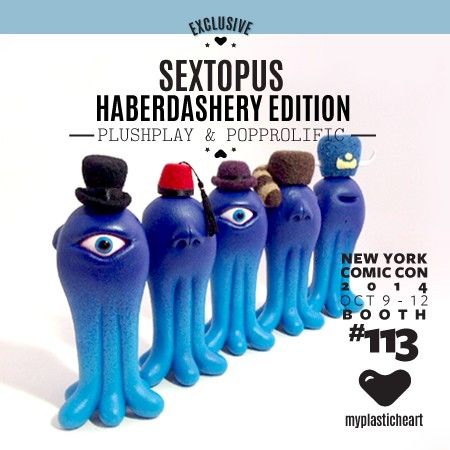 myplasticheart will be working with the dynamic duo of plushPLAY & POPprolific on a new series of resin figures for New York Comic Con. Four years in the making from sketch to resin,  Sextopus was inspired by cephalopods and the Behilithfrom Berserk. The concept has since evolved into a family of characters, each with a different number of appendages that range from 0 – 10 that make up the cast of characters in a counting book.
Hand sculpted, casted and painted by POPprolific with design and needle felted hats by plushPLAY, this edition of Sextopus is limited to a total of 5 pieces with 1 of 5 unique needle felt sculpted hats. 
Sextopus : Haberdashery Edition will be available during New York Comic Con at the myplasticheart booth #113 for $69 each.
Learn more about plushPLAY & POPprolific:
Website – www.mariangelatan.com | www.justinalanvolpe.com
Instagram – @plushplay | @popprolific
Twitter – @plushplay | @popprolific
Facebook – https://www.facebook.com/plushplay
Negora & Migora by Konatsu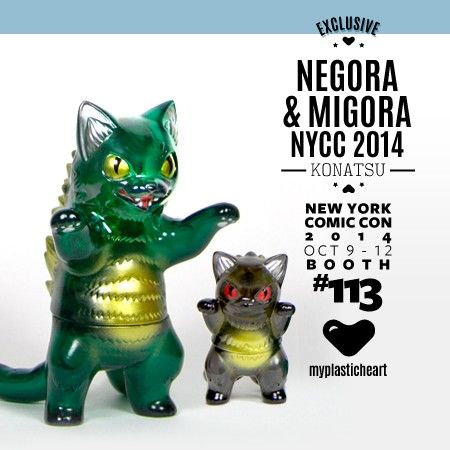 myplasticheart are happy to be collaborating with Japanese artist Konatsu once again on a special edition of her popular Negora figure for NYCC. This time we added a friend, Negora's baby companion Migora! This year's NYCC Exclusive Edition is a tribute to the most popular monster in Japanese pop culture and it's trusty sidekick. Standing at 3.5 inches tall and cast in clear green sofubi with gold and silver accents Negora takes on a rather fierce demeanor this time around. Migora stands at a mere 1.75 inches but packs a big punch, featuring a clear grey body with gold and black accents and bright red eyes. Available in limited quantities during NYCC Negora and Migora will be at the myplasticheart booth #113 for $35 and $13 respectively.
APO Frogs By Twelvedot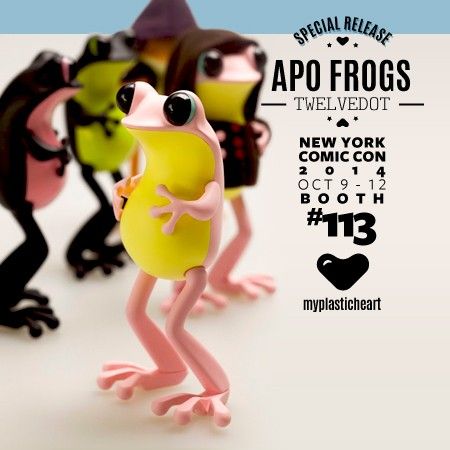 myplasticheart are excited to announce that APO (Apocolypse) Frogs by Korean design studio Twelvedot will be making a special appearance at our booth at NYCC this year for their US debut. Previously seen at STGCC in early September the brand new APO frogs are part of Twelvedot's aftr. project which aims at reviewing our world and environment through one of the most fragile lifeforms on our planet, frogs. Through this they hope to raise awareness for endangered frogs and the devastating consequences of frog extinction. Standing at 5 inches tall and with 4 varieties available (Strawberry Banana Split, Pepto Black, Lime Black, and the brand new Pumpkin Pie colorway) we present a sampling of what this intriguing design team has to offer. APO Frogs will be available throughout NYCC at myplasticheart booth #113 from $65-$75 each. 
If you want to keep track of everything that will be going on that weekend be sure to bookmark our trusty Big Bad NYCC Rundown list here. It will list every release, signing and event going on during the week of Oct 9 – 12th so you don't miss a thing. JPK, UMEToys and TRU:TEK will be repping UK so keep your eyes peeled!