This is just our personal experience from past couple ToyCon UK shows and ideas that might help the reader (please note this is just guide & everything is a personal view )
If you are looking to buy exclusives jot down which ones are your priority, this way you will know which booth to go to first and less chance of missing out on the item you want.
Carry some cash with you, because not all booths will accept credit cards/PayPal. Get your cash out before you enter the hall (BP Petrol Station over the road from the venue on 339 Cambridge Road  has a cash machine)
Some artists will sign/doodle things, like sketchbook/toys, but please remember they will be busy and don't bug them too much if they decline – don't take it to heart. If you don't have Blank DIY toys etc there will be vendors with blank toys – so you can purchase them at the venue).
Make sure you've printed your tickets out
Some Vendors/ Booths with have goodie bags & giveaways – so make sure you check out all their social channels, plus The Toy Chronicle website for more information.
Worst thing to happen is for a fan bringing more then 3 items for artists to sign and then finding them on eBay a day later! Please don't do it and have respect for the artist!
There will be question & answers sessions with artists on Centre stage., so prepare some questions you would like to ask. Bring a note pad & pen – you might learn a few things from artist/customisers sharing their tips and guides
Take a shopper or tote bag with you, those toy boxes get heavy quick and some sellers won't have bags
On the booths there will be flyers/business cards – pick them up! sometimes there are discount codes for future purchases!
Please don't haggle the prices. Artists work far too hard and don't make that much money on toys – with the hours they put in to their work. If your looking for a few bargains, last year we found a couple of booths doing a little bit of discount towards the end of the con.
Take your time to look around, always hidden gems. It'll be quieter in the afternoon, so will give you more of a chance to wander around again to see if you have missed anything.
Take your chance to see everything in hand, much better then photos and videos.
Buy it quick or you will regret it (happened to us before)
If you break it, you buy it.
Take photos of ToyConUK then upload them and hashtag it to #TheToyChronicle you might get something through the post
Most important is to ENJOY the experience and look at artist work you wouldn't normally look at or interest you, you might be surprised at what you find! Tips from Exhibitors (Updated)
Check if it's ok to handle products on booths before picking things up. Some people are fine with it, others aren't so keen.
Don't be afraid to chat to people running the booths. We really enjoyed chatting to people over the years,  not everyone will put a face to a name they have seen on the internet so don't be taken back by it.
Need food and a little drink? don't worry bar/cafe open all day for everyone, just don't buy too many beers for Gary. Plenty of places to grab a bite to eat n drink over at Bethnal Green road and cater for all kind of diners including a "cracking veggi restaurant which does take out right next door to the venue too.. Great breakfasts in there -Doktor A"
Most important is to have fun and enjoy the day.
The ToyConUK 2015 Booth Layout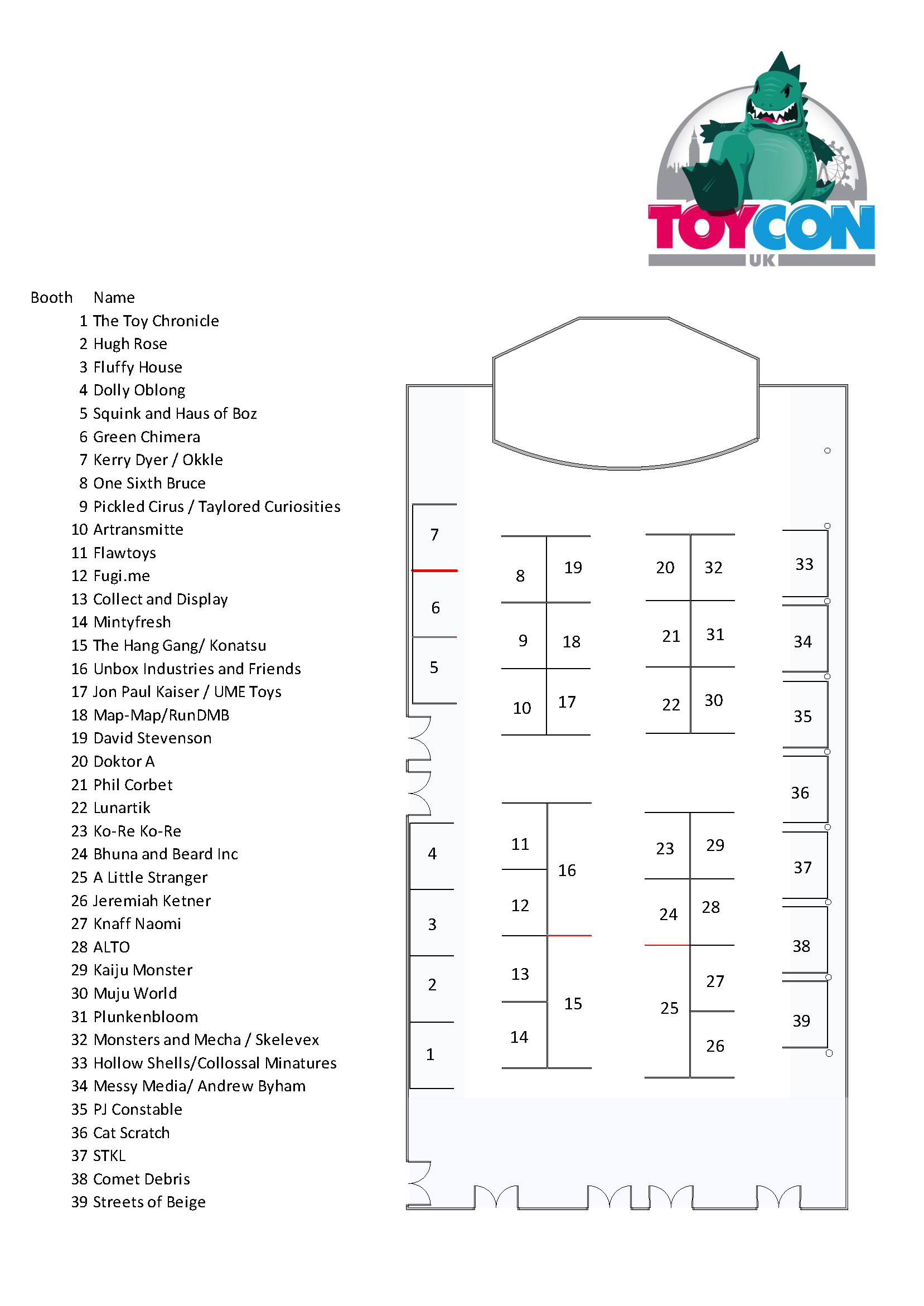 ToyConUK 2014 – 25th April 10am-5pm
York Hall, Bethnal Green
345 Cambridge Heath Road, E2 9PJ, London, UK
Map: HERE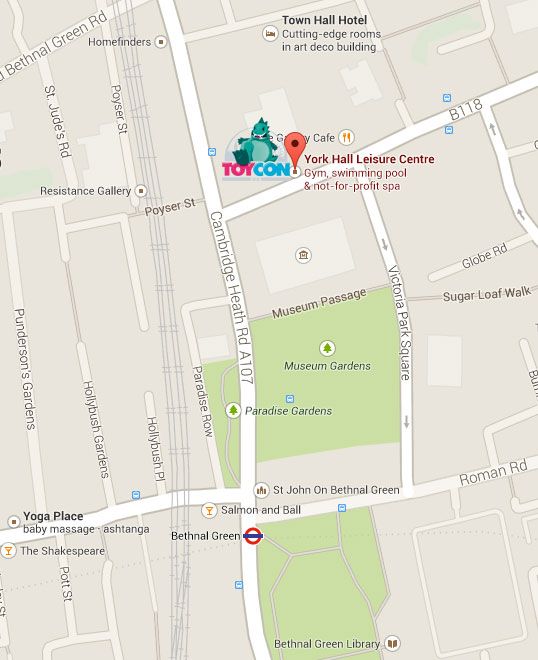 Nearest Tube Station: Bethnal Green (Central Line)
Nearby buses 8, 106 and D6
Parking is only on side street parking with Pay and Display.
Don't forget to check for travel news on the day at: http://www.tfl.gov.uk/