After a successful Kickstarter campaign launching their first figure in their line of highly detailed collectible Skeleton Warriors action figures, Baron Dark, October Toys are back with the first human sized addition to the line – Grimskull! After a struggle with Baron Dark over the Lightstar Crystal, Joshua Steele was transformed into the undead Grimskull, living his life between light and dark and searching for redemption as he travels in the shadows.
[frame align="center"]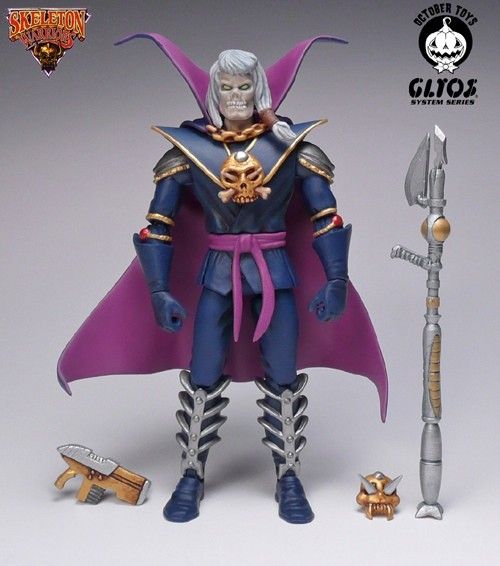 [/frame]
Grimskull has the following points all ready to rock…
4″ fully painted PVC action figure (Stalker not included until stretch goal is unlocked!)
19 modular official Glyos compatible pieces
25 points of articulation
Comes with removable cape, laser pistol, staff, and alternate chest skull (for a total of 23 pieces)
Packaged in full color collectors window box
Available in original colors and Kickstarter exclusive Shadow Translucent Black
You can back the Grimskull Kickstarter Campaign HERE.
[frame align="center"]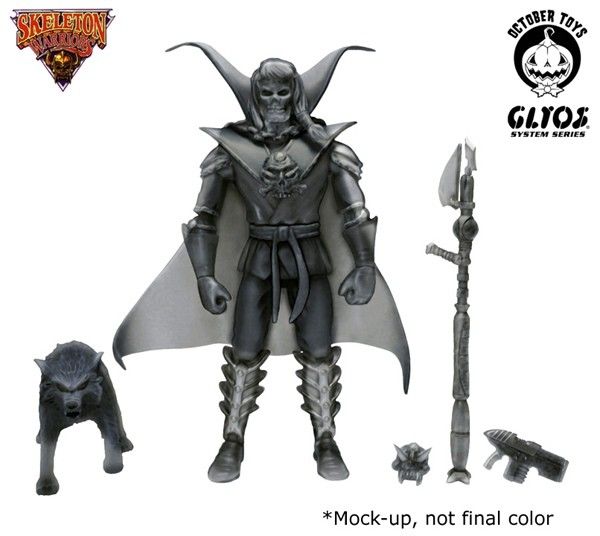 [/frame]
Possibly the coolest feature of these new figures is that they are Glyos compatible!
The Glyos System, developed by the insanely talented Matt Doughty of Onell Design, is a system for making action figure parts interchangeable and is currently used by several independent toy companies. These figures utilize Glybrid style joints, which allows for a combination of traditional insert molded articulation with the swivel based Glyos fit functions. We have been working closely with Matt throughout our development process to ensure maximum compatibility while still maintaining the unique characteristics of the Skeleton Warriors. That means you can break these figures apart, reassemble them, and even use the parts interchangeably with other Glyos System brands such as The Four Horsemen's Power Lords, Outer Space Men, and even classic Onell Design Glyos figures!
[frame align="center"]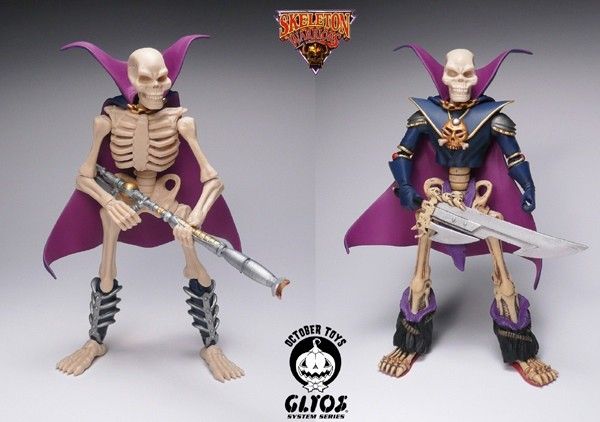 [/frame]
It wouldn't be a good Kickstarter campaign if it didn't have awesome Stretch Goals. October Toys have some really fun stretch goals planned, the first of which is none other than Grimskull's pet wolf – Stalker! If they reach this first stretch goal ($54000), Stalker will be included with every Grimskull figure at no extra charge.
[frame align="center"]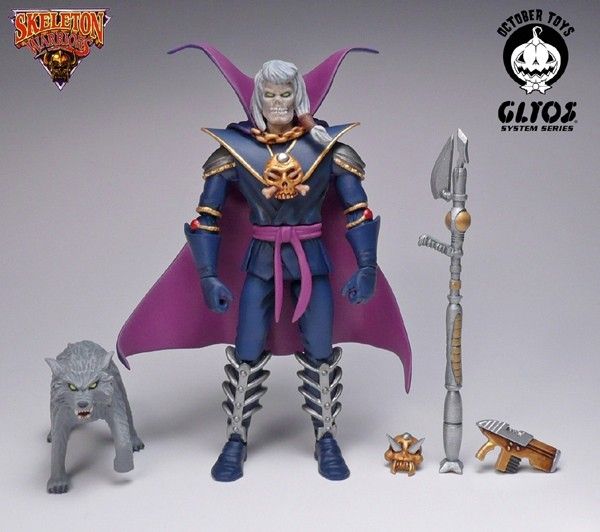 [/frame]
If you're interested in backing this Kickstarter, head over to their campaign HERE. It is still very much early days, with 26 days remaining. At the time of writing, $2693 of the $50000 goal has been achieved. Good luck, guys. Although we are certain you won't need it and you'll smash through your $50,000 goal in no time.