Our artist spotlight artist Fiona Ng is no stranger to custom ThreeA customs and tied into the gaming industries. Fiona's has yet again blown us away with this custom just like her Bioshock inspired Big Sister ThreeA Princess TQ. Kirei Wa is a design based on a Sylvari necromancer named Kirei Wa from Arenanet's Guild Wars 2 game. Admittedly, we do not know much about the game, this still look freaking awesome and made us actually look deeper into the world of Guild Wars.
Fiona's sculpting skills are put to the test on ThreeA's onesixth scale body, the way she has put motion in the skirt is beautifully done.
[slider source="media: 23958,23959″ limit="100″ width="1300″ height="1100″ title="no" speed="800″]
We do love how Fiona makes accessories for her customs, for example the staff is detailed and on point with the game.
We love the colour choice too and the use of air bush blends in colour. The face sculpt is has a wonderful expression with an elf like look. We gather the figure is still fully posable too!
[slider source="media: 23963,23964,23965″ limit="100″ width="1100″ height="1500″ title="no" speed="800″]
Should ThreeA be knocking on Fiona's door and sign her up? or ThreeA / ThreeZero be getting the Arenanet's Guild Wars licence?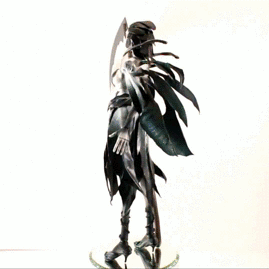 What will be next on Fiona's custom list? who knows but stay tuned for more of Fiona's work!
Check out out TTC Artist Spotlight on Fiona —HERE— prepare yourself and get yourself on the waiting list!
You can discover at all her beautiful work via her social media at
(all info and photos lifted from Ngfiona.com)
More info on Guid Wars 2 hit up https://www.guildwars2.com/en/