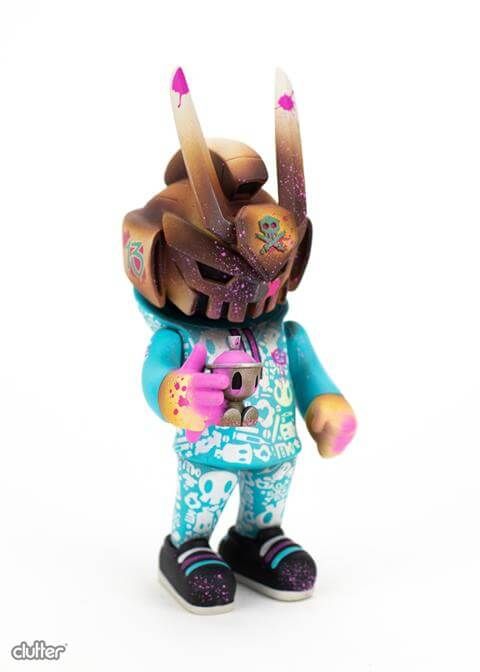 Teased by Czee13 over the last day or so, we now have clear pics on the next TEQ to be released! Czee's SprayTEQ13!! We know that Czee likes to push the boundaries of what he can get away with, and that is no different with this production release of the TEQ63. Taking his production design, Czee has hand-sprayed, hand-flicked and hand-finshed (like he does to all that he loves) the SprayTEQ13 to make each one unique! To make matters even more interesting, Czee has added a micro CANBOT to each one too – keeping with their recent Czee13 x Quiccs collaboration together!
Limited to only 155 pieces, the SprayTEQ13 will be priced at $150 each and the only way to get the link to buy will be to subscribe to the Clutter Special Release email list using the button below. No details as to when the SprayTEQ13 will drop, could be in ten minutes, could be in ten days, but you won't know unless you sign up now…
---
Czee13 Social Media
Facebook: https://www.facebook.com/czee13artist/
Instagram: https://www.instagram.com/czee13art/
Twitter: https://twitter.com/kreezee
---
If you want to support The Toy Chronicle, we have a number of options available to you. We have started to stock a wide range of releases that we think you will enjoy. Ranging from production pieces from Superplastic, to original pieces from our favourite artists. Purchasing one of our pins also really help. A quick, cheap way to also support the TTC is by making a small donation. These can all be completed below through our online shop. We appreciate all the support! Thanks!