Father and son duo Andrew Byham and the clockmaker have been making a name for themselves lately. Andrew says that his son researched designer toys for a GCSE project which first got him into his sculpting after dabbling with it a little in the past.  This is definitely a hidden talent of his as his work shows. His extremely impressive wartoise shows off how well his sculpting and resin casting work together. He has designed it in collaboration with his son to look like a grenade with a turtle head and has attached a metal grenade pin to the top, based on a one off sculpey model of a tortoise with cannons on his shell.
He said he aims to customise up to 12 versions, and call them "the dirty dozen".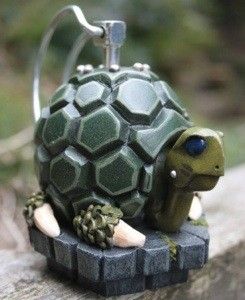 His second version is a pumpkin warehouse with pumpkin outer shell.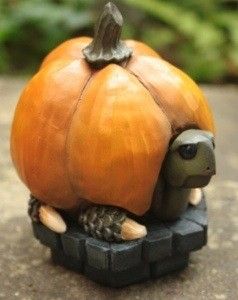 As of writing this post there have been two more version releases onto Andrews webstore titled 'Goodness Gracious' and 'The bee team'.
Be sure to head on over to his store in order to pick up some great artwork for a great price.
Web: http://andrew.byham.co.uk/wartoise.html
Instagram: http://instagram.com/andrewbyham
Shop: http://andrewbyham.bigcartel.com/
Twitter: https://twitter.com/AndrewByham