We all love collecting. That's a fact. That is why we are here right now. We all love to show off our collections too. We know that is the case for The Toy Chronicle. We are always loving an opportunity to display our sweet ass collection to the rest of the world. So today we bring you Clectaverse. Clectaverse is a platform celebrating collections and collectors globally, they enable you to show off your collections and to connect to others to buy, sell and trade.
Where you have the likes of Trampt and Rotocasted, which are dedicated to your Designer Toy collections (and do a damn fine job too), Clectaverse is a more open-ended platform. With the ability to log any collection. So you collect Comics, ok. Clectaverse allows you to add your comics. Collect Funko Pop, ok. Clectaverse allows you to…. yeah you get the idea. We know that everyone has different tastes and collections.
[frame align="center"]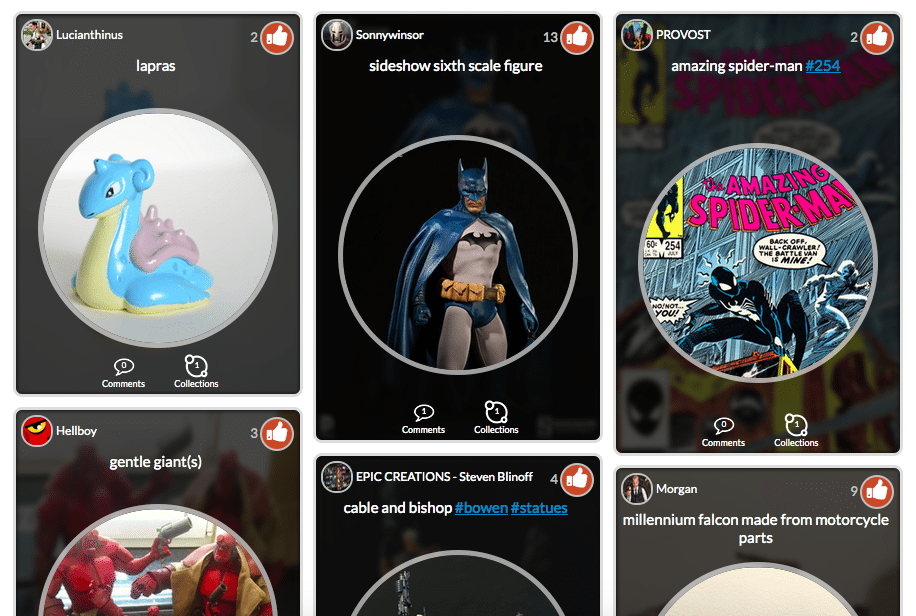 [/frame]
Each collection can be seen in card-like images (as seen above). You are able to add comments, like the collection, share the collection on social media. It's very much a start-up platform as it stands. The developers are looking to turn the website in to an easy-to-use mobile phone app in the future.
Is this the future for Designer Toy collections? We'd say a long way to go yet. Whilst the Clectaverse site is backed by the likes of Paul Budnitz (Founder of Kidrobot) and Morgan Spurlock (Star of Supersize Me), Clectaverse are always going to struggle when they come up against Trampt & Rotocasted. For those that have a wide range of collections, yes this will likely be a great place to start to log you collections, discover like-minded collectors and buy & sell their collection. We'll keep tabs on Clectaverse as they continue to develop & build their platform, and let you know of any updates that would be of interest to Designer Toy collectors.
You can check out Clectaverse on Facebook & Twitter too.