It's a MONDAY, meaning its podcast time! We tuned into Marsham Toy Hour Season 3 Episode 6  where Gary, George and Theresa featuring Chris Ryniak who joins the show.
This week, Chris Ryniak returns with bounds of wonderful news both personal and toy related. We discuss leaks and sneaks, adulting, Designer Toy Award nomination's, designing for a themed series, are themed series something collectors want, more adulting, future projects for Chris,  and then Theresa fan girls out and asks Chris a bunch of questions. Squeeee!
Points that stood out to us in this episode that might make you want to hit that play button.
New characters!
Fiance
New release
Growing business
Miss Mindy
BEEF
Paid in toys
Behind the scenes
Learn to say no
Natural growth
Hot topic
More Lung butter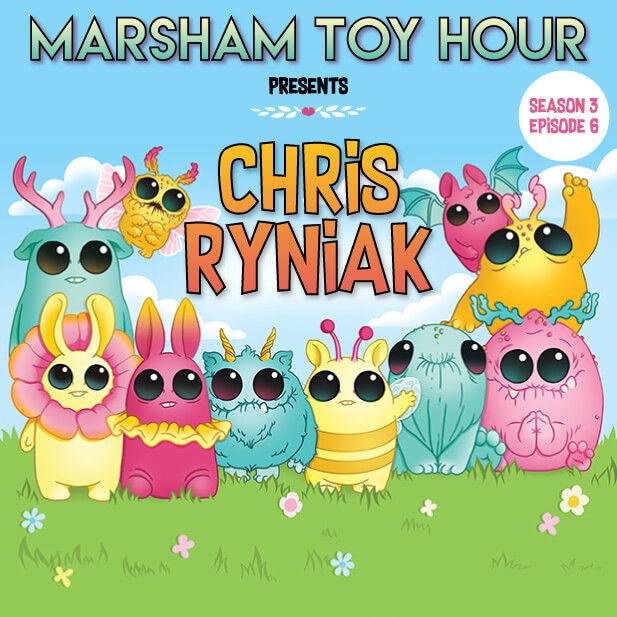 Check out Marsham Toy Hour Facebook group Marsham Stomping Ground HERE.
Marsham Toy Hour is weekly, audio, roundtable discussion of the designer toy scene with your hosts Gary Ham, George Gaspar, Theresa Hawkins and Carlos East.
https://marshamtoyhour.podbean.com/
Find Chris at https://bindlewood.com/
Watch live video from Chris_Ryniak on www.twitch.tv
If you want to get your Designer Toy news first, you should look to download our new TTC Mobile App. Designer Toy news direct to your smartphone. No dealing with social media algorithms.
It's FREE.