If you were watching our LIVE Facebook feed yesterday evening, you would have seen something very beautiful arrive on the doorstep of TTC HQ. We've waited eight strong months for this arrival, but patience is key in most instances with anything related to Coarse Toys. So, we proudly present to you: False Friends Reignited Monochrome Edition! Boom.

Just let that pic sink in. It's a thing of true beauty. Thankfully it now resides at TTC HQ. This is the first False Friends that we've been able to get our hands on, so we're pretty chuffed to finally own one. We've often looked with envy upon those that own a Coarse False Friends, but no more! We own our own False Friends now. The edition size of Reignited Monochrome is only 123, so a pretty small number. Not as small as the Pain False Friends or Sun Age False Friends edition size (both 88) but numbers small enough to be recognised as a prize possession amongst our Coarsehead peers.

As with other Coarse False Friends, the tandem of Noop & Paw come together nicely. Noop comes with his fabric Paw jumpsuit, which we are mightily jealous of as we mentioned in our Live FB stream. We would happily buy our own Paw jumpsuit to live in, Sven & Mark should defo look into creating human size jumpsuits.

The finish on FF Reignited Monochrome is damn nice. As near to perfect as you'd expect & hope with a premium Coarse release. We're really impressed with the wooden box that came with the limited Monochrome edition. Beautifully packed with a protective black sponge, Noop (13.5″) & Paw (12.5″) are safe. The addition of Paws nose as the button to open the wooden box is a nice touch.


As with all Coarse Reignited pieces released, we should expect some GID action going on. False Friends Reignited is no different. We've tried our best to capture the GID-ness of Reignited Monochrome below with a wee gif, so you guys get the idea…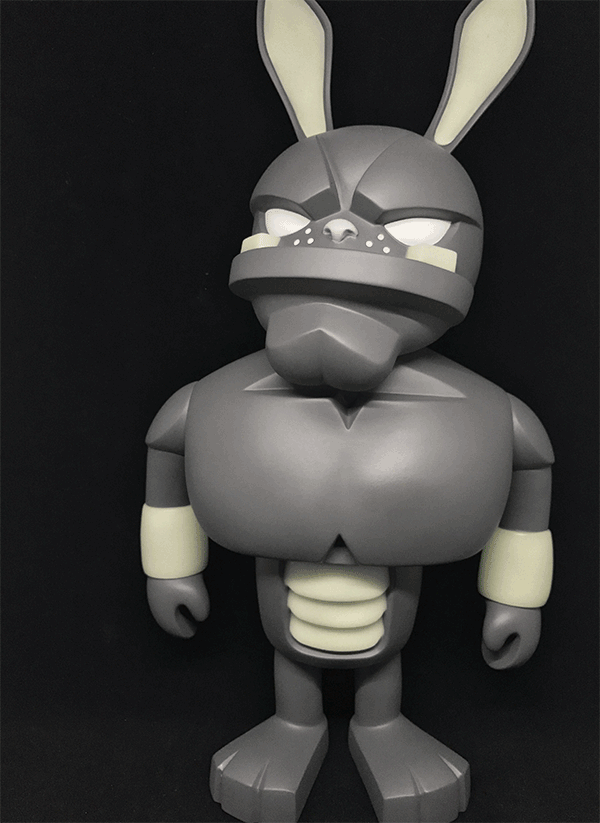 We've taken some further photos of FF Reignited Monochrome for you to enjoy.

As we mentioned when we begun our FF Reignited Monochrome review, we spoke about our LIVE FB stream. Well, if you missed it you can catch it on our Youtube Channel HERE or you can watch below:
[youtube url="https://www.youtube.com/watch?v=8g3p9U0hUm0″ width="1200″ height="1000″]https://youtu.be/-q6KyIQkaQk[/youtube]
Please watch & subscribe to our Youtube channel HERE. If you don't want to miss any further FB LIVE stream, you can Like us over on Facebook HERE.
If you want to add to your own Coarse collection, please don't forget that Coarse will be releasing Enjoy your Stay tomorrow (1st March) at 3.59PM UK time. You can find out all the details on The Toy Chronicle HERE.