Back when 2016 was a mere few days old, we first caught a glimpse of the new release by Kidrobot, Frank Kozik & Bigshot Toyworks. General Tso's Nightmare. Fast forward a couple of months and The Toy Chronicle now have General Tso's Nightmare in hand, and our first impressions are that this is a very beautiful Designer Toy release. We attempted to take some promo shots of General Tso's Nightmare in our local KFC establishment – however – this was shot down and we were evicted from said KFC. Oh well. Read on for more details on General Tso's Nightmare.
Releasing TODAY on Kidrobot.com, General Tso's Nightmare is an 8inch figure based on a parody somewhat of Colonel Saunders (KFC fame).  We'll start out with the packaging for this release. We're talking big. Huge in fact. 15inches of fried chicken bucket delight. The bright red & white colours resembling the KFC bucket. Nice touch.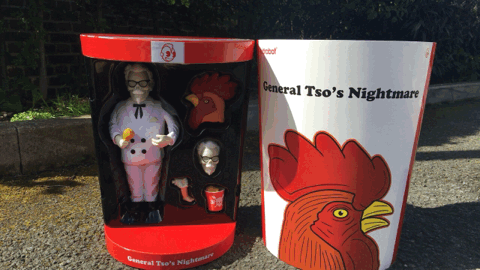 With regards to the actual General Tso figure, you've got a number of options to play with. Each figure comes its own set of accessories too. Two heads come with the box set. You've got the skull Colonel Sanders head, or you can opt for the glorious Chicken Head.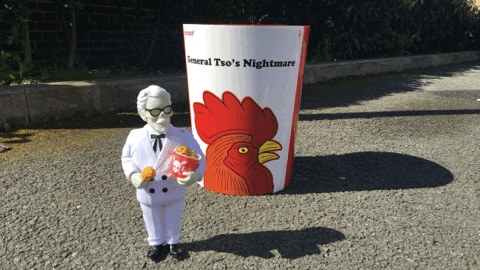 You've also got the option of a bucket of human skulls, or the Sanders skull that sits perfect in the armpit – they've done a great job of sculpting the additional head and bucket, so that it sits nicely within the figure.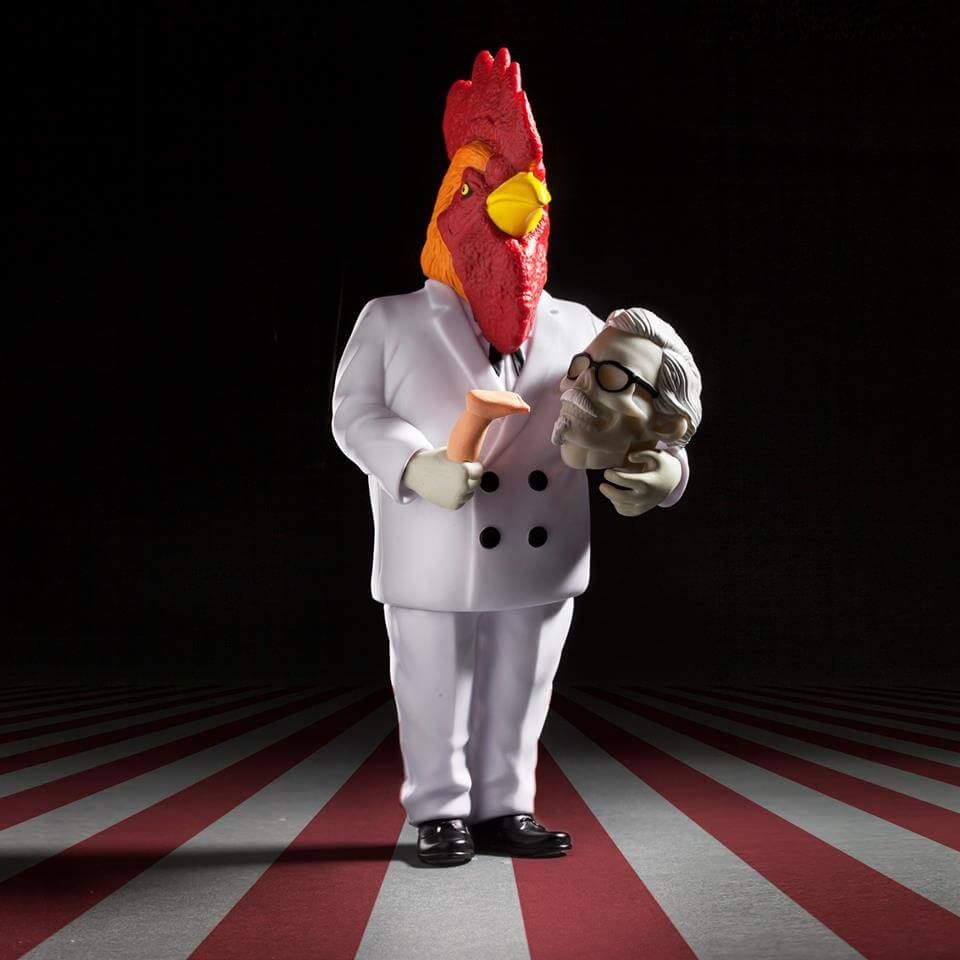 The third set of accessories depends on what you want your figure to be holding. You can either use the fried chicken thigh or if you want to go a little dark & weird – a baby's foot.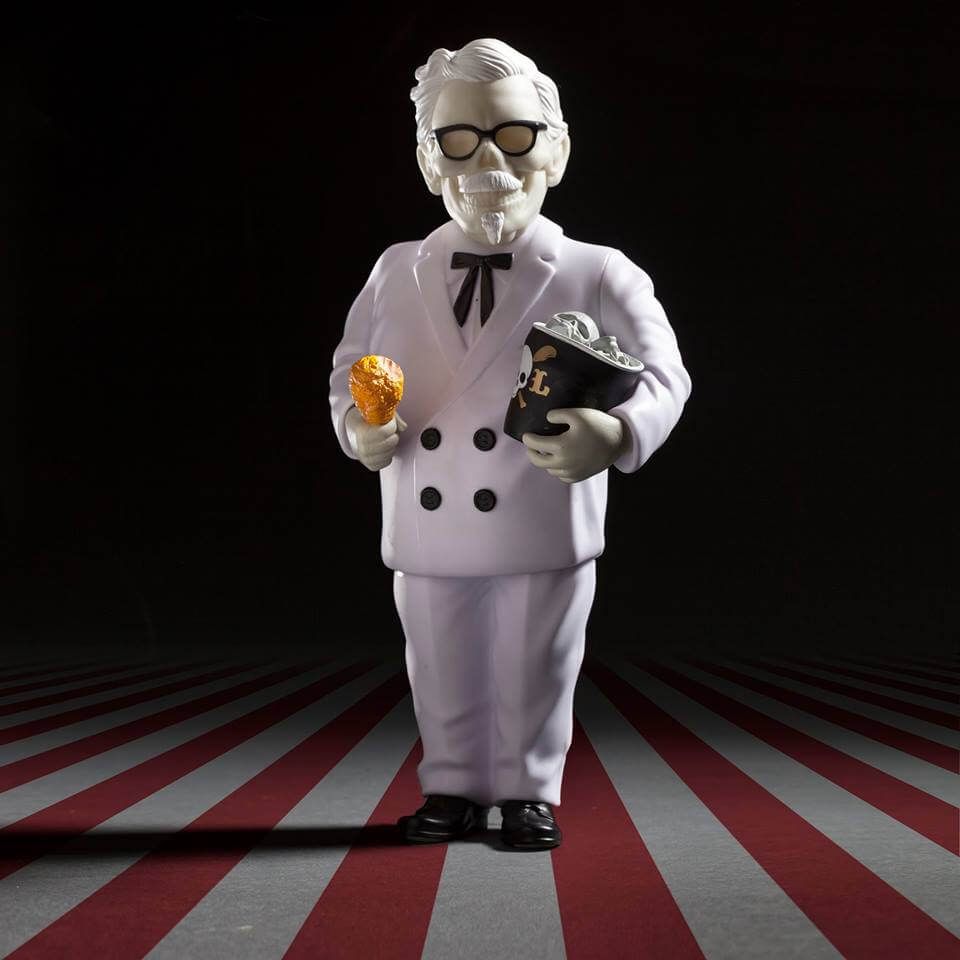 The QC (quality check) on this piece is magnificent. No issues with any of the print. The sculpt is fantastic. This is an amazing piece, that will stand great in your collection – no doubt about it.
The Toy Chronicle were sent over a sample of the common General Tso's Nightmare design, but bear in mind there is also a BLACK & GOLD variant of General Tso too. Which, from the pics below, looks mega sweet too. You'll only be able to purchase the Black & Gold variant exclusively via Kidrobot.com from this evening.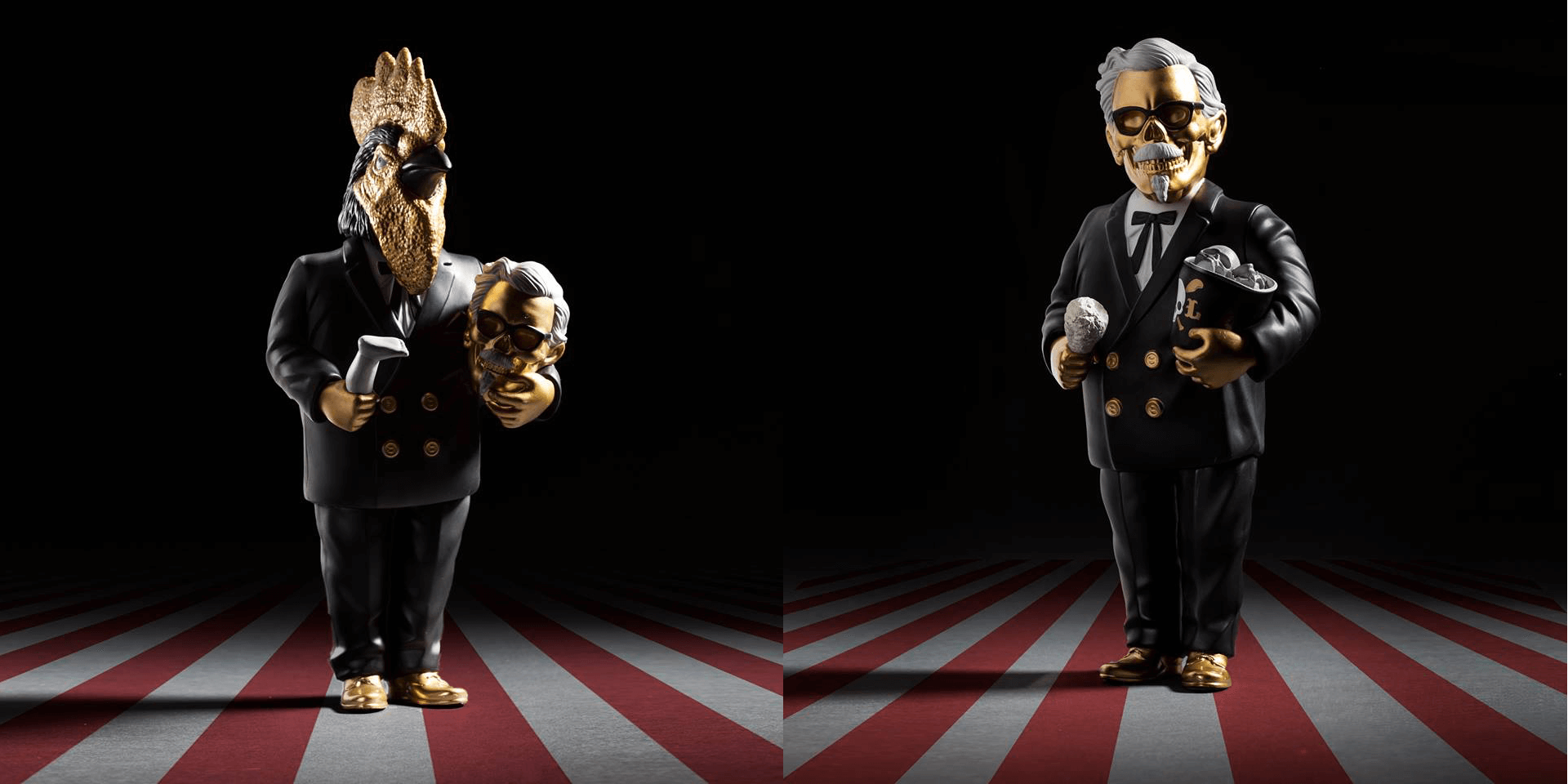 How f'n dope is that?!
Kidrobot did a short catch-up with Kozik yesterday, before the release of General Tso's Nightmare. You can read that on the Kidrobot site HERE.
We know that our good friends at Tenacious Toys have General Tso's Nightmare available for pre-order HERE ($99/£68), you can get FREE UK SHIPPING (up to 20 bucks) by using WELOVEGARY as a promotion code with Tenacious Toys. Our Dutch buddies Mintyfresh have it also available for pre-order HERE (119euro/£93).
Kidrobot will be hosting a General Tso's Nightmare release party tonight at 3D Retro if you just so happen to be in the Glendale area of California. Frank will be signing, lots of free Fried chicken will be available *apparantly* 🙂